Whether you're a zombie apocalypse prepper or just need a reliable light source for when you're climbing under desks or in crawlspaces to fix some Ethernet cables, there's something sublime about a great flashlight. That's why I had a look at the Fenix PD36R Tactical LED Flashlight…
I know, "tactical" flashlights are theoretically for law enforcement, the military and hunters. They're tough, rugged and you can toss it out of your car at 75mph and (if you can find it again) it won't be scratched or damaged when you recover it. Heck, you can drive over these things and they'll retain their shape and be completely functional. So what's a geek need with a flashlight like this? Let's be honest, you already know the sublime pleasure of having really good gear and probably spend thousands on your laptop and have a top-of-the-line smartphone too, right? So why wouldn't you want the Cadillac of flashlights too? 🙂
And that's just what this Fenix PD36R LED Tactical Flashlight is with its 1600 lumen illumination and 5000 mAh battery. Yes, 1600 lumens. That's so darn bright that you really, really don't want to flash that into someone's eyes. Fortunately it has other illumination levels too, but let's just start with a photo of this bad boy, shall we?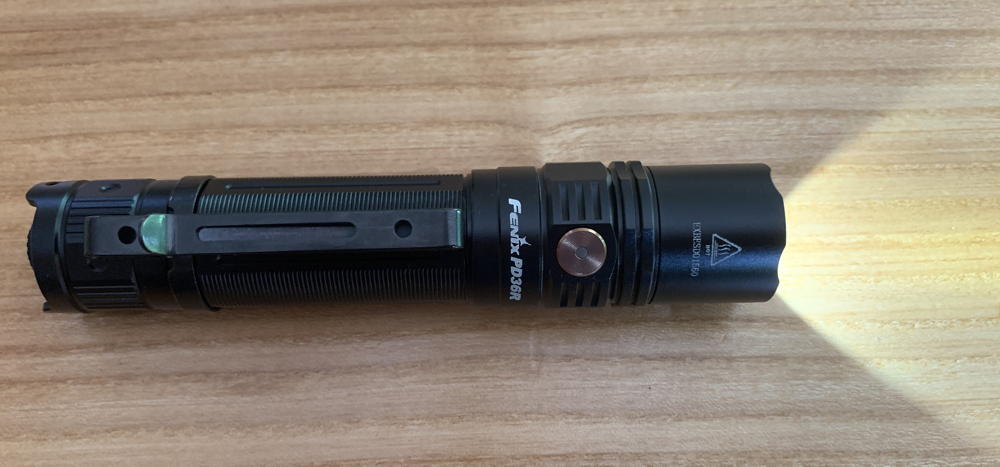 It's about 5 1/2 inches (or, depending on your preference, 13.59 cm) long and has a 1″ diameter. There are two buttons that work together for this device too: The very back has an on/off button while the copper button on the side lets you step through five different illumination levels:
Turbo – 1600 Lumens – 2.9 hours – 928 feet
High – 800 Lumens – 5.9 hours – 646 feet
Med – 350 Lumens – 8.5 hours – 419 feet
Low – 150 Lumens – 26 hours – 269 feet
Eco – 30 Lumens – 115 hours – 114 feet
I don't really understand their distance measure, but the time is how many hours you can use the flashlight at that illumination level with a full charge. Yes, the flashlight is rechargeable via a USB-C connection. And it's about 90min for a full charge from zero, if you're curious. Enough that if you're really quiet, you can probably avoid those zombies (or users!) while you fill 'er up.
There's also a strobe mode you can access by pushing and holding on the copper button too: And at 1600 lumens, it's probably bright enough to be seen from space! For sure you can trigger an epileptic seizure in someone with this intense flashing, so be careful with it.
I have a lot of flashlights, but I have to admit, this Fenix unit is pretty darn sweet. Tough, super solid feeling, and crazy bright as needed, so bright that I haven't yet used it at full illumination on my behind-the-desk crawling and working. If you're in the market and have a budget, this is sooooo much better than that $10 junker from Walmart or Target. I say check it out!
Fenix PD36R LED Tactical Flashlight. $99.95 at Fenix-Store.com
Disclosure: Fenix Store sent me a PD36R for the purposes of this review. Which was pretty darn nice of 'em, actually.