Trading at the Grand Exchange
The Grand Exchange is a big automated trading system located in Varrock.
If you have lots of money you will probably want to spend it on something because just having money is no use. The Grand Exchange is great place to buy almost any item in the game. It has everything from all kinds of armor and weapons to runes and almost anything else you want.
Before you can buy anything you will have to talk to the Grand Exchange Tutor and ask him to teach you the ways of the Grand Exchange. Often items at the G. E. cost more than in shops, though sometimes they're less.
Be aware that the prices for items always change. For example you might want to buy a Mithril Pickaxe for 1000 coins, but you don't have enough money. By the time you save up enough, the price might have changed to 1500 coins. The price also depends on how much of the item there is available.

RuneScape: The Grand Exchange
When you want to buy an item you will often have to wait until someone sells it to you. You can also sell your items at the G. E. Remember: the Grand Exchange is not a store for every item in the game. There are still tons of items that are only available at special places. Have fun trading with other players.
Walk around and explore the world of RuneScape
I know this might not sound very fun but it is. It is actually one of my favorite things to do on RuneScape. Just by walking around in the world you will get to know where things are, meet interesting NPC's, get new music soundtracks, fight some cool monsters, meet new friends and maybe even find some kind of secret place.
Just always use the map to find your way around. If you just want to get back to a place you know better like Lumbridge and you don't know how to get back there just cast the Lumbridge Home Teleport spell from your Magic Spell book. You don't need any runes or anything to cast it. Have fun exploring!
Train for specific RuneScape skills
RuneScape: skills train
Training Skills is very useful like if you train woodcutting you will be able to cut better logs and sell them. If you train fishing you will be able to catch better fish and sell those. If you train Farming (members) you will be able to plant better plants and so on.
Lots of skills are fun to train. With lots of skills you will be able to make money. A skill that is very useful to train is Herblore (members). With this skill you will be able to make all kinds of potions from potions to maximize your strength to potions that restore stats like prayer.
Wait for a Random Event
Random Events are similar to quests but you can't do one just whenever you want.
Some NPC will come for you and teleport you to a place where you have to do some kind of job for them. For example in the Evil Bob Random Event you get teleported to an island in a world called ScapeRune. It is turned around because everything is the opposite there. When you catch a fish it is already cooked and so on.
Well I won't tell you any more about Evil Bob (he really is evil)…
When you complete a random event you will get rewarded just like on a quest. In your inventory will be a random event gift. You can open it and chose one of the prizes inside.
Explore RuneScape Dungeons
OK this is not the same thing as dungeoneering because these are a different type of dungeons. Anywhere on the map where you see a little icon with an exclamation mark it means that there is a dungeon there which you can explore.
For some dungeons there are requirements like completing a quest before entering or something like that. There are dangerous dungeons with powerful monsters but some dungeons are just cellars where somebody is storing something.
Exploring dungeons can be useful because it unlocks new music soundtracks and you can maybe get some useful drop from a monster you kill. In some dungeons there are rewards waiting.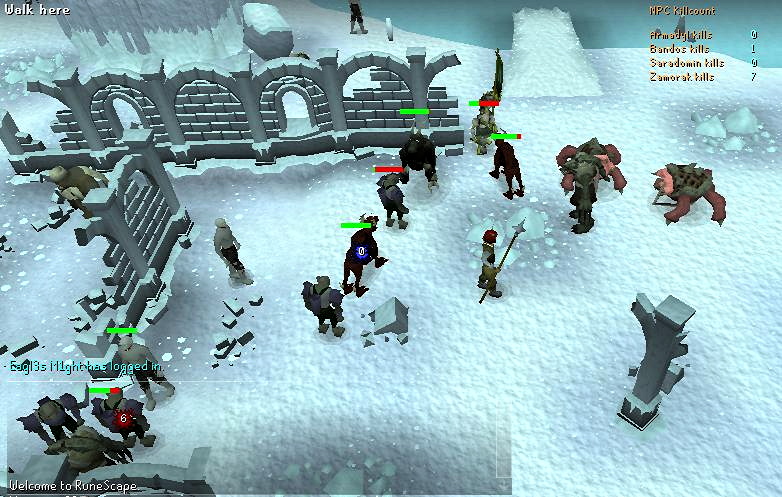 RuneScape: God Wars Dungeon
For example in the Barbarian Village dungeon you can climb down a very long ladder and then step into a portal and there will be a treasure chest there with 2K coins in it.
Now I have to go. Have fun in RuneScape!!
Contributing writer "Magic Uzer20" is a hardcore RuneScape player. This is the third of a three-part series he wrote on fun adventures in RuneScape. The previous two parts are: Dungeoneering and Pursing Quests in RuneScape and Achievement Diary, Wilderness Exploration and the Falador Party Room in RuneScape