Just upgraded to Microsoft Windows 10 and so far like it well enough, but it's sure eating up a lot of disk space! Are there update or system files I can delete to recover disk space in Win10?
Microsoft has gotten a lot better about giving us users options when we do a major operating system upgrade, but at the price of disk space. In fact, when you do an update now, it saves all the old operating system files, which is great if anything happens and you need to roll back to the previous version, but is rather greedy on disk space.
My assumption is that if you work at Microsoft you can just raise your hand any time you need a few spare terabytes of disk space, so they aren't quite as sensitive to space consumption as the rest of us. I like the idea too! Wouldn't you like to just say "hey! more space!" and have your drive magically double in capacity?! 🙂
If Win10 is stable and working out for you, which sounds like the case, you can actually use the handy Disk Cleanup app to free up a ton of space, though how you use it to do this is a bit non-intuitive. Let me show you.
As always, in Windows 10, simply search for the app you seek. In this case, type in "cleanup":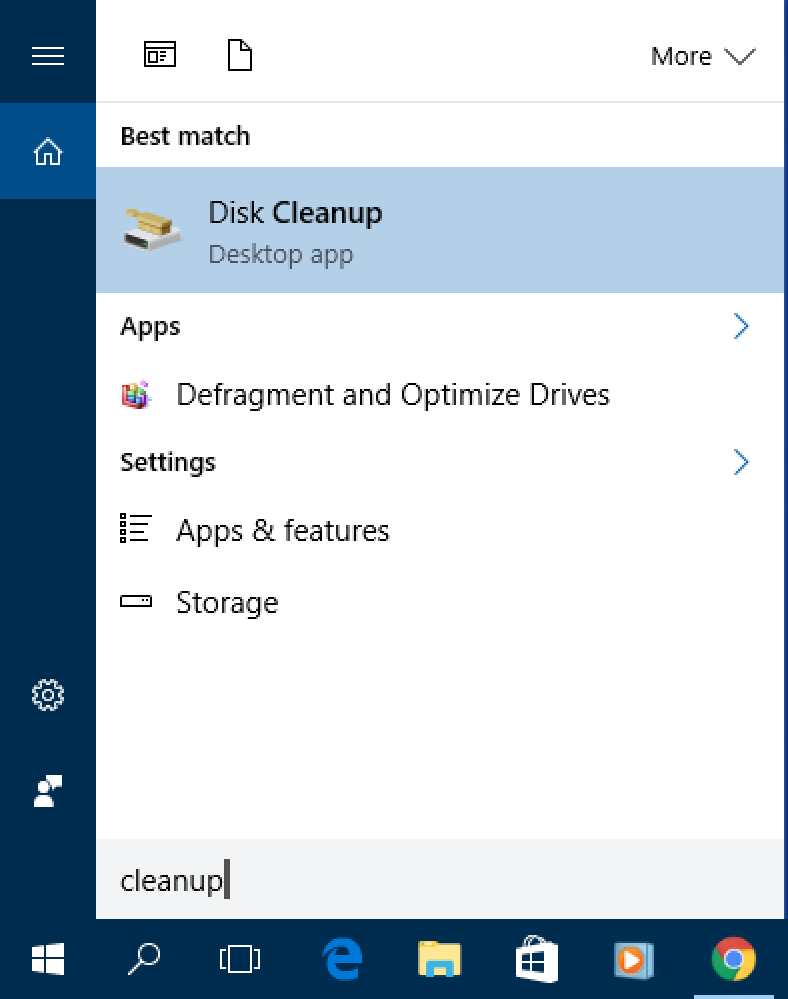 As you can see, the "Disk Cleanup" app shows up quickly enough. Launch it and you'll have to wait a minute or so as it collects basic information about disk usage: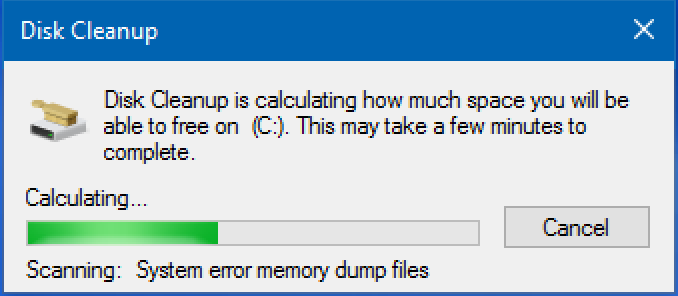 Once that's done, it'll show you the "user" version of the disk space cleanup app, as you can see here: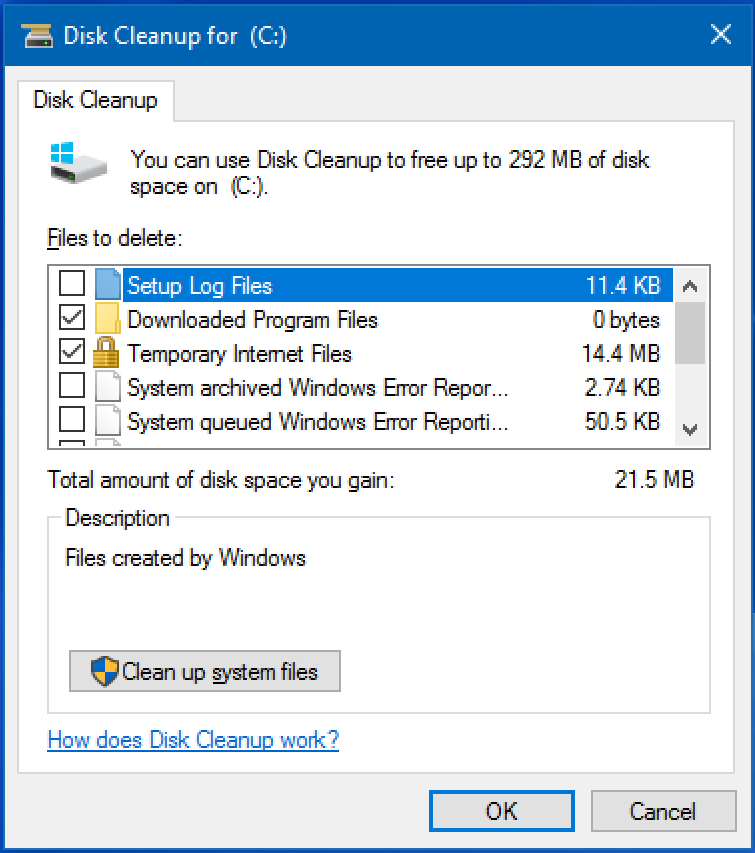 Clean up 292MB of space? Not even worth the effort. But wait! Don't give up hope, click on the "Clean up system files" button.
Now it'll go through the analysis phase again, but this time it's a bit slower:
Once it's done this time, however, the amount of disk space that can be freed up is dramatically higher: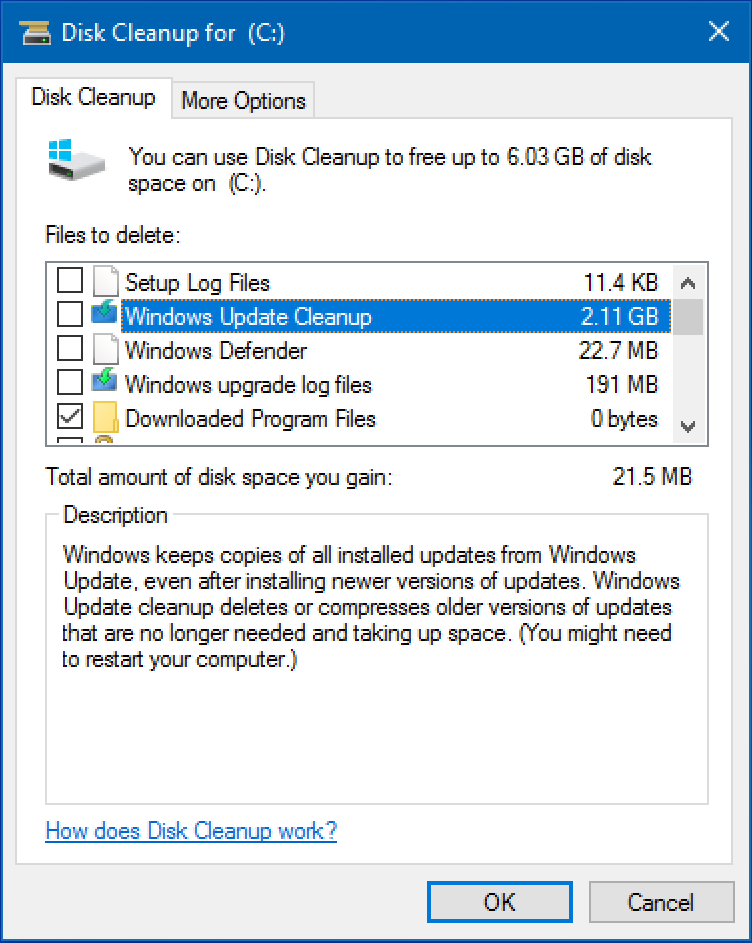 Yes, we've gone from 292MB to 6.03GB. That's a huge jump.
When you look more closely, there are two key options to check: Windows Update Cleanup, which is described above as "copies of all installed updates from Windows Update", and, scrolling down a bit…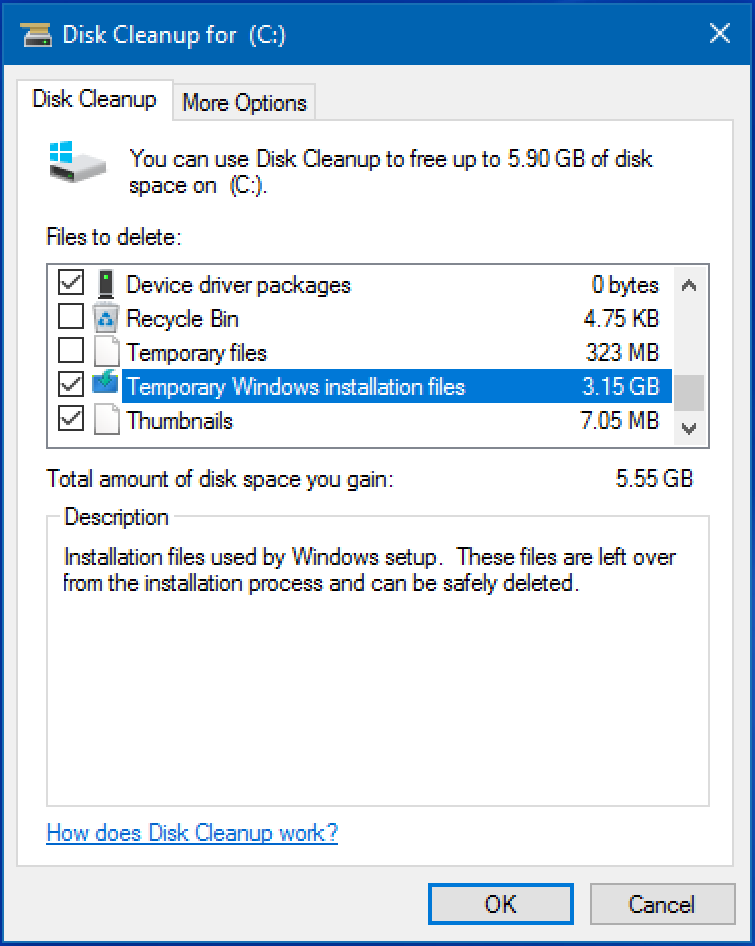 The biggest single culprit: Temporary Windows Installation Files. In fact, Win10 even tells you that those can be deleted: "These files are left over from the installation process and can be safely deleted." These files being 3.15GB of disk space. That's a lot of wasted space: why doesn't Win10 just automatically delete them if they're unneeded?
In any case, check whichever categories of files — or all of them — and click on "OK" to proceed.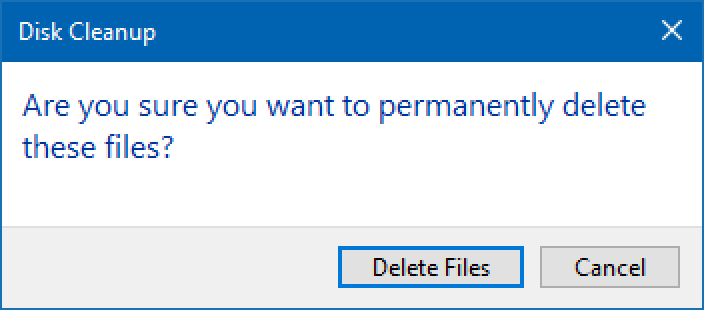 Sure you're sure? Really, really sure? Then click on "Delete Files" to proceed.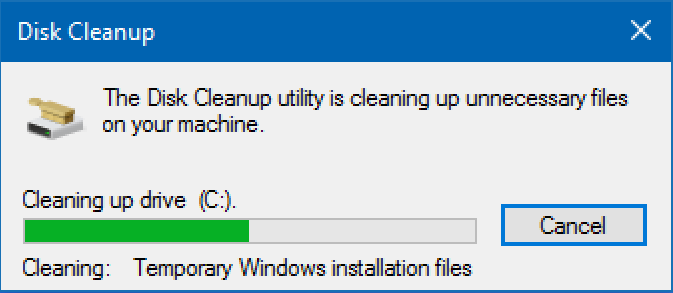 This definitely takes a while even on a fast machine, but when it's done you should have many gigabytes of space freed up. Hope that helps you out, and good luck with Windows 10!