I have two different programs running on my computer that cause it to check in with central servers every few minutes, Find my iPhone (part of Apple's iCloud service) and Absolute LoJack (which is well-nigh impossible to find and disable).
They both offer me the ability to identify the location of my computer if it's stolen, but what Apple doesn't help with is what to do once you find your stolen device again. And that's a dangerous task to take into your own hands…
I've already written about the startling high percentage of devices that are stolen nowadays, whether smartphones, tablets or laptop computers (see Your Devices and Data are at Risk) and how a lot of the times it's not even the device that's the target, but the data on the device.
If you're not paranoid, you should be! With my heightened awareness, I'm also amazed at the number of people who just walk away from their laptops, tablets and even smartphones while in public places. Bathroom breaks can end up being 5-10 minutes if the restroom's busy, and those people who walk out to take a phone call, leaving their gear sprawled all over a coffee shop table or library work carousel? Yikes. Dangerous.
This time, however, I want to write about the other side of this situation: what do you do if your device is stolen?
The first step is always to file a police report. If someone grabbed your shiny new Galaxy S5 out of your hand on public transport or picked up your computer bag while TSA agents patted you down and interrogated you, the sad reality is that you might be out of luck. Certainly the subway or bus security person is going to shrug and tell you that even with their video footage (if any) there's not much they can do.
"Ah, but I have Find my iPhone!"
Okay, so your device is stolen and you check, just to find that the $#@$# thief has booted it up and is online:
With software like Find my iPhone or Absolute LoJack you can remote wipe your data or even send a sound or message to the thief:
Sending any sort of communication is the dumbest of all possible options, in my opinion, because it tells the thief "power down now, then remove the drive and plug it into a different computer" or "reformat this. now.". Besides, odds are that you want your device back and are now excited that you know where the bad guy currently is located.
I mean, on the map above, I could zoom in, then show up at their door and demand my computer back. That's not a bad idea, is it?
Oh is it a terrible idea. In fact, the news is full of stories of home-brew vigilantes who show up at the residence of a thief and demand their gear back, just to be beaten up, stabbed or otherwise assaulted. Or, perhaps, just laughed at. "Prove it!" would be an unsurprising response.
But the police aren't motivated to go in and bust someone who ripped off a $200 Android tablet or smartphone. Don't believe me? Try this story about a guy who stood in front of the thief's house, called the cops, and they said "sorry, we're busy with real crime". Or this one about the police saying that a "find my iphone" map was insufficient data to justify a search warrant.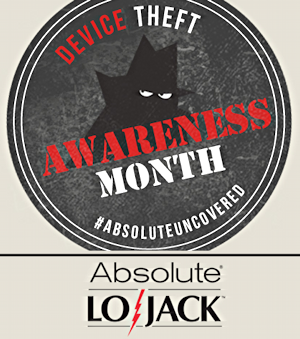 And then there are the vigilantes and the horrible results of their attempts to recover their own gear, like this terrible story of a 13yo boy murdering a boy who showed up at his apartment, accusing him of having stolen an iPhone. Or stories like this one where the victim attacks the thief, with predictably bad results. And this guy who got arrested for attacking his iPhone thief. And this dude who was arrested after attacking the wrong guy after using Find my iPhone to identify who he thought was the thief.
The danger of trying to recover stolen goods yourself coupled with the lack of interest from the police department combine to make a superb case for the value of Absolute LoJack: A subscription includes the services of their crack device recovery team.
Doug Lubahn from the Absolute Investigations and Recovery Team relates a story about them investigating a series of tablet thefts from the Detroit Public School District in cooperation with Detroit PD, and receiving death threats from the criminal gang that were masterminding the crimes. By the time the head of the gang was arrested, the charges against him included two counts of murder. Not the kind of people I want to tangle with. Do you?
It's like insurance. We spend hundreds or even thousands of dollars on our devices, but how much have you invested in backups, recovery of your gear if it's stolen or additional renters or homeowners insurance if all is lost and you just need to replace what you have?
It's time to learn more, time to play it safe before it's an issue.
Tip: This month is Device Theft Awareness Month and this post is part of the campaign. The good news? Sign up for a year of Absolute LoJack protection for your PC, Mac, tablet or smartphone and you can get 30% off by using UNCOVER30 as the special code. Check it out: Sign up for Absolute LoJack before it's too late.
Bonus tip: Absolute LoJack is running a sweepstakes too and everyone gets a one-month trial of their security suite too. Enter here: Absolute Software Laptop Lifeline Sweepstakes 2014.