I went to log in to my Yahoo Mail account this morning and don't seem to remember my password. How do I reset it or recover access to my Yahoo account?
Yahoo Mail. Boy, that's been around for a while. In fact, Yahoo first launched back in March of 1995, making it 22 years old! Yahoo Mail started two years later, in 1997. Turns out the basic idea of an email program that uses a Web-based interface has been popular for quite a while. Yahoo estimates that it now has 225 million active Yahoo Mail users (which is pretty paltry compared to Google, where Gmail has over 1 billion active accounts!)
Still, whether you're a super long time Yahoo Mail user or just signed up a few months ago, as with any site, forgetting your password can be upsetting and anxiety provoking: were you hacked? did someone hijack your account?? Are you doomed???
Fortunately, if you set up your account properly in the first place, there are a ton of different ways you can reset your password and regain access to your Yahoo account. Let's have a look…
This is, of course, the top nav bar of the Yahoo home page. How it can give me alerts even though I'm not signed in is a bit of a mystery, but, well, it did catch my attention!
A click on "Sign In" gets you to the login window: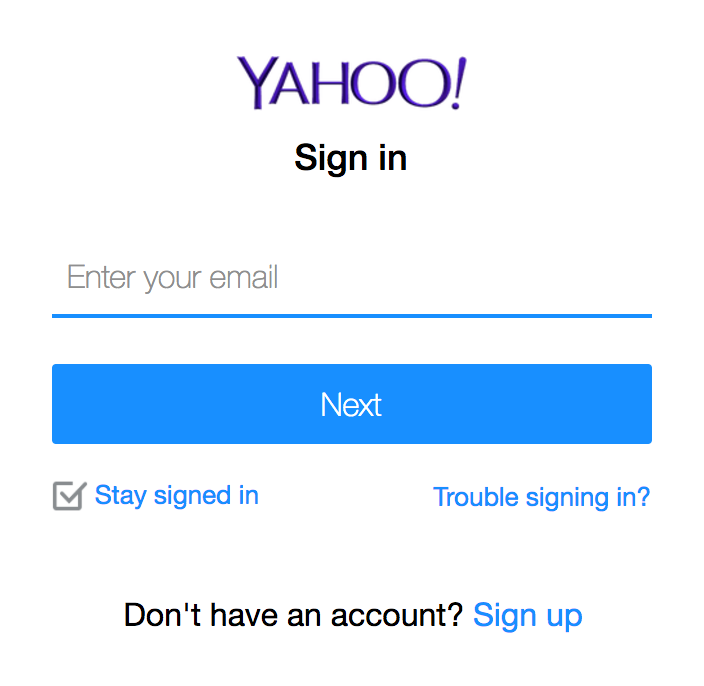 At this point, if you've forgotten your Yahoo account name or email entirely, you can click on "Trouble signing in" and get to here:
Don't actually have an account? Click on "Sign up" on the prior screen. But this is where you get to find out if you set up all the account recover options correctly or not: what mobile number did you register? What recovery email address did you register with Yahoo? Try one. Or, if you know your Yahoo Mail or account name, use that on the prior screen. Either way, you'll end up on a screen like this:
You can try a few passwords if you think you mostly remember, but I suspect that after enough failed attempts Yahoo will automatically lock your account for a period of time, which might be problematic. Instead, if you just can't get it, click on the handy "I forgot my password" link.
Yahoo first wanted to text me a recovery code, but to do that, I had to first verify my phone number. To do this trick, it showed a portion of my cellphone number and asked me to enter the missing digits:
But let's say that's not my cellphone number or I don't remember what number it is. A click on "No, I don't know the digits" and Yahoo will try the next possible recovery option, an email to an alternate address I've previously registered:
Note that if you go through all the options and none of them are going to work, you'll eventually end up here:
That's the sad panda portion of this journey; you forgot your password and none of the recovery options work. If you can't figure out the password, you're most likely out of luck and won't be able to get back into your account. Sorry.
If the recovery email is one you have control over, however, you can click "Yes, send me an Account Key" and you'll shortly get an email like this: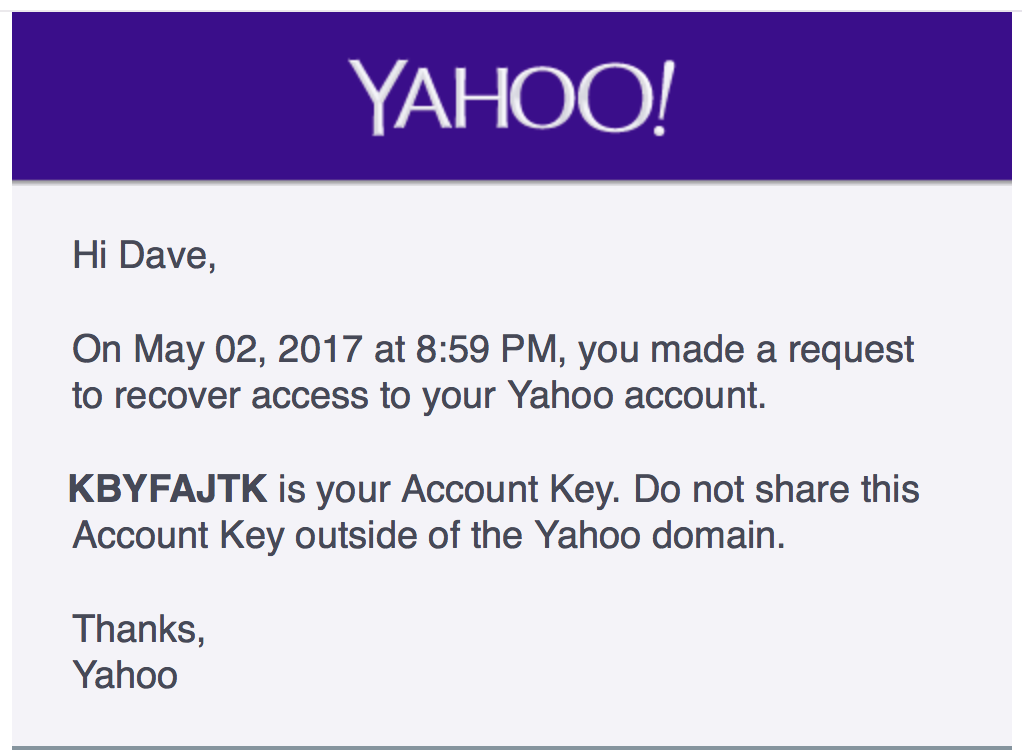 Yahoo will meanwhile be showing a screen that asks you to enter the Account Key. Copy and paste to make sure you get it right, click "Submit" and in a second or two you'll see the good news:
At this point please, please, create a new password for your account! And use my handy tips: always mix upper and lower case and toss in a number and some punctuation. You can use something based on a sentence or word too, so 2Go2Yahoo! would be a simple, easy to remember and sufficiently complicated password that it'd serve you well. Not TOO complicated, eh?
That's it. You've hopefully regained access to your Yahoo Mail account and set up a new password that'll make your account more secure and ensure you can pop in and use it next time if you want too. Now, while you're at it, make sure your recover email addresses and phone numbers are up-to-date too.