When I search for files on my Windows 10 computer, it's hit or miss: Sometimes it finds what I seek, other times it seems like it's clueless. Is there a way to rebuild my file search database to fix the problem?
One of the tougher facets of any modern operating system is keeping the search database updated. You don't want it running all the time, constantly rebuilding, because that'd be an unacceptable hit on performance. But if you only run it overnight, say, then a file created at 8am is still invisible at 4.30pm that same day. Microsoft Windows 10 opts for a solution that is a compromise: it updates the file index sporadically behind the scenes and hopefully since you're working with files you've created in the past few hours that you won't need to search for them.
However, the good news is that at any time if you feel the file index that search uses is way out of date, you can force a rebuild! That's not too hard to accomplish, but the feature is pretty well hidden so you'll need to follow these steps to get to the rebuild button…
Easiest way to get started is to simply search for "indexing options" as shown: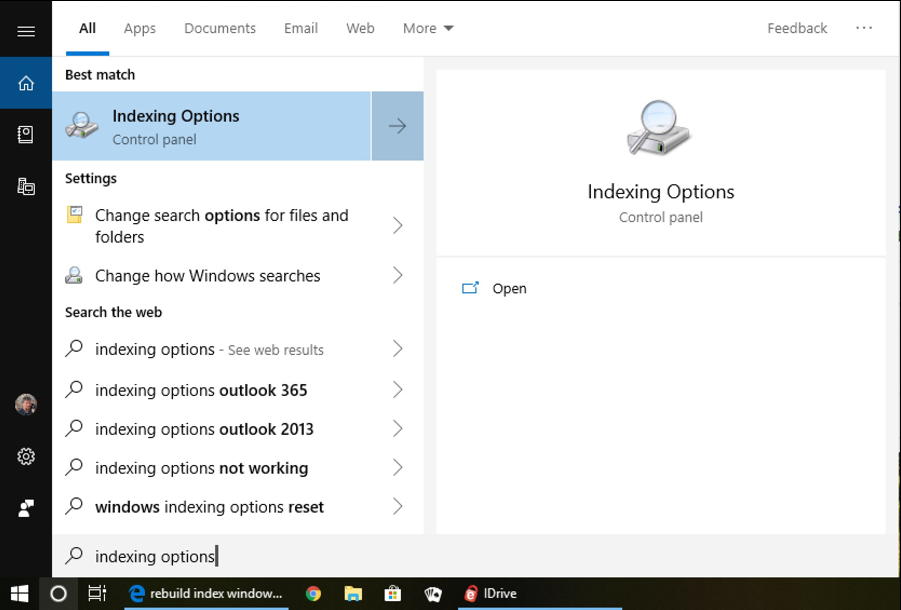 You want to jump to the Control Panel "Indexing Options" so just click on that match in the search results window.
Now you'll get to the control panel: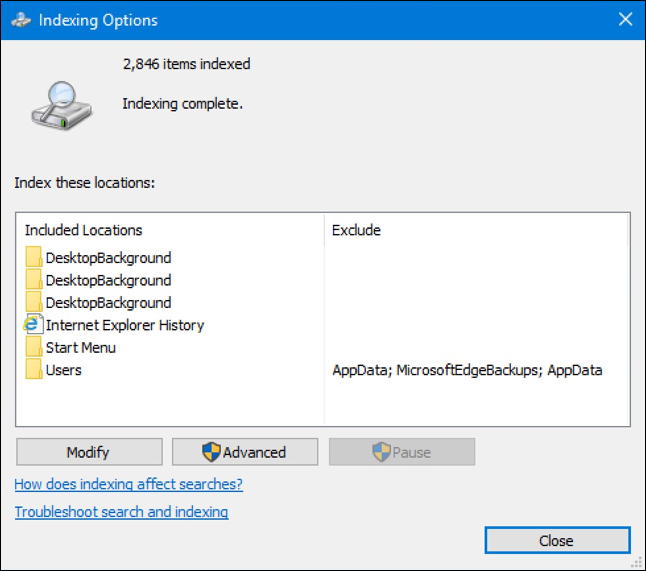 You'll want to closely eyeball the included and excluded locations to ensure that where you're adding files isn't somehow being ignored by the indexing process. Also look at the total number of files it's indexed: If you have 75,000 files and it's indexed 300, well, you have an issue. If it's roughly what you expect, no worries.
To rebuild the index from this point, click or tap on the "Advanced" button near the bottom. That pops up yet another window: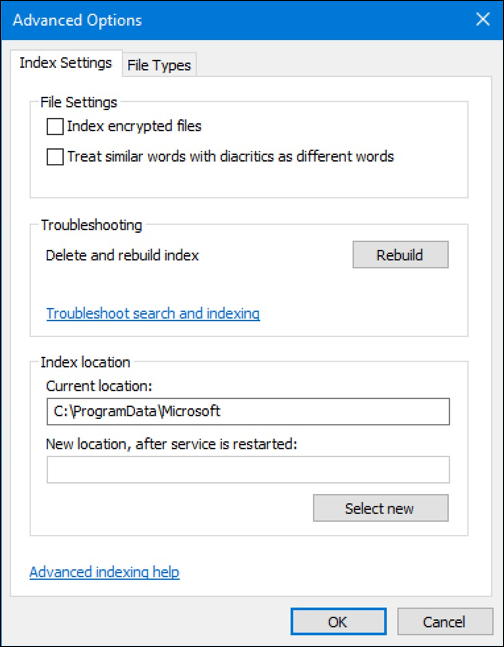 Start here with a quick check on the "File Types" tab to ensure that you haven't excluded specific file types (like .docx or .txt, which would be a disaster!). Otherwise, all looks okay? Then you can try the troubleshooter (click "Troubleshoot search and indexing") but my experience is that it's pretty useless and if it finds anything will just tell you to rebuild your database.
So let's rebuild the database! Click or tap on the "Rebuild" button.
Basically it means "if I rebuild your index, you won't be able to search for files while I'm in the process of doing so." which is kind of obvious to me, at least. Click OK and then… don't search for a little bit. Easy. 🙂
Meanwhile, if you look closely, the Control Panel window will actually show you a running count of how many files have been indexed by the process: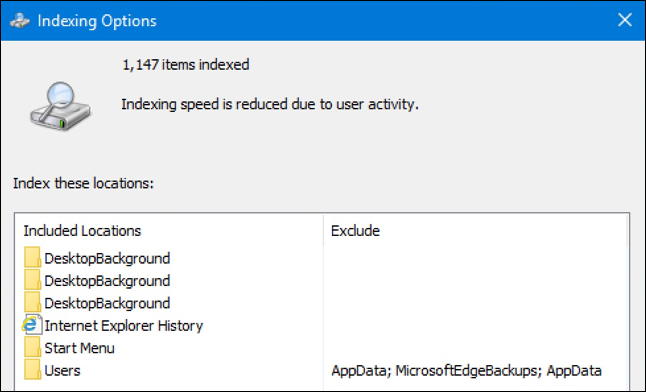 Heck, it's even a bit snippy about the fact that I have the temerity to use my computer while it's working on indexing. Yeesh! Anyway, shouldn't take too long and then you've got a new, updated database and can hopefully have better results with file search on your Windows 10 computer. Huzzah!
Pro Tip: I have a ton of Windows 10 help here on the site. Please take a few minutes to check it all out!