I don't know how to update WatchOS on my Apple Watch; every morning I wake up to an error that it couldn't update, then when I try to update manually it says it needs to be charged. But it is charged. Help!
One of the most important things that consumer electronics companies have learned is how to have a failure-proof firmware or system update. It used to be that they didn't pay attention and people would "brick" their devices by having them run out of power halfway through an update, have someone kick a power cord, or even have a download fail at a critical moment. Definitely quite frustrating and not what people or the gadget and gizmo manufacturers want to occur. The problem is that sometimes the stricter rules on applying an update can be a bit overzealous, as with the Apple Watch update sequence.
As you have learned from the warning message, upgrading WatchOS requires that your Apple Watch be at least 50% charged and on a charging station. But it also requires an iPhone in the loop, so that needs to be charged at least 50% too, though it doesn't actually tell you that. In fact, I generally find I have to force-restart my Watch for updates to occur since I don't leave it on a charger overnight as it seems Apple expects. Here's how I do it…
WATCHOS UPDATE THROUGH THE WATCH APP
Here's the kind of message you're seeing on your Apple Watch every morning: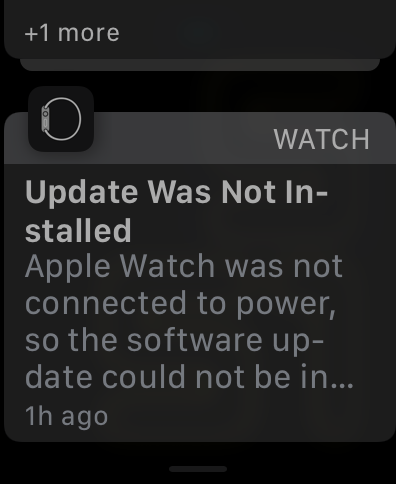 It says "Apple Watch was not connected to power, so the software update could not be installed." ¡No bueno!
Jumping to the Watch app on an iPhone, the tiny red '1' adjacent to "General" reiterates that there's a pending WatchOS update: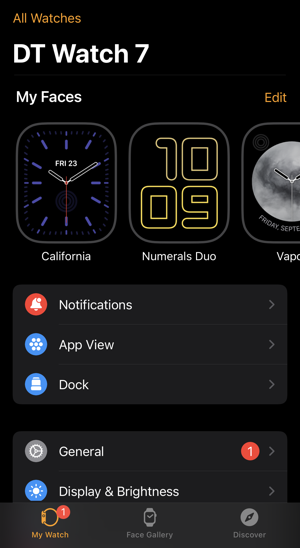 Tap on General > Software Update and you'll see exactly what's new and the version number of the new WatchOS release, the version you want on your Apple Watch!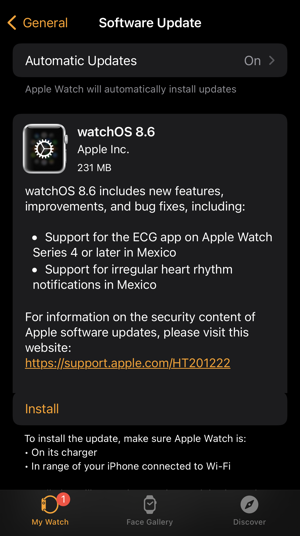 I don't think anyone keeps track of that number – this is WatchOS version 8.6 – so don't worry if you have no idea what version is running on your watch! The key in the above, however, is the "Install" link near the bottom of the screen. Tap on it and…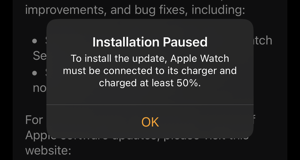 Well, heck. Using the app doesn't clear the problem. My watch is currently charged to about 85%, and on a charger, though it's clear that the app doesn't know that.
FIXING WATCHOS UPDATE INSTALLATION PAUSED ERROR
In other words, it's erroneously warning me about something that's not true; my Apple Watch is charged more than 50% and it's on its charger. Now what?
To clear the problem, I force-restart the Watch. You can do this by pushing and holding down both the crown and power buttons simultaneously for about ten seconds. The Watch screen will go blank. Let go of both buttons and after a few more seconds you'll see an Apple logo. it'll restart, and you can proceed.
Now tap on "Install" in the app and it'll download if needed, then say "Verifying…":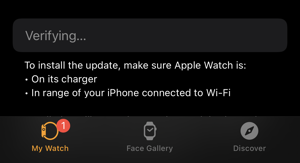 After it's verified – which can take a few minutes – it'll actually do what you've sought from the beginning: Install the darn update on the Apple Watch. You can see that with "Installing…"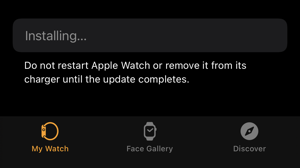 Once that happens, you'll see your watch screen change to a progress wheel similar to what you saw when you first got your watch and set it up:
This phase can take a while, even ten minutes or more. Best is to just leave it and do something else for a while. When you come back, it should be in its normal display mode as you would see any time it's on the charging unit.
Tap to unlock it with your PIN then after another minute or two, you'll know you've succeeded when you see this on your Apple Watch:
That's it. Apple Watch updated to the latest WatchOS.
Pro Tip: I have quite a few Apple Watch tutorials here on my site too. Please check out my Apple Watch Help for lots of useful content in this regard!