Did Apple remove the ability to manually manage app updates? I don't like to have apps updated invisibly, preferring to choose when and where to update everything. Is there a setting I can change so I have that back in iOS 15?
There are three primary types of app updates in the mobile phone world; feature updates, functionality updates, and security updates. It's no big deal if you defer the first two because you want to manage your data usage or constrain when your apps will surprise you with new user interface elements, relabelled buttons, etc. But that third category, security updates, that's the kicker. Modern software is increasingly complex and hackers are now well-funded teams who can exploit the tiniest coding error. Just like iOS itself, when there are security updates for your apps, it behooves you to install them as soon as possible. That's the real motivation behind the automatic updates feature, which is now the default on all Apple devices.
It is still a setting you can disable, however, so you do retain the ability to opt for manual updates instead. Don't be like my teen daughter, though, and update once a year or so! By doing that, she's opening up lots of vulnerabilities on her device that could end up with malicious software sneaking on or her personal data being stolen. ¡no bueno! for sure.
Nonetheless, since you asked, let's look at how to disable automatic updates on your iPhone running iOS15, though I don't advise it!
DISABLE AUTOMATIC APP UPDATES ON IPHONE
As always, you'll start by going into Settings. Search for "updates":
That's what you want. Tap on "App Updates" and it'll take you to the correct spot in the complex universe of iOS settings: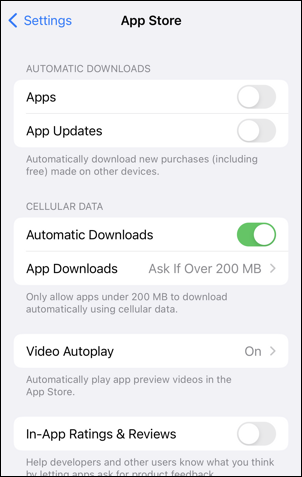 It's the second option – App Updates – that you can enable or disable. I have it set as disabled (the grey slider switch graphic) but as I said earlier, recommend you have it enabled and green, like the "Automatic Downloads" switch a bit lower down on the screen.
If you have multiple iOS devices, enabling automatic Apps updates will ensure that when you install new apps on one device that they show up on all the others too. Perhaps not as important in the big picture, particularly when it comes to device security.
FORCE A MANUAL APP UPDATE ON THE IPHONE
If you do have automatic App Updates disabled, you can force an update to all the apps with new versions by going into the App Store. It's the fourth icon on this list:
It's definitely not obvious how to check for updates once you're in the App Store, however…
It's not one of the icons along the bottom. Instead, tap on the tiny circular icon on the top right. It might have your profile pic or it might just be your initials. Either way, tap on it. You'll go to a screen that's mostly about your account information:
Look near the bottom, however, and you'll see "AVAILABLE UPDATES" not too far down at all. Swipe down to that section and you'll see what apps have newer versions available for download…
You can individually update apps by tapping on, for example, the "UPDATE" button adjacent to the SiriusXM app, but it's a lot easier to just tap on "Update All" to get all of them at once.
Start an update and you can watch progress within the App Store app…
Or you can watch app icons actually update on the iOS screen itself:
See how the SiriusXM app is slowly filling in? Once it's a full, regular view of the icon, the apps updated!
Done. Now, please do think carefully before you opt to disable automatic app updates. If you do choose that, at least make it a habit to update your apps weekly. You'll thank me later. 🙂
Pro Tip: I've been writing about the iPhone and iOS since the very first iPhone was released. Yes, I've owned every major iPhone model! I've also written quite a few iPhone help articles on a wide variety of topics, so please check 'em out while you're visiting. Thanks!