I'm disgusted by the grand jury findings on the Ferguson case and can't believe that poor Michael Brown's family didn't find some justice after everything that happened. I want to see what other people are saying and sharing online too. What's the best place to follow breaking news like Ferguson online?
I'm not going to get into the politics of the Michael Brown killing, because we don't really take political stances here at AskDaveTaylor, but I will say that the grand jury findings handed down on November 24th, 2014 definitely have made a lot of people very upset with the justice system. And in the modern era, upset means that people are sharing their unhappiness, anger and fury through social media, Instagram and, mostly, Twitter.
In fact, while Twitter might have its limitations, it's when there's breaking news, when something's happening right now that the service really shines and gives everyone, rich or poor, government official or gang-banger in the street an equal voice. And that's an amazing way to keep track of what's going on.
In the case of the Ferguson decision that the police officer who shot Michael Brown isn't going to be indicted, that's all over Twitter and will be for weeks to come.
To keep track of what people are sharing on Twitter — both photos and text messages — the best path is to simply go to the Twitter home page, or your home page on Twitter if you have an account. Look for Trending Topics on the left side. Right now, it looks like this: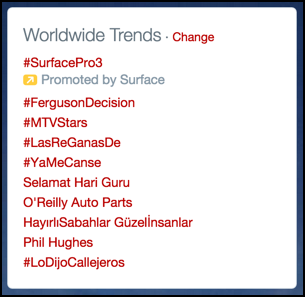 You can see that Microsoft is paying for its #SurfacePro3 to be the top item (I suspect that'll vanish soon enough when their PR team realizes it's not the best moment for that promotion). The first non-promoted item is what you want, #FergusonDecision.
Click on it. Now on the left side you'll see how Twitter breaks things down to make following easier: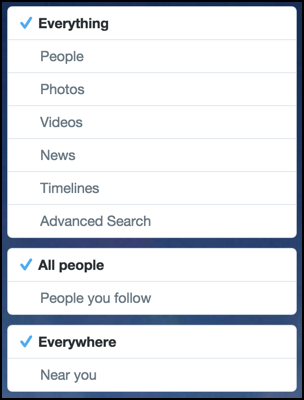 The default is everything by everyone everywhere, but if you were just curious about photos from people near you, you can get just that subset with a click or two.
Let's keep it as everything from everyone, for the broadest possible coverage, and look at the central portion, where photos are highlighted:
It sure looks like someone's curating these images (if nothing else, the locations being superimposed came from somewhere, right?) but you can also click "View all" to see more of the photo stream, a stream where professional photojournalist share the screen with amateurs in the middle of the action.
Immediately below the photo summary is the stream of Tweets from people, generally focused on those that have been retweeted or favorited, as you can see: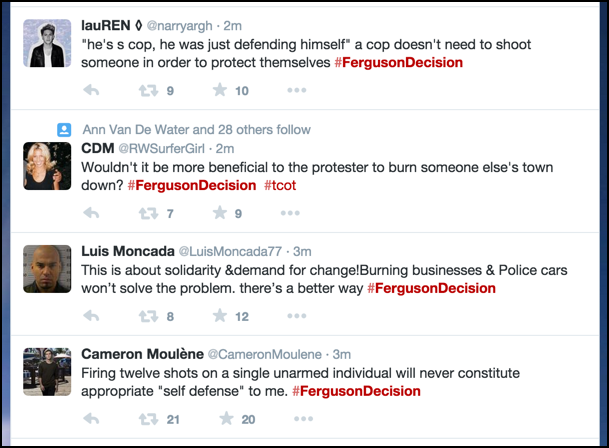 Go down a bit further and you'll see images from the middle of the protests:
It's extraordinarily compelling and I've been watching the posts, photos and discussion for a few hours now. I'm not in the middle of the protest, but with Twitter, I feel like I have my finger on the pulse of an angry group of protestors and all the other groups involved in the situation, from those angry at the rioters to those who don't understand what the hubbub is about in the first place.
Keep track of the latest by following #FergusonDecision.