I got my hands on a tiny new Apple iPod Shuffle, 2nd generation, and it's amazingly cool, but I'm a bit baffled by what all the different flashing patterns mean. Is this some sort of Morse code or something? Help!
I have one of these little gems too — really, it's no bigger than a book of matches and stores a gig of music. What's not to love? — and it's the first iPod I've owned that didn't have a display screen, so I too am learning how to read the tiny little colored light to figure things out.
Here's a picture to make you salivate and think about why you might just need a second iPod for Christmas: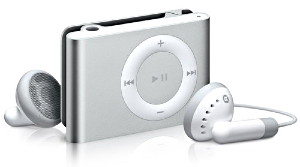 Okay, well, I don't want to be a shill for Apple (I mean, heck, I had to buy my Shuffle, so it's not like they're sponsoring this in any way! 🙂 so let's talk about the color sequences and what they mean.
First off, there are a number of different functions that are denoted by different color sequences, so flashing green might mean one thing when you're listening to music, and something else entirely when it's plugged in and charging or syncing with your PC.
The primary functions are powering on, charging, syncing, and general feedback. Let's look at each.
When you turn on your iPod Shuffle, the light will indicate your current charge level:

green
= 30-100% charge, you're good to cruise

orange
= 10-30% charge, low, but still good for a short workout

red
= less than 10% charge, time to plug it in
no light = too late, you've run out of juice
If you see an alternating pattern of
green
–
orange
–
orange
then your Shuffle's crashed or otherwise needs to be restored. Needless to say, that's not a good thing, but probably easy to fix when you hook it up to your PC or Mac.
When you're charging up your Shuffle, there are three possible light states:

orange
= charging

green
= fully charged, unplug whenever you're ready to go
flashing
orange
= busy, either syncing or in use as a remote disk
When you're playing some music, you can see visual feedback on what's happening and what state you're in:
Press play and
solid
green
= you're playing music
flashing
green
= you're in pause mode
Press and hold play and

green
–
orange
–
orange
–
orange
= you've disabled your buttons

orange
–
green
–
green
–
green
= you've reenabled your buttons
That's bound to be one where people panic and fear that they've broken their shuffles, I bet. If your buttons aren't working at all on your Apple iPod Shuffle 2nd Gen, then press and hold your Play button to see what light sequence you're given. This is also shown by the Shuffle flashing
orange
when you push a button too.
If your player flashes alternating
green
and
orange
, you have no music in the Shuffle. This can be because it's fresh out of the box, or because, well, something's happened and the music has vanished. Either way, time to sync with your iTunes library.
If you're seeing a flashing
red
sequence, you're just about out of battery and just need to plug it in so it can charge up.
Finally, Apple has some good tech notes on the new Shuffle too that you might want to check out if you're still a bit baffled by this tiny engineering wonder:
Understanding status light behavior
,
Shuffle Second Gen, Frequently Asked Questions
and
iPod Shuffle Support Overview
.