This is weird. Without me changing anything that I can recall, the Trash on my Windows 7 laptop is now automatically and instantly deleting any files I drag into it, rather than "archiving" the contents until I explicitly delete things. I've lost two things already because I went back to pull them out of the Trash just to find it empty. What's changed and how the heck do I fix it??
The way that trash / recycle bins on modern computer systems are implemented, they seem to be no more than a folder with a special icon. Drag things into the Trash and it'll just sit there until you're ready to either really axe 'em or want to recover them. In fact, I sometimes store files in the Trash for a day or two until I'm sure one of my online services did what I queued it up to do. No worries.
Until it doesn't work that way!
Turns out that in Windows you can actually change your Trash from being a storage bin that you can access later to something more akin to a shredder. Drop something in and that's it. Gone. Kaput. Sayonara.
Fortunately, it's easy to change back, because it sure sounds like that's what has happened to your system.
Before I show you, though, let me illustrate a few pointers to identify if this is happening on your own computer. First off, when you drag a file onto the Trash, here's what you see, as usual:


But the window that shows up immediately afterwards gives you a clue that somethings' different. Read it carefully:



"permanently delete"? Sounds serious. And it is.
In fact, say "Yes" and the Trashcan stays empty!


Why? Because the file was instantly deleted. Again, think of it as turning into a really efficient shredder. If you drop something into a shredder, you don't expect to be able to recover it, do you?
To fix the problem, right-click on the Recycle Bin / Trashcan: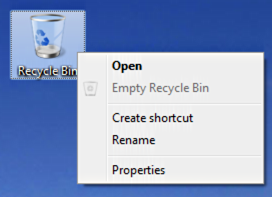 Choose "Properties" and you'll instantly see what needs to be changed: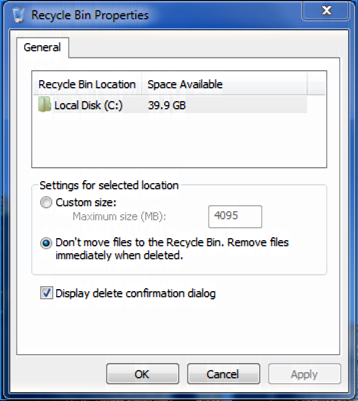 Since you don't want to fill up your drive with trashed files, set a max limit on the folder, but select "Custom size" rather than the long-winded "Don't move files to the Recycle Bin. Remove files immediately when deleted.".
Click "Apply" and this time when you drag something into the Trashcan, it's actually "in" there:


That should get you all fixed up!