Every time I go to a PDF link in Safari on my iMac I just get a blank, gray screen. At first I thought that they were big PDF files that needed to download, but nope, it's just a blank screen without the document ever showing up. If I view it in a different browser, the document comes up just fine, and if I save it as a file to view with Viewer, it's fine. But I want to read PDF files in Safari itself. Is that no longer an option?
Modern web browsers like Safari use a lot of helper apps, separate programs that let them know what to do with unusual file types like an .mp4 movie or, in this case, a portable document format (PDF) file. Normally it works fine and most people end up using Adobe's PDF Viewer plug-in for their Web browsing, letting you easily click on and view PDFs to your heart's content.
Except sometimes when there's a glitch in how things are set up in Safari on a Mac OS X system.
For reasons that I really don't understand, what appears to be the case is that Mac OS X ships with a broken PDF plug-in, but even with the very latest system patch, the problem's still present. And here's what you see…
Instead of viewing the PDF document in question, it's just a gray screen: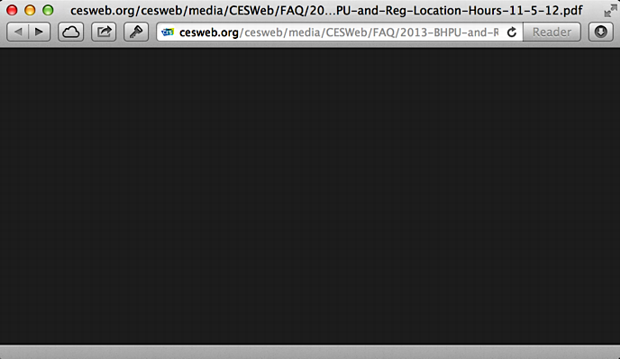 To say that's frustrating is an understatement! When I first hit this problem, I just switched to a different Web browser entirely, which is rather a dramatic solution if you think about it.
Instead, let's fix it.
To do that, use Spotlight to find a plugin called
AdobePDFViewerNPAPI.plugin
. Simply click on the magnifying glass icon on the very top right of your screen and type in that plugin name:


Click on "Show All In Finder" (since there should only be one) and you'll see this: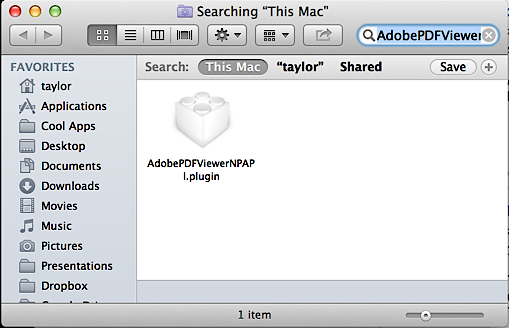 Delete the plugin. No, really. You'll see, it'll work because Safari actually has a built-in PDF viewer capability that doesn't need the Adobe software available:


That's it. Now quit and restart Safari and go back to the very same PDF URL and…


Why there's a broken plugin included with Mac OS X I cannot explain, but this'll fix things and you'll be good to go, no gray screen of non-viewing, just happy PDF files.