I don't like to have any problems or errors on my site so I'm constantly checking Google Webmaster Tools (GWT) and am a bit confused about how to find and fix broken links. Can you give a quick tutorial?
Happy to help out. If you have a Web site, I have to say that it's a smart idea to check Google's Webmaster Tools service at least monthly to see what's going on. Of course, having said that, I also find it confusing. It's an engineering dashboard and requires study and exploration, though at least it's not as confusing as Google Analytics, which I don't think anyone fully understands, even the people inside Google.
Still, the basic idea behind Webmaster Tools is that it's a peek into how Google's search bot indexes and analyzes your Web site, so any information you can glean is good and, heck, sometimes it even says that issues are or aren't likely to be a big factor in your search results placement (SERPs).
In terms of broken links, or "crawl errors", that's easily found the second time. 🙂
To start, verify you're the owner of your Web site for GWT, then log in to Webmaster Tools. You'll see something like this: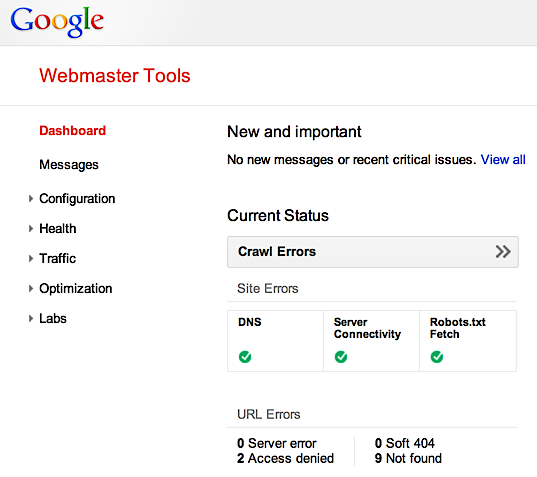 What you seek are the Crawl Errors, which can be located under the "Health" section on the left:
A click and you'll see how your site's faring with a number of important factors, as well as a graph that shows overall server health:
If you see lots of server errors, I'd definitely talk with your hosting company: that can be indicative of a server that has too many sites on it or is offline regularly or a server facility with insufficient bandwidth or infrastructure issues. Not good.
The one we want to examine here are the "Not found" errors. As you can see, my site has 9 errors in this category.
It's hard to tell, but it turns out that the big text boxes that show status are buttons. Click on "Not found" and the graph changes: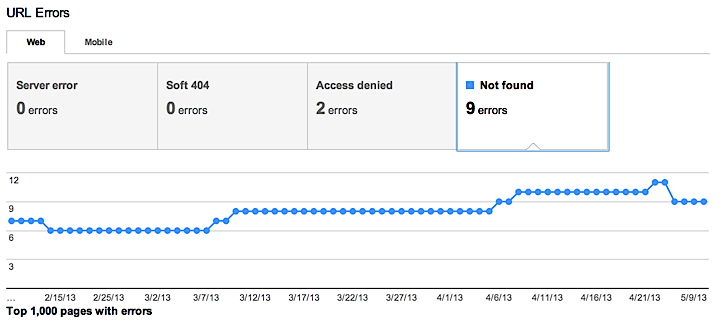 Looks like my not found pages are trending upwards in the last few months. That's not atypical (more pages invariably lead to more hiccups) but it's still something to stay on top of, no question.
Fortunately, just below the updated graph is a list of the specific URLs that failed:

Now GWT says that these are in priority order, but since I've never been able to figure out HOW it prioritizes bad links, I tend to ignore that and instead sort by date detected, trying to solve the oldest bad links before the new ones that have cropped up. You can sort by date detected by clicking on "Detected" in the rightmost column.
The entry that I'm confused about is #2 — www.cwtt.org/ — because that's a valid site. So why is it coming up as a bad link?
A click on the link displayed pops up a window with more information: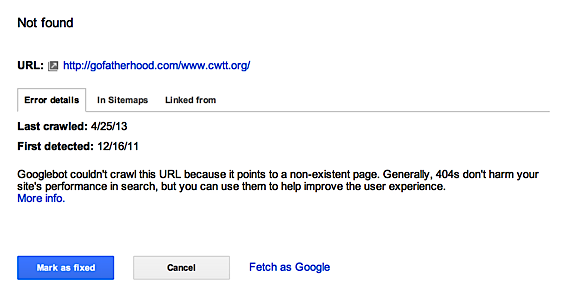 Interesting, but the useful information is under the "Linked from" tag, which, when clicked, reveals: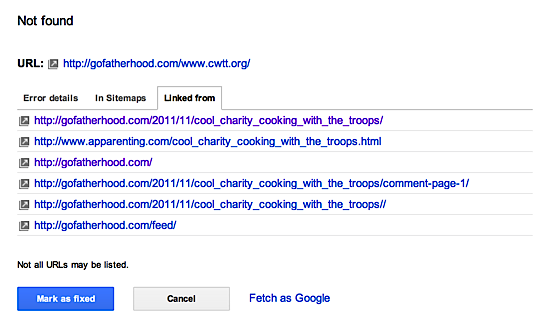 What catches my eye is that the fully revealed URL suggests a broken href: Instead of being "http://www.cwtt.org/" it's actually "http://gofatherhood.com/www.cwtt.org/" which is clearly broken. Time to fix it. Where? On the pages shown (though expertise with WordPress reveals that all of these are actually the same entry, just the different places it shows up on the site. So "cool_charity_cooking_with_the_troops" is the entry that needs to be updated.
Go through each of the Not found, then remember to check it and click "Mark as Fixed" so you can reduce your list and eventually have no errors. Critical to your search rank? Probably not, but certainly much better for the user experience.