Every time I go to Windows Update it says "Checking for Updates…" but never actually progresses. What the heck? How can I fix it and get it working again in Windows 10?
There's something about how the Windows Update program works that can cause it to get stuck in the checking for update cycle. I have seen it many times myself, typically if I close or sleep my PC while it's in the checking cycle. Somehow that just gets it a bit stuck and however long you leave it, the update program never progresses to either reporting that you do need something updated or that your system is up to date.
I expect a lot of people shrug their shoulders and just restart their PC, which definitely solves the problem. Well, "solve" might not be the best description because the problem is still lurking, but it lets you sidestep it until the next time your Windows PC is stuck in that "Checking for update" loop.
This is a known problem and Microsoft actually has a Windows Update Troubleshooter you can utilize. Just click on that link or go to https://support.microsoft.com/en-us/help/4027322/windows-update-troubleshooter
But before you do, another approach that can work well is to simply kill the errant process then start it up again. This is most easily done with the Services Manager, which means you're going to have to go a bit PC ninja to get there. Let's go through the steps…
First, Checking for Updates stuck and spinning: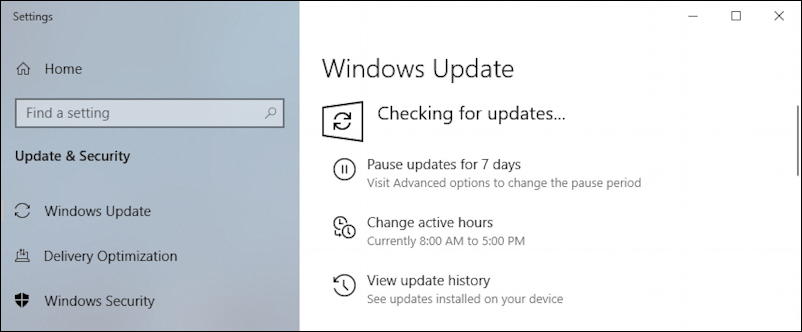 You can give it a few more minutes if you're optimistic, but it's probably not going to progress. Instead, search for "run" because you'll need to launch the Services Manager from the command line:
This gives you easy access to the Run app, as shown. Click to launch it and don't be surprised when all that happens is that a tiny little window opens on the lower left:
As you can see above, you want to carefully type in services.msc into the box. What's an ".msc" file? It's a Microsoft snap-in control file that's part of Microsoft Management Console. Don't worry, it's pretty easy to work with. Indeed, the program launches and shows a long list of every process, running or otherwise. Scroll down to find "Windows Update", as shown:
The left panel shows some information about the process but on the right you can see that it's Running. You can use the shortcut "Stop" on the upper left to stop the service, or you can do that PC ninja move of right-clicking on the process line in question:
Either way, choose "Stop" and it'll do what's necessary to shut down the process:
Sometimes it can take 10-15 seconds or longer, but once it's done if you look closely in the Management Services window, you should see that "Running" has vanished:
All good. Now you should be able to jump back into Check for Updates and have it check and come back with an update in just a few seconds: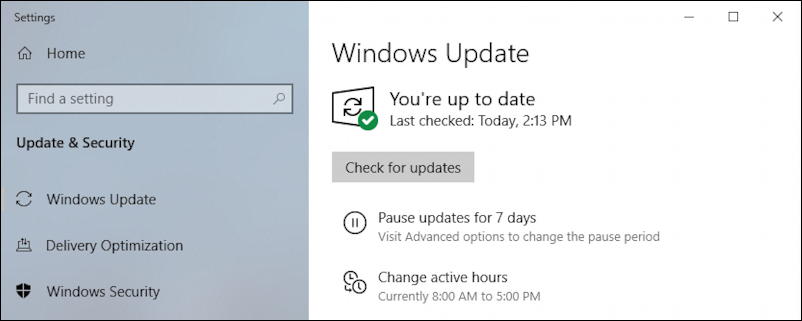 That's it. This approach will work for any programs, apps or even games that get stuck on your PC too, and it's easier than restarting. Well, maybe not easier, but if you have other things running, a bit less impactful!
Pro Tip: I've got a ton of Windows help content here on the site. Please check it out while you're visiting.