I don't know what's going on, but every time I double click on a movie file, it opens in Photos. It works, but that's not my preferred app. So how do I fix it?
Every file on your Microsoft Windows system has an associated program that is typically both its creator and the program that can open and read (or edit) it. Even when that's wrong or missing, however, the system has a second option; choosing an app to open based on the filename suffix. So if you have a .MOV or an .MP4 file, for example, it will open with the default video program in Windows 10.
Which can, in some instances, be set to the wrong thing. Photos is the correct program for image files like .JPG, .PNG and .GIF but… not so much for video files. There are actually three programs included with Win10 that can read those movie files, Movies & TV, Photos and Windows Media Player. For completeness sake, I strongly recommend adding VLC to the mix too, it's a free open source video player that also lets you watch DVDs. Grab a copy at videolan.org if you want.
Anyway, I have an .mp4 and it is viewable in Photos, but that's definitely not optimal:
Turns out that you can force an app to open the file by using the right-click menu.
Here's what you'll probably see for an MP4 file if you choose "Open with":
But that's a one time fix, not a permanent repair.
To do that, you'll need to go into your system settings. Easiest way to do that is to search for "default apps" in Windows 10 / Cortana search:
You can see the needed match is on the right. Click or tap on it to proceed.
It'll show you the associated programs for a variety of file types. Scroll down to find "Video player":
Yours will look exactly like the above because you have "Photos" set for your Video player.
Not so good.
So let's fix it. Click or tap on "Photos" in the Video player area and a window pops up with all the possible choices: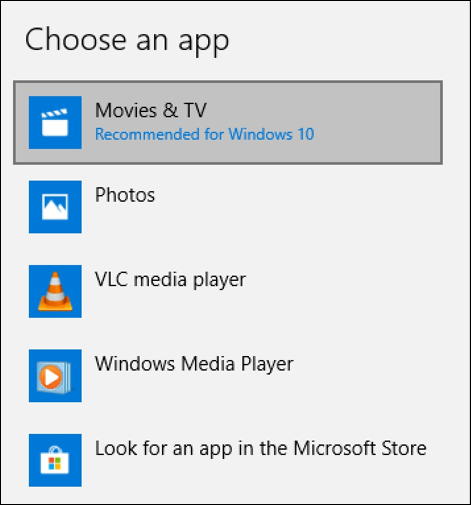 As shown, Windows recommends Movies & TV, and that is indeed the best option. Choose it, then close up the window entirely.
Now when you double-click on an MP4 video file, that's the program that'll open it!
While you're in that control panel setting, you might double check that all the others are also set to the recommended programs for Windows 10. Fixed!
Pro Tip: I've been writing Windows 10 help articles for many years. Please do check it out while you're here!