I noticed last time I was on a Zoom call with colleagues that I had a very casual profile picture while everyone else had very business like photos. I quit, fixed it, and re-joined, saying that the Internet had dropped. For the future, is there any way to change my profile picture while I'm actually on a Zoom call?
Like so much of the video conferencing world, there are nuances to our use of the popular Zoom program. If you're used to hanging out as a virtual happy hour with your old college buddies and then joining a presentation with the board of directors of your Fortune 500 company, you know just what I mean. There are aspects to our virtual presence that are definitely contextual!
While you can ostensibly be so on top of things that you would remember to change your profile picture and nickname before each meeting, class or hangout, odds are good that there will be times you'll forget. Your buddies might forgive your headshot with a suit and tie, but the boss is definitely not going to be happy about your old party animal frat nickname and an infamous picture of you right out of the yearbook as your profile photo for a meeting with potential investors.
Fortunately, once you realize that there's an issue instead of dropping off the call completely, learn to use the Zoom preferences path to fix things up. Here's how…
First off, if you're already in a Zoom meeting, then the bottom of your screen is likely to look like this:

Turns out that it's the Participants link you want. When I clicked on it during this 7 person meeting, I got the following list of names and status: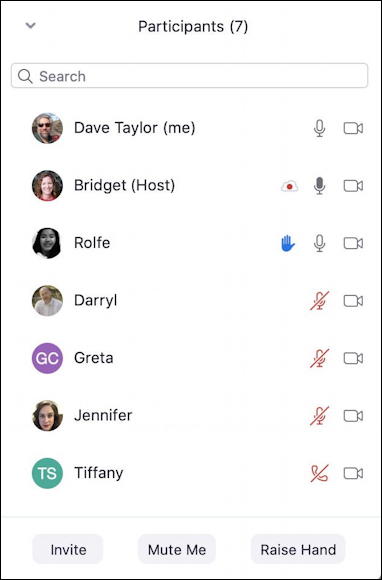 As an aside, notice that two people don't even have profile pictures (Greta and Tiffany), that Bridget is the host, Rolfe has his virtual hand raised and that Tiffany is also using a mobile device, not a computer. Lots of info you can glean from this view, actually. But where it gets interesting is when you move the cursor over your own name…

There's how you can rename yourself to go from "Midnight Madness Mike" to "Michael R." (or vice-versa, as the case may be). You can also choose "Edit Profile Picture" to update your profile pic even as the meeting or class proceeds. Choose that and your current profile pic pops up in a little zoom window: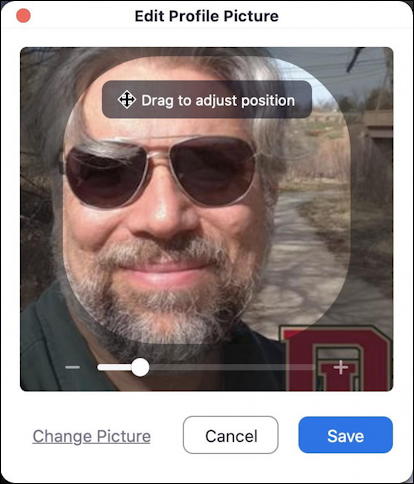 For some reason Zoom seems to have adjusted my own profile picture to be off center. Easy to fix, but notice that there's also a "Change Picture" link if you want to switch to a different image entirely.
Me? I'll zoom out with the "-" button then drag to adjust the image so that I'm centered:
Looks good! A click on "Save" and my newly improved Zoom profile photo is saved and then disseminated to everyone else in the meeting. Oh, and don't forget that you can click on the tiny "V" symbol on the top left of the participants window in Zoom and have it pop out into its own window!
Zoom is a rich and complex app, for sure. I'm still learning and I've already logged a few hundred hours in the application on both Mac and Windows.
Pro Tip: In fact, I've been writing about Zoom for quite a while now. Please check out my extensive Zoom help for lots of useful tutorials to up your own knowledge too. Thanks!