Help! I can't log in to my Wordpress installation to fix a problem that's stopping people seeing the site at all. Whether I try the admin backend or just my home page, I get the same error about a bad plugin. What to do??
I recently encountered the same issue with a broken plugin on my own WordPress site, my film blog Dave On Film, and it took me a few minutes to figure out how to proceed so that I could fix the problem. It's the challenge of the extraordinary number of WordPress plugins, really, and the fact that you have no way of knowing in advance how well written they are (or aren't). In fact, except in really extraordinary situations, any well designed plugin should output meaningful error messages but never prevent your site from loading!
Some plugins, like Jetpack, are written by the same development team that created WordPress in the first place, so they're likely to be pretty darn safe and reliable, but others? Well, are you sure that your beloved early-adopted plugin isn't a high school or college programming project? And your whole site is relying on it being bulletproof code when, well, it ain't. That's why I'm very reticent about adding any plugins on my sites: fewer is better every time.
Still, even with the best WordPress plugin bad things can happen, and if you see something like this, well, ya need a fix!

In this instance there's a great clue in the directory name: The name of the plugin. In this instance it's a plugin called Google Analytics. That's really all you need to be able to fix the problem by disabling the plugin.
Now check with your hosting company and find out how to log in via FTP or, better, use their Web-based file manager to access all the files and folders on the server itself. A bit of digging and you should be able to find the folder wp-content. Open it up and within you'll find another folder called plugins. That holds a folder-per-plugin, as you can see here:
To sidestep and disable a particular plugin in WordPress, all you need to do is rename its directory here in the plugins folder. The directory, up close, looks like this:
(I've added the red highlights to help you see what I'm talking about)
Now just rename that folder. I suggest adding the suffix "-disabled":

That's all you need to do. Each time you visit a WordPress site you invoke the program and all its plugins, so this change will take effect immediately. A refresh on the browser window and DaveOnFilm.com works fine: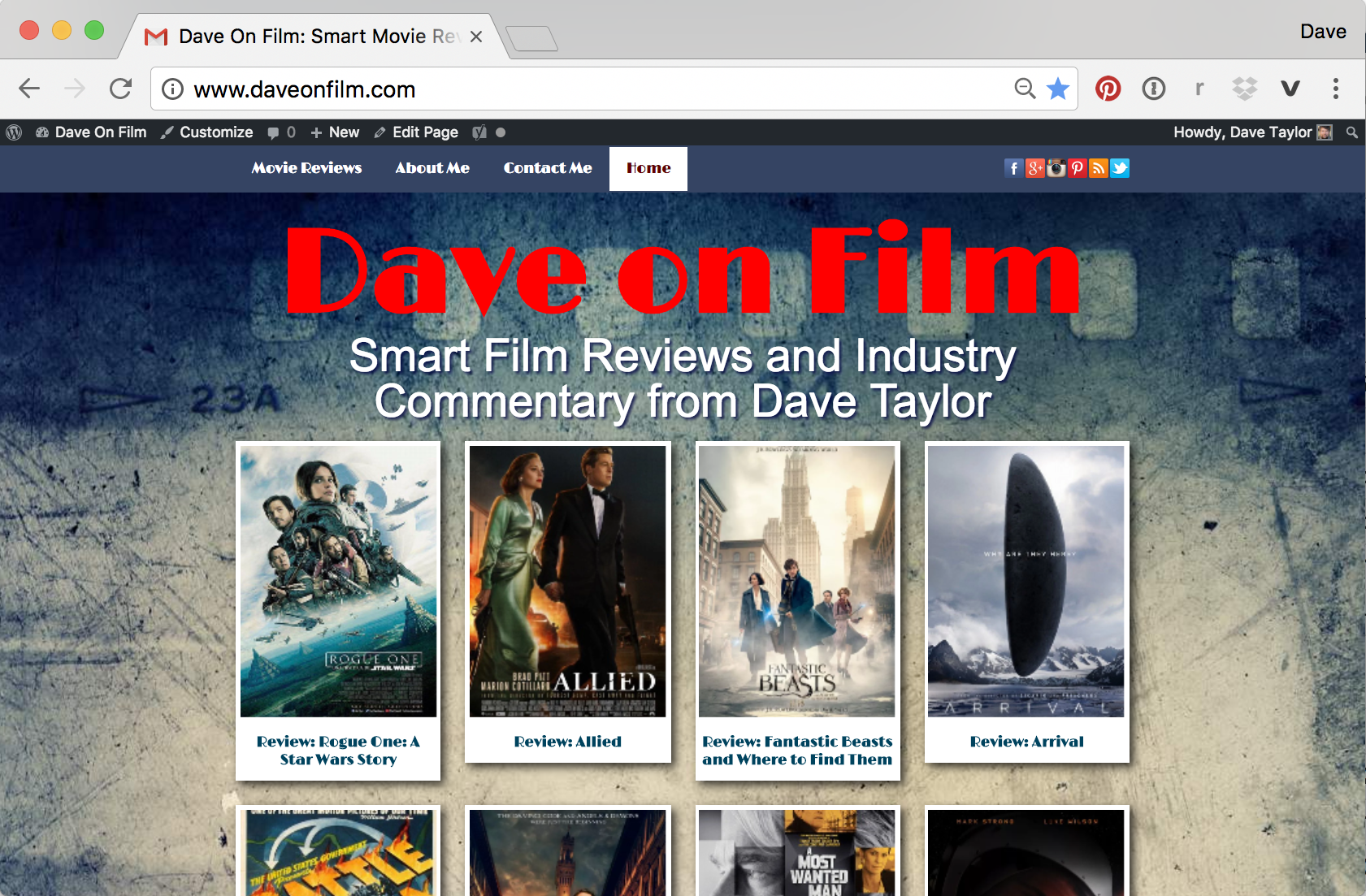 Now you can log in to the administrative backend of your WordPress site, at which point you'll see the completely accurate error message:
I fixed the problem by going into the Plugins area and choosing "Delete" to get rid of any trace of this particular plugin:

Once done, I actually re-downloaded and re-installed the Google Analytics plugin and it works great. Just a glitch, probably that occurred during a version upgrade (notice this version is 2.0.0). Fixed, and now you know how to sidestep these sort of problems on WordPress too!
Now, have you checked out my film reviews at Dave On Film too? I hope so!