I am a pretty heavy user of my Apple iPhone 4's email capability, constantly reading messages as they arrive and sending out responses after tapping madly on the tiny virtual keyboard. It works. My question is whether there's a way for me to see my sent messages on the phone, so I can check prior discussions I might have had with an individual??
When Apple switched to the so-called unified mailbox view in iPhone Mail, it did become a bit harder to figure out what's going on. Used to be that if you were looking at your mail, a single tap would show you a list of folders, including "sent".
Turns out that's all still there, but the difference is that it's now two taps away if you, like me, are using the "All Inboxes" unified mail view (and you should if you have more than one email account set up on your iPhone).
Here's a typical view of my unified inbox on my iPhone: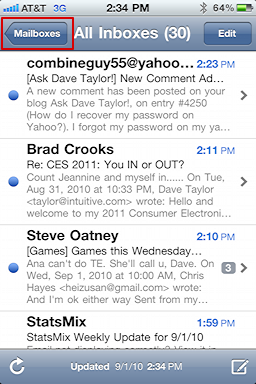 What you should notice is the button on the top left, highlighted here. It says "Mailboxes". Tap on it and you'll see the following: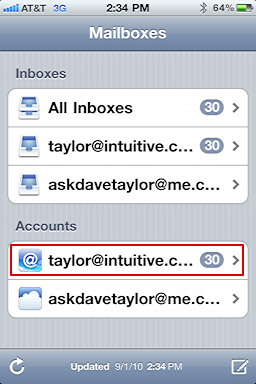 That's where things like "Sent" used to be found, but now you can't get to your sent message archive unless you pick a specific account. I'll tap on "taylor@intuitive.com" and will move down one level…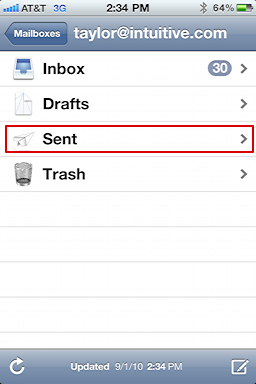 A ha! There's that pesky "Sent" folder. Tap on it and you'll see a list of all the messages you've sent. If you're running POP as your connection to the mail server, it'll just be messages you've actually sent from your iPhone, but if you're running IMAP, then it's
all messages you've sent
regardless of system, which is darn nice when I send most of my messages from my laptop system!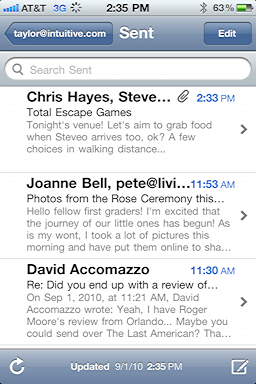 Either way, that's the simple trick needed to get to your sent messages. To get back to your inbox view, just tap on your account name in the top left, then "mailboxes", then you can choose either "All Inboxes" or a specific account.