I'm an addict, I admit it, I love Starbucks coffee. Complain all day about big corporate versus small business, but when I'm traveling, I really appreciate knowing I'll get a good cup of coffee or a tasty latte on the road. I'm an iPhone user and have a question for you: is there a way I can find the closest Starbucks drive-thru when I'm traveling somewhere new?
I like it. You have your preference and you've already slipped in your defense against those people who are inevitably going to complain about local versus global business. Nicely played!
Turns out that there are a couple of ways you can figure out the location of the closest Starbucks on your iPhone, including just going into the Map application on the phone and searching for "Starbucks" after it's located you, but I'm going to show you how to do it in the very useful Starbucks iPhone app.
Step one, then, is to download the free myStarbucks app [iTunes link].
Got it installed? Good. Now launch it and you'll see:


At this point, you want to tap on "Stores" on the bottom left (I've highlighted it here). It should search and find your current location then, a few seconds later, show you green pushpins for all the Starbucks that are close:


To constrain the search to just those Starbucks stores that have a drive-thru, you'll want to tap on the funnel icon on the top right (at least, I think it's a funnel). Again, I've highlighted it above.
Tapping on it lets you filter the results by lots of interesting criteria: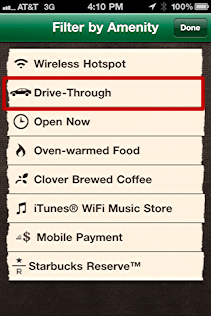 I'm going to tap on "Drive Thru", then tap "Done" on the top right. Now you'll notice one of the pushpins vanished from the map: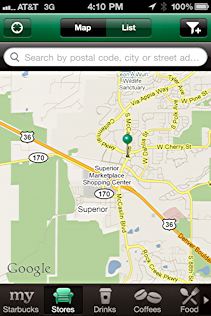 The one that's left can be found by double-tapping to zoom in on the map or by simply tapping on the pushpin itself: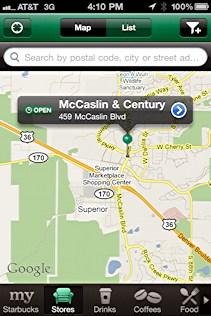 If you want more information on that particular Starbucks, just tap on the shown address. Otherwise, tap anywhere else on the map to have that pop-up vanish.
And that's the fast way to find the closest Starbucks with a Drive-Thru!