My buddies keep telling me how many thousands of groups there are on MySpace and I know how to get to the groups area, but don't know how to find cool groups and join them. For example, I'm interested in the Hawaiian reggae scene: how do I find out if there are any groups on that?
MySpace has an unbelievable number of groups, actually, well in the millions. Heck, there are over 52,000 automotive groups, and 39,000 pet groups, as you can see here: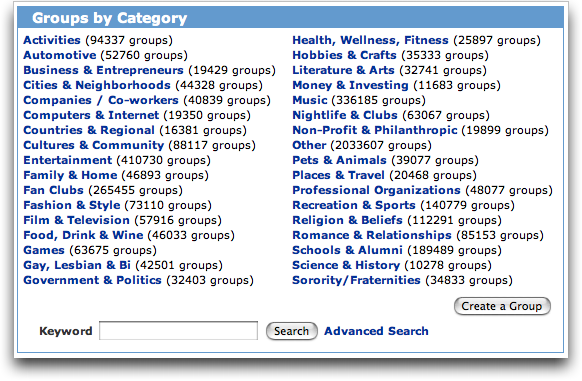 To find a specific group you can just enter a keyword or two, but I find that's generally too broad since there are so darn many groups. For example, search for "Hawaii" and you'll find 3108 matching groups. Search for reggae and 2172 groups match. Search for "Hawaii reggae" and there's one match, "Hawaii Reggae Scene", but because of the typical vagaries of spelling, bunch of groups aren't matched in this keyword search…
By comparison, a search for "hawaiian reggae" matches five groups. Much better.
If you're trying this yourself, you'll have noticed the MySpace advanced group search capability. It looks like this: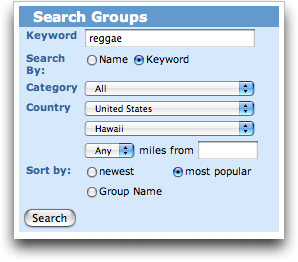 Problem is, the search shown above yields
zero results
because the founders of the six Hawaiian reggae groups are either from states other than Hawaii, or didn't want to register their state.
So in terms of finding a specific group, there's no solution other than just poking around, trying spelling variations, synonyms, and even trying for some word of mouth (e.g. ask your friends!)
Once you find a group you like, however, just click on the group name and somewhere on the subsequent page you'll see:
If you don't see the "Post Topic" button it's because the group's
private
, rather than the much more common "public" group. In that case, the group owner will need to approve you after your join request. Not much you can do in that case other than wait for that approval, which might take a few hours, a day, or never.
Anyway, that's the basics of finding and joining a group. Persistence will pay off in this instance, and hopefully you'll find just the group you seek!
If not, remember I also have
MySpace help
on
how to unsubscribe from a MySpace group
too. 🙂