I used to really love the lively puzzle game "Plants vs. Zombies" on my old Windows PC, but haven't played in a while. Is there a free version of the classic game for Windows 11?
I think Plants vs. Zombies was one of the few puzzle games on my Apple iPad that I actually played all the way through twice. There's something fun and relaxing about the game, though it can be a bit stressful when the hordes appear. It's known in the gaming world as a tower defense game, by the way, since you build structures to withstand a subsequent onslaught. Anyway, developed by George Fan, the title was first released by PopCap Games back in April 2009 and quickly became a hit. It was originally planned as a sequel to the casual gaming title Insaniquarium, but, as George puts it, "I realized that plants and zombies made a much better theme for this game than fish and aliens". Eventually, the game showed up on Mac, PC, Xbox, Nintendo DS, Android, iOS, Playstation, and now the Nintendo Switch!
You can still buy some of the various versions of Plants vs. Zombies for your new Windows 11 PC through Electronic Arts (who now owns PopCap Games) if you're so inclined. None of them are available through the Microsoft Store, however, you'll want to go directly to EA.com to see what options there are nowadays. Just jump over to https://www.ea.com/games/plants-vs-zombies.
But free? That's a different story, and while the graphics on the indie versions available might not be at the same level as the original, the core gameplay remains surprisingly similar on the free game knockoffs in the Microsoft Store! Let's check it out…
SEARCH FOR PLANTS VS. ZOMBIES IN THE MICROSOFT STORE
To start out, just fire up the Microsoft Store app: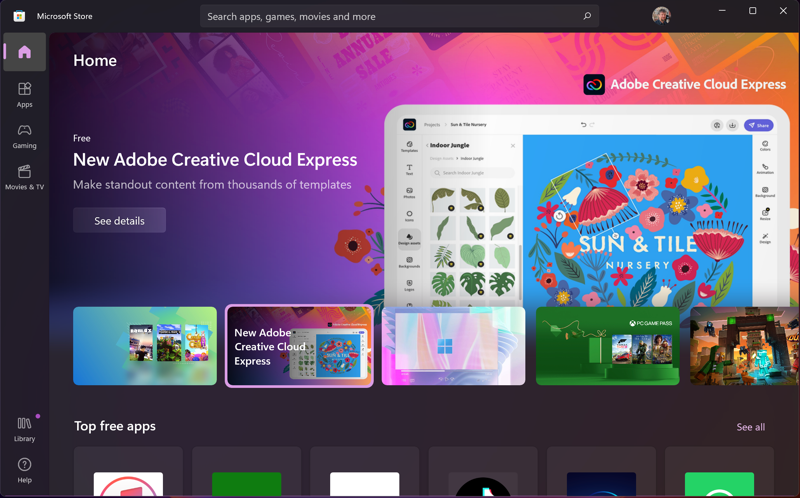 You can just click on "Gaming" on the left and browse, but it's way more efficient if you use the built-in search feature. Click on the title bar where it says "Search apps, games, movies and more", then type in "plants vs zombies":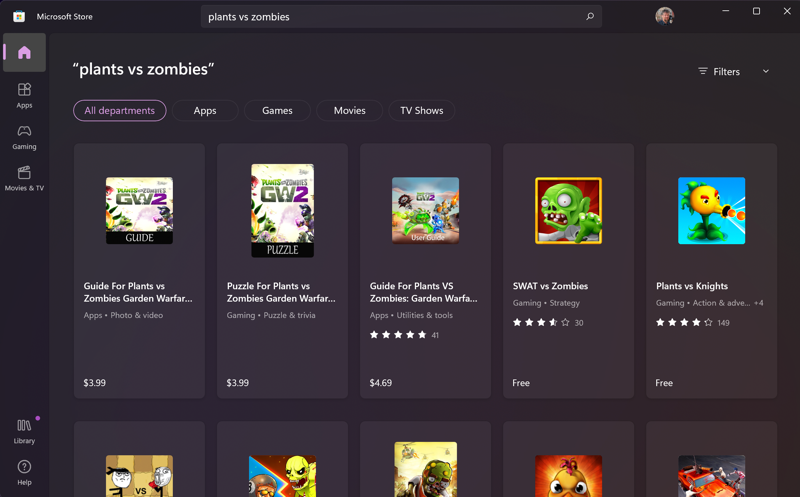 Fortunately, Microsoft Store has a powerful filter system to narrow down the results. Click on "Filters" on the top right and you'll see a bunch of categorizations appear:

You can choose "Games" from the departments, but the key filter is "Free" from the "All types" menu, as shown.
Now the results are better: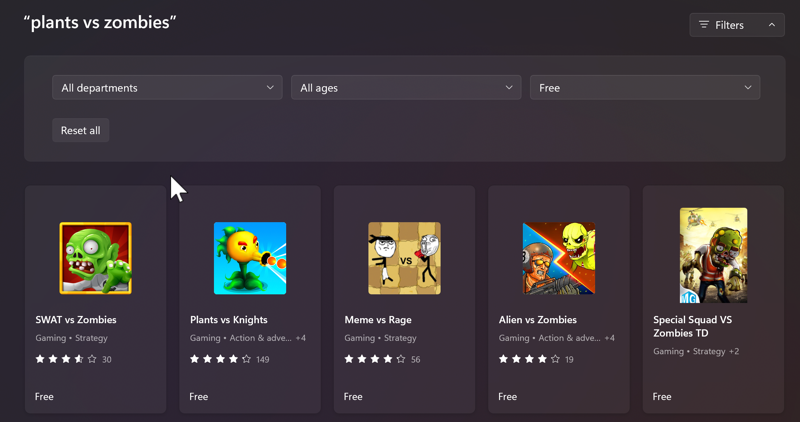 Clearly, these developers have had some fun coming up with variations on the theme with SWAT vs. Zombies, Plants vs Knights, Alien vs Zombies, Special Squad vs Zombies, and many more. The most obscure? Meme vs. Rage. Odd.
INSTALLING A FREE GAME FROM MICROSOFT STORE
Let's choose Plants vs Knights since it's pretty well rated with over 100 ratings. A click and more information about the game is revealed:
Fighting? Not sure about that, but maybe. Read through the description. Sounds good? Click on "Get" and it'll download and install. Once ready, fire it up!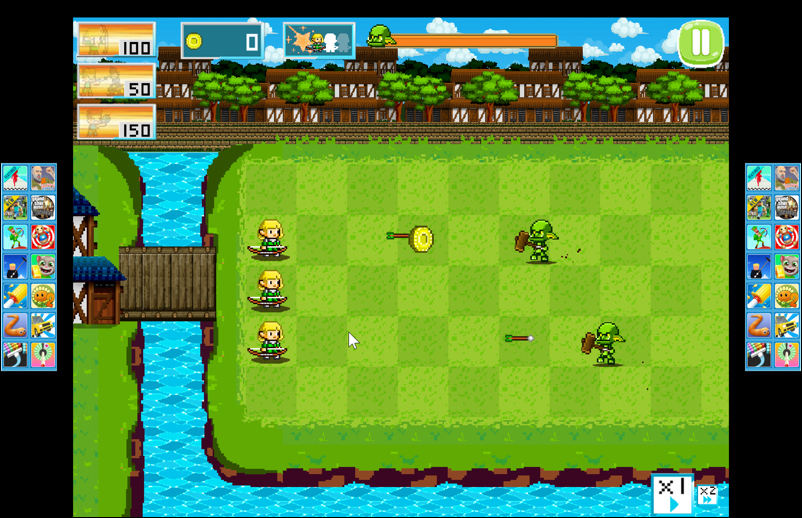 Well, it's not quite the same visual theme – or graphics quality – but for a free title, I'd have to say that Plants vs. Knights does capture a lot of the same feeling and tactical requirements. Fun!
Found a better PvZ clone or knock-off? Share its name and a Microsoft Store link in the comments!
Pro Tip: I've been writing about Windows for many years and now have an extensive Windows 10 & Windows 11 help area. Please check it out to find lots of additional tutorials and guides while you're here. Thanks!