I love the fact that on my iPhone I can search for emoji by simply tapping in the name of the symbol. Is there any way to do that on my iMac too?
There's a whole world of emoji, all specified by the Unicode consortium, and at last count, there are 2,823 emoji in the Unicode standard. The most recent emoji release is Emoji 11.0, which added 157 new emojis in June 2018. There's even a Web site dedicated to the 2800 odd emoji called emojipedia! What's more interesting is that each of those emoji has an official name, not just a symbol or graphic. For example, do you know what bellhop bell, hourglass not done, mantelpiece clock and umbrella on ground look like in the world of emoji?
What's more impressive is that Apple knows emoji not just by name but by similar name, so search for "chicken" and you'll also see rooster as a possibility.
I actually really love emoji and think they add a lot to our digital age in terms of our ability to communicate emotion and have some fun with text messaging and social media. My favorite emoji turns out to be the taco, of all things!
But let me show you how to search emoji by name on your Mac, because it can be done! To start, here's what happens if I tap in "chicken" on my iPhone: Chicken emoji show up!
On a MacOS X system like your iMac, however, nothing happens when you type in the same word into the same program: iMessage.
Are you doomed? Nope! Turns out that there's a special utility app that you can access at any time off the "Edit" menu:
As highlighted, you want to launch the utility called "Emoji & Symbols". Or, if you want, you can launch it at any time with the key sequence Control+Command+Space (as shown above).
Either way, it pops up a directory of the thousands of emoji!
Pretty cool, eh? Lots to explore because it turns out that it's just a simple character viewer that not only gives you emoji, but arrows, bullets/stars, currency symbols, latin, letterlike symbols, math symbols, parenthesis, pictographs and punctuation. In fact, a darn useful utility overall.
And just within the emoji category, it's divided into Smileys & People, Animals & Nature, Food & Drink, Activity, Travel & Places, Objects, Symbols and Flags. But look on the top right: There's a search box! A ha!
In the search box type in "chicken" and check out what shows up: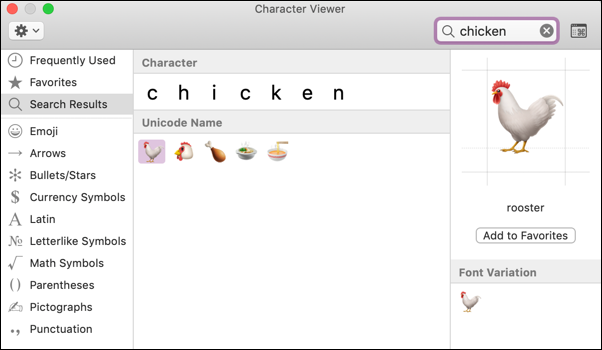 Just like in iOS, type in one word and you get not only the match, but similar emoji too, including rooster. A click on the emoji and it's as if you'd typed it on your Mac keyboard. What's great is that this works across all Mac apps too, so you can use it in your Web browser, in Messages, email, whatever you'd like. And now ya know.
Note: On a Windows PC? You have a similar feature you can access by simultaneously pressing the Windows key and the period (".") key. Try it!
Pro Tip: I've been writing about the Mac system since it was known as Mac OS9, and using versions even before that. Please check out all my Mac help articles to see all that I've written about…