I love old movies and post about them all the time on social media. But I'd really like to include posters from those movies when I write about them. Can I use Google search to find posters for old movies?
Sounds like we have an interest in common; I watch old movies all the time and am a big fan of Turner Classic Movies which is basically an endless stream of older films. I also review films – including older movies – on my other site, so I invite you to pop over to gofatherhood.com/movies/ to see what I've reviewed lately. But… let's get back to your question!
Everyone knows that Google spiders the Web and has a search engine with billions of Web pages. Actually, it's more than that. Google says: "The Google Search index contains hundreds of billions of webpages and is well over 100,000,000 gigabytes in size. It's like the index in the back of a book — with an entry for every word seen on every webpage we index." But Google also indexes just about all of the images it encounters online too. Techcrunch estimates over 10 billion images are indexed, so whatever you want to see, from the Eiffel Tower under construction to a black cat surprised by a cucumber, you'll be able to find matches.
I just watched the light, amusing Jack of Diamonds from 1967 starring Marie LaForet and George Hamilton, so let's use that for this demo. Type in the name of the film to Google search and it'll even pop up suggestions:

It's a bit confusing with all the different release years (are there really two remakes?) but it's the 1967 version I'm interested in, so a click on the top suggestion produces a page of information, with an image or two. But Google has a lot of different types of search you can do, including the second option on the list below: Images.
A click on "Images" produces a page of just images and their sources. It's fascinating to see the variations in movie poster and imagery, actually, and for an older film, even the background of images can be yellowed or aged: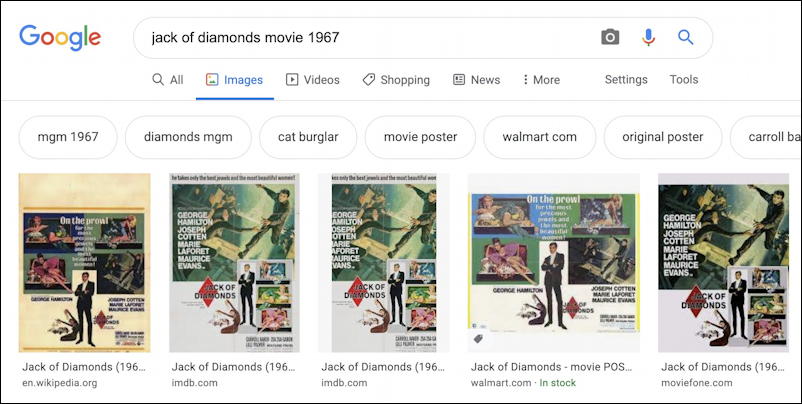 Often you end up with really small image files that are low resolution and look ugly when shared, so a great trick with Google Image Search is to constrain the results to just larger images. That's done by clicking on "Tools" on the right, just below the search box. A new row of advanced search filters appears:
Size, color, type of image, age of image, and even usage rights if you want to find public domain content for a commercial project are all available on this Tools bar. I often use Time constraints to find just recent images and Usage Rights to ensure I'm not inadvertently stepping on anyone's copyright by using an image. Click on Size and you'll see a variety of options:
Choose "Large" and the results will just be larger images that match the search criteria. You can click on a matching image and it'll preview on the right side of the screen in a larger format:
Note what I've circled on the lower left. The dimensions of the actual image can be very helpful for your searches. In this case, the poster image is 780 x 1194, a nice big size that will reproduce very well on social media. If you want, you can share the image directly from this point by clicking on the "<" icon just below the preview image. That brings up a share menu:
Click on "Facebook" and you'll have a big window open, ready for you to share the image and your commentary on Facebook directly:
Honestly, I'm not a big fan of this share because the "Found on Google from imdb.com" information is just confusing for the viewer, so I never use this feature. Instead, go back to the Google Image Search results and right-click (or, if you're on a Mac, control-click) and you can save the file directly to your computer without any fuss or hassle: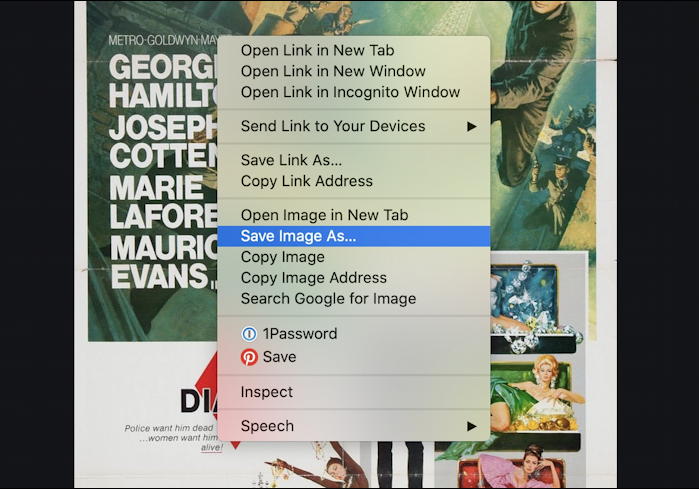 And that's it. Between these two approaches, you should be able to easily find, share and save movie posters from any movie you want. Or book, or album, or really just about anything in the world, real or imagined. 10 billion images. Yeesh.
Pro Tip: I've been writing about how to accomplish basic computer and Internet tasks for quite a while now. Please check out my computer help area for lots more useful – and understandable! – tutorials while you're visiting. Thanks!