I'm very active on Twitter, and post a lot about politics. Which means I get a lot of responses to my tweets. Most of them seem to be from spam and junk accounts, however. Is there some way to filter those out on Twitter so I can see the real responses?
Twitter has been adding more and more sophisticated filtering systems to the popular service, but you need to know how to enable them for things to improve. You can certainly unfollow people who are hostile, rude or otherwise offensive, of course, but that doesn't stop Twitter showing you their responses if they reply to one of your tweets. Indeed, that's how it's supposed to work. Things have changed since the early days on Twitter, however, and the filtering tools are pretty darn slick…
Like so many social media networks, there are a lot of red flags that can be identified to help filter out these fake accounts. The most obvious: they have no followers and have registered their account within the last few weeks. But what about if the account has a photo uploaded? Or they've confirmed either their email address or phone number? If you were going to create a fake account to harass someone, you wouldn't use your phone number or email address, would you?
To get to the filtering features is a bit confusing, unfortunately, because you can't get to Settings from the home screen of the Twitter mobile app (what I'll use for this tutorial). You can, however, go to Notifications and then you'll find a gear icon on the top right: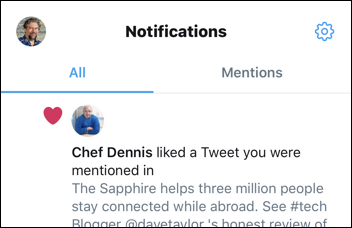 Tap on that gear icon and you will go straight to the settings for filtering out notifications.
Here's the current set of choices:
First off, definitely enable Quality filter. I do that and I don't post about politics. Just screens out the complete garbage.
But I want to look at both Advanced filters and Muted within the app too. Let's start with Advanced filters. Tap on it to proceed.
Here ya go, all the smart filter options. You might well consider enabling all of them. Well, maybe not the first two because they'll effectively get rid of everyone other than the people you already follow! For sure, there's probably no reason anyone should leave the last three disabled: Any account that has a default photo, hasn't confirmed their email or hasn't confirmed their phone number is spam or junk – or a 'bot! – 99% of the time.
Change those, see how that works for a few days.
Now, if there are specific words you'd like to screen out too – curse words, rude epithets, names of other political candidates or acronyms, whatever – then go back and tap on "Muted":
As you can see, you can mute specific accounts if there's someone or an organization or company that you just never want to see in your Notifications stream at all. But a word? You can do that too:
In my example, any tweet that included the word Nazi would automatically be muted so I wouldn't have to see it. Not just Notifications or responses, even tweets without me being part of the conversation. If you've been online for a while, you'll understand the logic of this choice.
And that's it. Lots of filters and ways you can clean up your reply and notification stream on Twitter! Good luck.
Pro Tip: I've been writing about Twitter since before it supported images! Check out my extensive Twitter help area for lots more tutorials and do follow me on Twitter too: @DaveTaylor.