I saw a couple of people on Facebook were posting about their lifetime purchases on Amazon.com. Fun. How do I figure this out for myself?
It's true, spending money can be fun. If only it were as much fun earning it as it is to spend, but that's another story entirely, and wayyyy out of the wheelhouse for this question! 🙂
All major retailers keep a digital paper trail of all your transactions, typically tied to a phone number or a credit card number. Amazon.com is more "big data" however, so you set up an account and it keeps everything forever related to that account, every transaction, every credit card, every shipping address, every purchase price.
The good news is that unlike most retailers, Amazon also makes this data available to you for analysis and entertainment value. And yes, the easiest analysis you can do of the data is to figure out lifetime purchases.
But be prepared. It might be a lot more than you think!
To start, pop over to Amazon.com and click on 'Your Account':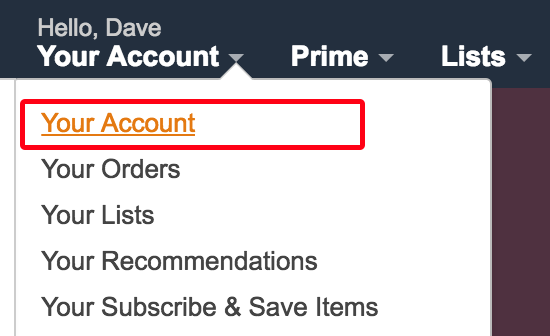 Once you get there, the choice you need is right in the first box:

As highlighted, choose "Download Order Reports".
You'll then be prompted to specify the date range:

At this point, Amazon already knows your oldest order so you can specify Jan 1 of the year furthest in the past. For me it was 2006 as apparently that's the year I signed up and completed my first transaction on Amazon.com. Also, click the "Use today" shortcut for the end date. Mine ended up looking like this:
Click on "Request Report" once you've got your dates all lined up properly and it'll start extracting the data:

My report with over 700 transactions took about 20 seconds to build, but your time might vary considerably from mine. After a short period, you'll see this:
Click on the "Download" link (no surprise there) and it'll download what's known as a comma-separated values (CSV) file. Since I have both Microsoft Excel and Apple Numbers installed on my system, I simply double clicked the file and Excel grabbed it and opened it up.
If you don't have a spreadsheet, you can also import it into Google Spreadsheets, their online spreadsheet program. Google has some help on that if you need it: How to import a spreadsheet into Google Spreadsheets.
A double-click on the downloaded file and here's what I was looking at: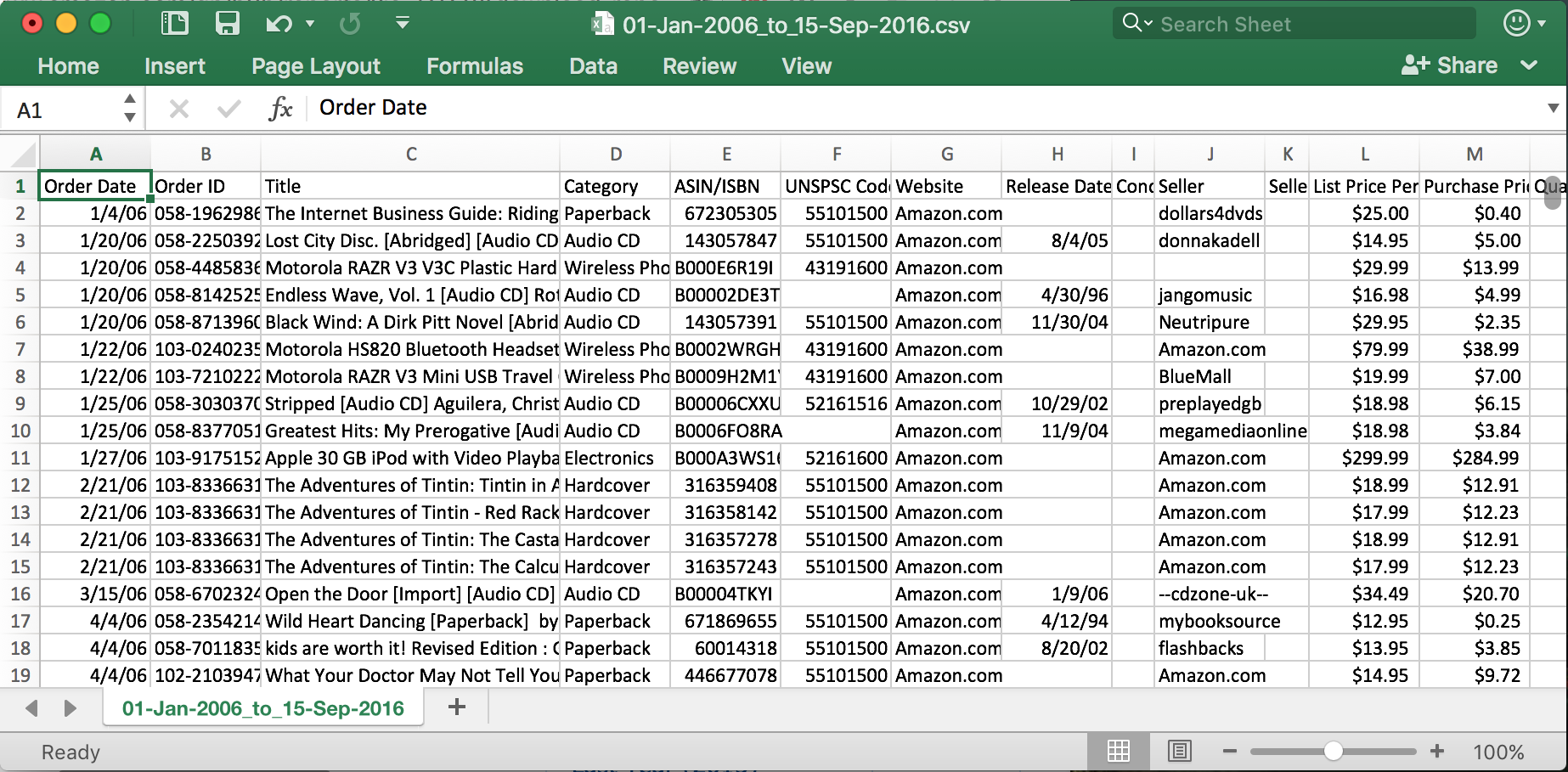 Lots and lots of data! Take a deep breath, however, because you don't really need to dig that far into it to get the transactional sum you seek. Do notice, however, that it's sorted by date and that the first column is order date (my first transaction was apparently Jan 4, 2006). The most important column is col "M", "Purchase Price". On that first transaction you can see that the list price (the prior column) for the book was $25, but the actual purchase price was $0.40.
Scroll down to the last entry of the spreadsheet and click on any box you'd like that's free (though standard spreadsheet design dictates that you should click on an "M" column cell to sum up the values in the "M" column):
Click in the cell, then type in SUM( followed by M1 : and the "M" value of the last line of actual data in the sheet. In my case you can look on the left side and see I have 713 transactions, meaning my second value should be M713. Close the open paren and you should be looking at something like this: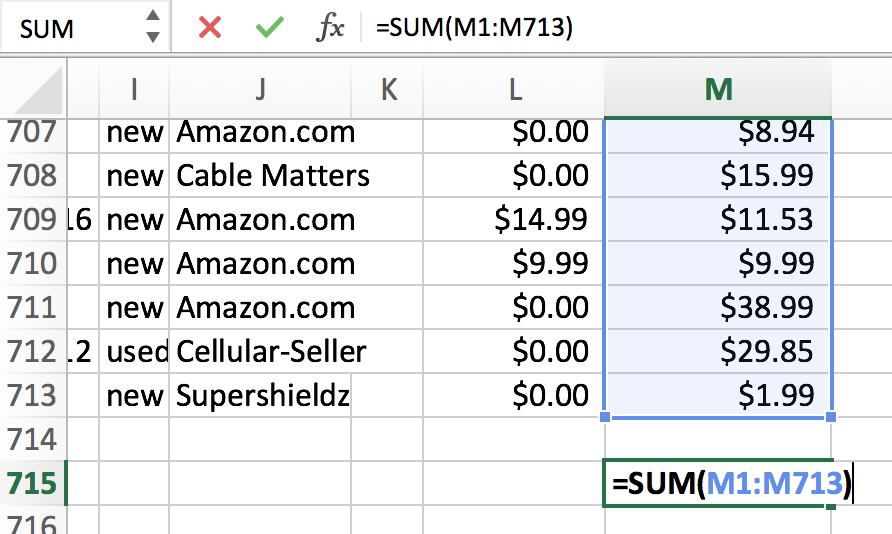 Ready to find out how much you've spent? Press Return.
The formula is instantly interpreted and the cell shows the result. And for me, well, I spend a lotta money at Amazon.com, as you can see:
Yikes. But that is 10 1/2 years of purchases, so if I do the math, it works out to $248/month, or a mere $8/day. Still, sheesh. I can also calculate that my average transaction at Amazon.com is $44.87 (total / number of transactions)
Now, how about you? How profligate have you been at Amazon.com?