Finding a taxicab during #CES2015, the Consumer Electronic show in Las Vegas is virtually impossible. One might try, but they'll be standing around for at least a hour. After 9 years attending the show, I've realized it's just easier and I prefer to walk. I'll walk anywhere in Las Vegas under 3 miles and have always thought that added up to about 8 to 12 miles a day. However, family and friends questioned that I was walking that many miles until this year, and now I have the proof.
Arriving at CES 2015, I was given a Withings Activité Pop watch (picture below) and it did not take me long to figure out that 8-14 miles is exactly how much I've been walking every day of CES for the past nine years. Withings also invited me to participate in their internal CES challenge where you could cheer on other participants, encouraging them to pick up their pace and compete for the most steps. I was surprised that this friendly competition convinced me to walk more than once during my trip.
The accompanying app, which was named iTunes "App Store Best of 2014" offers other forms of encouragement too, including virtual badges and leaderboards to stay connected with ones community and focused on ones health goals.
When I attend CES, I journey out a few days before most to participate in Press Day, so I'm there before the biggest crowds arrive and the taxi cab lines are still crowded. On my first day at the show, I attended a few press events, including CES Unveiled, which is always a great time. This year it was a bit more crowded than I wished: I think they need a larger room as the event was overflowing and it was difficult to learn about the products and the teams who developed them.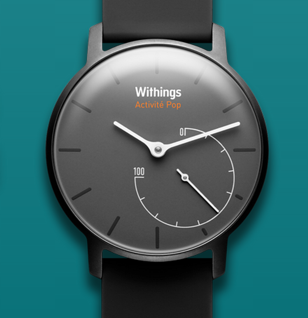 That evening I journeyed over to the Tweet House event and then a few startup events, all spread out around Las Vegas, which gave me the opportunity to walk and enjoy my Withings.
Once the show begins, my pace always picks up, as does everyone else's, because there's just so much to see and do. My journey continued as I traveled from one event to the next and eventually to my favorite event on the year, Showstoppers, an invitation-only press event, where the best companies at CES come to share their products and inventions with the media. Turns out that after the show, I tallied my walking journey and realized I had walked 50+ miles in just four days.
It's been a few weeks since the show and I haven't taken off my Withings Activité Pop tracker. In my opinion, the Withings watch is simply the best activity tracker on the market today for its price point.: It's $149.95 retail. The cool factor is off the charts, the colors, design and associated smartphone app are not only easy to work with, they provide a cool accessory that once one begins wearing you're unlikely to take off.
In just a week, I became addicted to mine and wanted to walk an extra mile just to see what my next badge might look like and to ensure I keep up with my challenges and on the leaderboard. The Withings Activite' Pop watch retails for only $149.95 and works with iOS and Android devices. Unlike watches like the upcoming Apple Watch, the Activité Pop has a remarkable 8-month battery life using a regular CR2025 button cell watch battery.
If you want to track your movement and health, whether you're at a busy trade show like CES or just day to day in your life, stop what you're doing and pick one up immediately. Here's where to learn more: withings.com/store.
Gary Moskoff is a contributing editor to Ask Dave Taylor, the COO of
Friends of Mine
and an adjunct professor at the University of Colorado's BDW design program. He specializes in understanding consumers needs and developing experiences that attach to their lifestyles.
Disclosure: Withings provided the Withings Activite' Pop activity tracker to Gary without charge. Companies submit review products without charge, but this does not impact his professional opinion or the reviews he writes.