Hi Dave. I have an iPad and have really enjoyed using it, but now that the iPad 2 is available from Apple. Well. I have to get it. Shiny toy syndrome and all that. My question: what's the fastest and easiest way to configure my new iPad so it has all my apps, music, videos, etc., from the original iPad I have?
Good news! Apple's on top of this sort of thing and it turns out to be remarkably straightforward — though time-intensive — to copy all the old iPad configuration and data on your new iPad2. The most important step involves your old iPad: you need to ensure that you do a full sync before you go further. Even if you have a new one sitting in the box, ready to go.
Once you've done that, gently put your iPad aside. Obsolete in less than 12 months. Yeesh!
Crack open the box for your new iPad 2 and reverently pull it out, peel off the plastic cover and just bask in the amazing engineering wonder that is this new device.
(Why yes, I am an Apple fanboy. Why do you ask? 🙂
Done basking? Good. Let's get to work.
Boot up your new iPad 2 by pushing on the power button on the top right edge of the device. After a second or two you'll see the Apple logo against a black background. Takes about 20 seconds to startup, then it'll ask you to plug it in.
Plug in the device to your computer (I'll demonstrate with a MacBook Pro, but it should be identical if you're on a Windows system in terms of what you do in iTunes) and on iTunes it should just magically show up: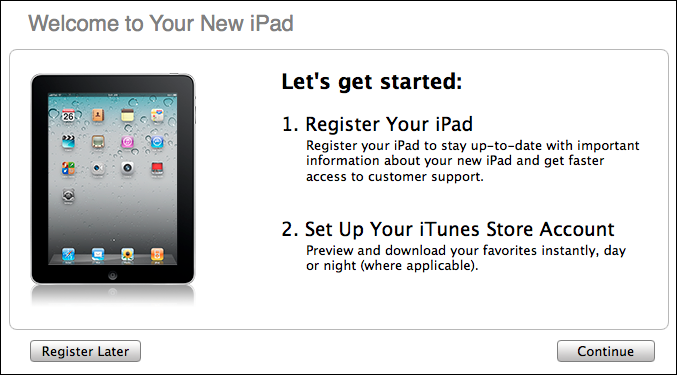 I always recommend registering while you're starting, so click on "Continue" on the lower right to get through the process. It's really just a minute or two and iTunes already has just about all your information (including your name, iTunes account and address) stored, as you'll see…
Carefully read and study every part of the user license agreement. I do. Uh, no I don't. In fact, does
anyone
ever read this sort of stuff?
Click "Continue" on the lower right to continue…
Now we're getting somewhere. If you don't have an iTunes Store account you'll need to set one up, but since you already have an older iPad, I'm 99.95% sure you have one. Enter your credentials here and we can proceed once you click "Continue"…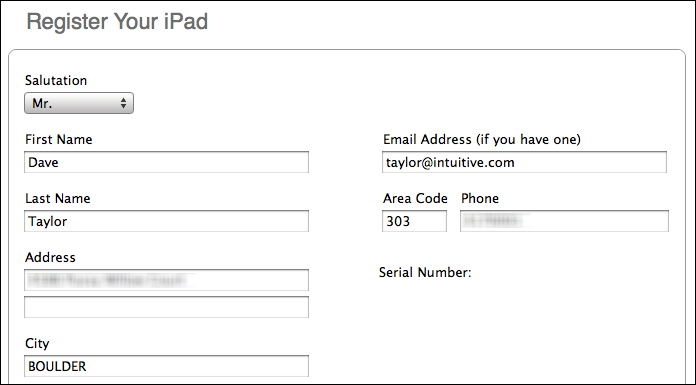 I don't really know why Apple wants our street address. So far I haven't received any free t-shirts or hardware upgrades in the mail, for example, but… enter your information here and answer a few demographic profile information questions a bit lower on this page then click on … you guessed it… "Continue".
I am already a MobileMe subscriber, so I automatically have all my iOS devices registered for "Find My Device", but if you don't, this is a no-brainer. Just do it.
Back? Great. Let's continue…
Finally. Now we can actually go through the steps of setting up the new iPad 2. At this point, the fastest and easiest way to set it up is to simply restore the backup you just did of your older iPad. Now you can see why we started by doing one last sync/backup of the iPad 1 before we proceeded!
It's already defaulted to the correct thing, so here you should just be able to click on "Continue" and let it proceed…

Once the settings (email account, preferences, etc) are restored from the backup onto the new device, it'll automatically reboot the iPad 2 and have it pop up again in iTunes:
Tick. Tick. Tick…
Finally, the long journey of copying everything — apps, movies, music, photos, audiobooks, ebooks, etc — onto the new iPad 2 will begin. Just do something else while it streams gigabytes of information across and eventually it'll be done.
And you're done. New Apple iPad 2 setup and ready to go, with every app, song, video and even preference you had on the iPad 1.
One handy tip: Before you sell your iPad 1, go ahead and unregister it from your iTunes account: plug it into iTunes then choose "Deauthorize Device…" from the "Store" menu in iTunes. You'll thank me later. 🙂
Enjoy!