I saw that you just wrote a tutorial about how to update your Google Plus profile photo and I'm wondering if you have a similar tutorial on the fastest way to update my Facebook picture?
I don't know about you, but I spend a lot of time on different social media sites and it's really easy to forget that people who are only connected with you on that particular service might not realize that the photo you're using as your profile picture has become terribly out of date. And then there's the never-ending shifting sands of the Facebook user interface, where information you find about how to update or change your Facebook settings are quite likely to be obsolete in subtle — or sometimes dramatic — ways.
I wish there was a service where I could just update my central profile, job info, ages of my children, photos, etc, and it would just ripple through the social media sites, updating as it went. Hey, that'd be a good startup, wouldn't it? Except for that "walled garden" problem that Facebook in particular is prone to building around its service. Ah well.
Anyway, you mentioned the piece we have on Updating Your Google Plus Profile Picture and while I do have an older piece on updating your Facebook profile photograph, turns out there's a faster way to do it.
Start by making sure you have the photo you want to use on your Desktop. I'll use "IMG_0262.JPG", as you'll see.
Then go to your own profile page and move the cursor over your photo. You'll see this:

Well, you won't see exactly this, I hope, or you look a whole lot like me. 🙂
Anyway, click on "Edit Profile Picture" and a small menu appears: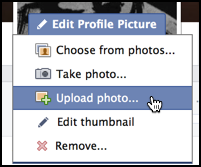 As I have done, select "Upload photo…" and your system will prompt you to pick the photo you'd like to use:
I've found what I seek, so a click on "Choose" and it's uploaded to Facebook.
The result: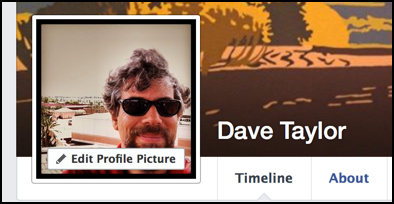 Now you can stop here if you like the results, or you can tweak things (a little bit, not like all the great tools available in Google Plus) by again clicking on the "Edit Profile Picture" link.
The resultant menu is slightly different:
Choose "Edit thumbnail" and you can pan around to center yourself in the profile box, if you're so inclined.
If not, like I said, it's three mouseclicks to update your photo. Not too bad at all.