Just upgraded my Ubuntu Linux system and rather to my surprise the lock screen and desktop wallpapers are missing! How can I set a new desktop wallpaper quickly and easily?
You're not the only person to notice that the latest Ubuntu Linux upgrade seems to have broken the wallpaper settings: I had exactly the same experience when I upgraded my Linux PC too. Fortunately, it's easy to set up a new wallpaper, though Ubuntu doesn't yet have any fancy features like Windows or MacOS X where you can have it randomly choose from a collection of wallpapers at a set interval. Then again, that's probably something you could drop into a script and just trigger it every few hours from crontab. Hmm….
Anyway, back to task! Like just about everything else, your wallpaper settings are all accessible from the Settings window. That's easily launched from the gear icon on the control bar / taskbar.
Launch it and choose "Background" and here's what you'll see:

Yup, it's true. Instead of calling the image "wallpaper" like every other operating system, Linux calls it the "background". I guess we can be thankful that the "Lock Screen" has a logical name! 🙂
To change either of them, simply click on the current image, which in this case is a dark room on a dark night with no lights on, right? You'll get three different categories of images from which you can choose: Wallpapers (see, here it's called a wallpaper), Pictures (your own photo library) and solid Colors: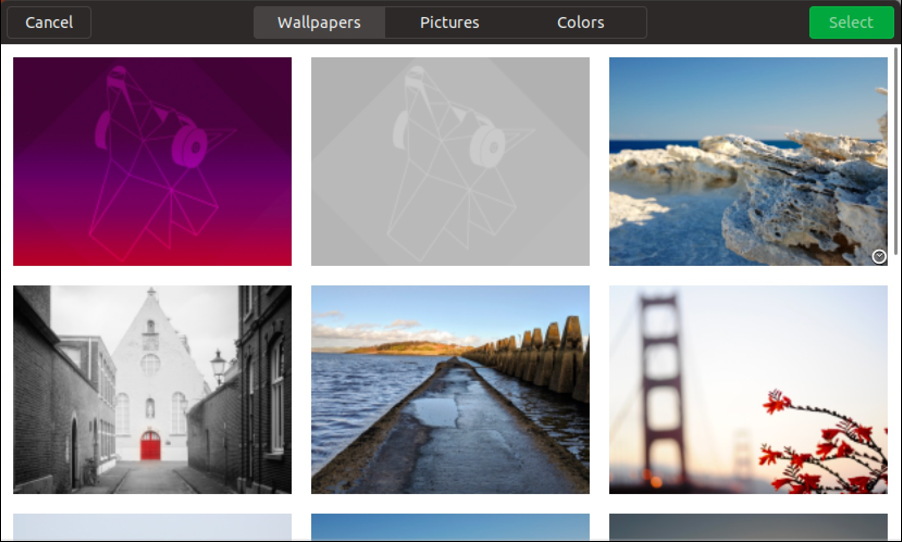 You can see that it includes a number of quite beautiful images, so I'm just going to choose one by clicking on it. And that's literally all that needs to be done:
Just a bit more work and a lock screen background can be selected too. Here's what I chose:
Easy enough, really. And now you're good to go.
I will note that while I specified a lock screen wallpaper image, the current version of Ubuntu Linux as of this writing — 19.04 — is not displaying it, even after a restart. I imagine that it's a bug in the latest OS and the next "dot release" will fix this hiccup, but if you have a similar problem, it might just be you need to wait for the update patch.
Pro Tip: I've been writing about Linux since the early days. Please check out my extensive Linux help and my Linux shell script help too while you're here!