I worry sometimes that the automatic update on my Windows 8 system isn't working properly and that I'm expose to viruses and malware. Is there a fast way I can check to see if there are any pending Win8 windows updates?
While I haven't had any problems with the automatic update feature in Windows 8.1, I think it's smart for you to do an occasional spot check because, well, sometimes things are scheduled for a specific time of the week and if your computer's not on during that period of time then the update's missed until the following week. If it's a laptop that can accumulate and you can certainly be weeks and weeks behind, which does open up some vulnerabilities on your system.
As with many things, the periodic scheduler in Microsoft Windows is built around the assumption that your computer will be left running 24×7, even over the weekend while you're out of the office. More and more users are finding that this assumption is incompatible with their own usage, so, again, updates are missed, along with a number of other administrative tasks. This isn't unique to Windows either, Macs and even Linux systems are subject to the same glitch.
In the case of Win8, however, it's pretty easy to spot check.
Simply search on the Charms Bar (or by typing Cmd-S to get to the search feature on the Charms Bar) for "update":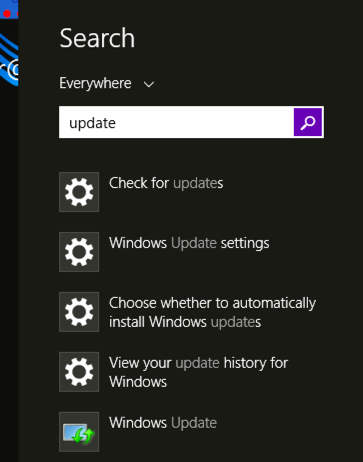 The match you seek is the last one on this list: Windows Update.
Click on it and Windows Update will show up, indicating how many updates — if any! — are pending: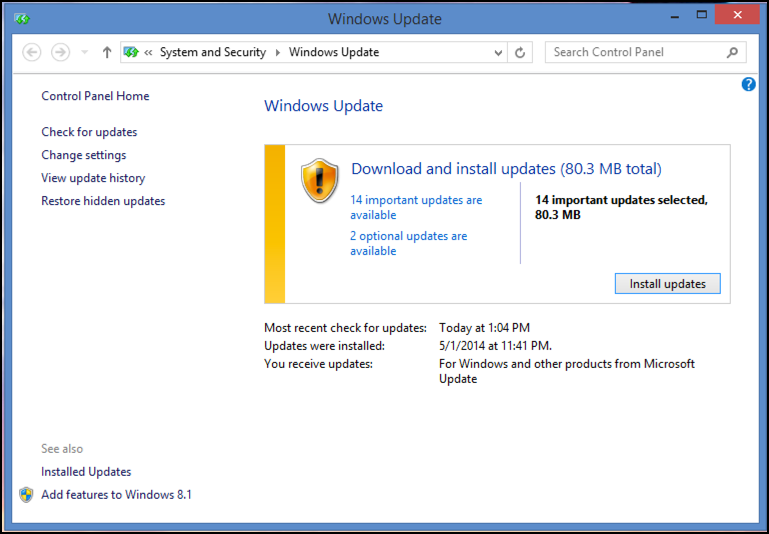 In this case auto-update is falling behind, with 14 important and 2 optional updates pending.'
Bah!
To install the updates, click on the ingeniously labeled "Install updates" button…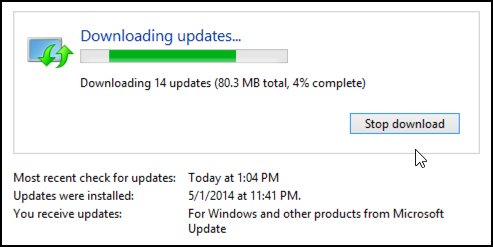 Shouldn't take too long for most updates.
Once they're fully downloaded the progress bar changes to:

and once it's done, you'll usually (though not always) be prompted to restart your system:

And that's all there is. Done.