I get tons of email to my Gmail address, which is great because they have such strong anti-spam filtering. However, I want to organize things better, and in particular I get waves of email from groups at certain times of the day (like my ski club) and then nothing for months. Is there a way to filter and organize these messages so they don't just sit in my Gmail inbox?
I think to get the most out of Gmail you need to think like a programmer, because there's not much elegant about the interface. Fortunately, I do think like a programmer and have learned about the many, many time saving features and capabilities that are part of Google Mail, some of which are reasonably intuitive and others of which are tricky and confusing to set up.
For your task, what I would recommend are Gmail "filters", a set of rules you can specify that let you identify messages from specific senders, to specific mailing lists or with specific words in the subject (or message body!) that you then take certain actions with. In this instance, tag them and drop them directly into a folder (yeah, Gmail calls them "labels" but it's easier to think of them as folders) rather than have them in your Gmail inbox. I do this for tons of different messages and have at least 50 different folders, some of which are dead for ten months (like my CES folder: CES only happens in January, so mid-summer there's nothing at all happening) and others of which have a dozen or more messages each day (active mailing lists, email notifications of what's going on with my Twitter or Pinterest account, etc).
The easiest way to do this is to pick a message that you'd like filtered, then click on the "More" button:
As you can see, one of the options is Filter messages like these. Choose it and a window pops up in Gmail:
In this case, I was looking at a press release sent from Sian Borrill of Proactive PR, so that email address automatically appears in the "from" box. More importantly, you can see all the different ways you can slice and dice things to get the subset of incoming messages that match your desired criteria, including who it's from (and you can do just a domain name too, so I could filter every message from anyone at proactive-pr.com by simply removing the "sian.borrill@" portion of the address), the destination address (think mailing list), a word or phrase that shows up in the subject, words contained in the message itself, words that it doesn't have (so you could filter a company newsletter into a folder but ensure that personal communications from the same company that don't have a specific phrase still appear in your inbox), whether it has attachments, etc, etc.
Lots and lots of options!
For this demonstration, I get a ton of email from media people related to my media registration for the National Association of Broadcasters conference (NAB) so I'll filter all of those into a specific folder (sorry, label). That'll look like this:
So Sian is now off the criteria list, but "NAB" in the subject is the selector.
To test, I click on "Create filter with this search" at the very bottom of the window. Now I need to decide what to do with matching messages:
My standard configuration for a Gmail filter is to skip the inbox, apply a specified label and "never send it to spam" to ensure that the spam filter doesn't accidentally take matching messages and flag them as junk instead.
Kinda like this:
Notice that when you choose "Apply the label", there's an option to "Create New Label" (remember, label = folder) so you can specify a new one on the fly. I also recommend that you never choose "Mark as read" because you'll never know when new messages show up. Not good!
Ready? Click on "Create filter". I always "also apply filter to matching conversations" too, by the way, since my goal is to neatly organize things!
You're done and the new label shows up on the left side of your Gmail window, part of a list if you have a lot of 'em, like this: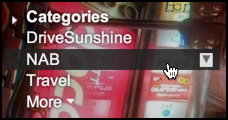 You can see that "DriveSunshine" and "Travel" are two other labels I have always visible, though my zillions of others are set to only be visible if there's new mail in that particular folder. I highly recommend it as a configuration, and it's easy to set up: click on the downward facing triangle adjacent to the new filter to pop up the mini-config menu:
Choose "Show if unread" and you're good to go. The folder is hidden (though you can click on "More" at any time to see it) unless a new message comes in that matches your filter and then is dropped into that folder. Easy. Done!