I borrowed a friend's Nissan Murano for a week and paired my phone with the entertainment system. Now I'm returning it I want to unpair my phone. How can I do that on the Nissan system?
It's surprising how many rental cars and loaner cars have a half-dozen or more smartphones still paired to the bluetooth system. While I can't deny the convenience of having your phone paired to a car for hands free calls, music, podcasts and audiobooks, just about every time you pair your phone, the car also pulls in your entire address book. Why? So you can easily use the voice system in the car to "call mom" or "call uncle benny" without having to look them up while on the highway. Did you really want to share your entire address book – mine is almost 900 entries! – with the next person who rented the car? I didn't think so.
What makes this complicated is that every single car manufacturer has their own entertainment and communication system so if you've got a big Chevy Silverado sitting in your driveway at home, the process of wiping your bluetooth connection in that Toyota or Nissan rental is going to be pretty different. And with your own car, why would you delete the paired phone anyway? 🙂
Now, with all stated, let's jump onto the Nissan entertainment system and go through the steps required to unpair and delete a smartphone from a 2019 Nissan Murano. The pictures are a bit rough, but you'll be able to follow along. Good news: it's easy once you know where to look.
Here's the main MENU screen. Lots of options and choices: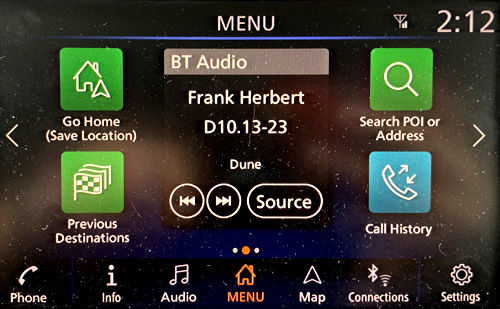 You want to tap on the Settings on the lower right, the gear icon.
That'll take you here: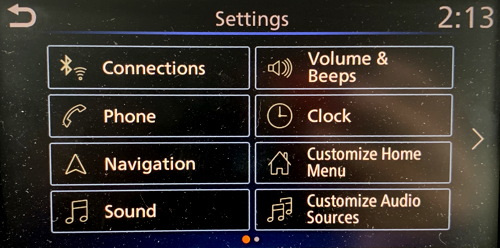 Beeps. Now you finally see how to turn off those pesky beeps. But that's not our task right now, so instead you'll want to tap on Phone to proceed…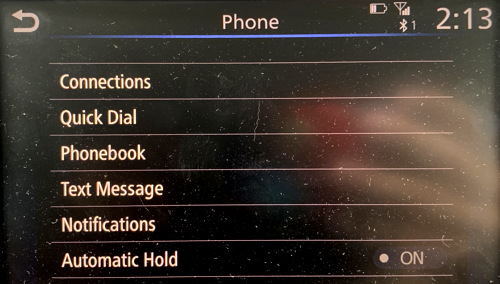 Did you realize that you could get text messages and notifications from your phone on the car display? Well, it only works with some phones and there's a bit of setup required, but it's a pretty cool feature if you can make it all work properly.
If you're curious, this is a good time to look at Phonebook to see just how much information from your phone has been downloaded into the vehicle navigation and entertainment system too.
To proceed with the bluetooth unpairing so it'll forget your smartphone, however, tap on Connections here.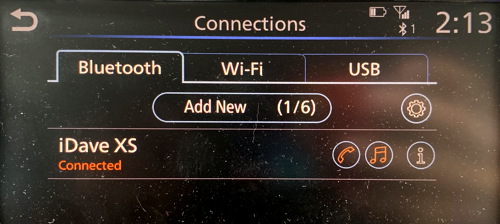 There's my phone – iDave XS – and yes, it's an iPhone XS. I've been using that naming convention for years and years. Anyway, you can see that there are three icons adjacent to the phone name: A phone icon, a music icon, and an "i" information icon. This denotes that the phone is a valid device for phone calls and music streaming. To continue, tap on the "i" information icon.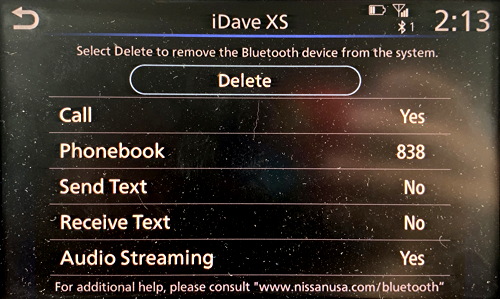 First off, props to Nissan for the tiny info line at the bottom that says "For additional help, please consult www.nissanusa.com/bluetooth" which is really helpful if you want to customize or troubleshoot your connection and figure out, for example, why it won't "Receive Text".
You want to delete the record and any information from or about your phone, however, so that's done with the big Delete button near the top.
Tap on it and you'll need to confirm that you really want to delete your phone's bluetooth pairing information from the Nissan system:
You do, so tap on "Yes" to confirm.

Mission accomplished. Not too complicated once you know where to look and lots of other settings and options to check out next time your friend is generous enough to loan you their Nissan car too.
Pro Tip: I've been writing about tech forever. Please check out my computer and tech help pages while you're here to find even more useful content!