On my Windows 8 laptop I'm constantly fiddling with the brightness and volume to maximize battery life. I know there are controls on the nav bar along the bottom but is there a single place where all my battery, brightness, and volume controls are all together?
You have a great sense of inclusiveness so I'll have to compliment you on that. All of those disparate functions on your Win8 laptop or tablet really don't want to live in separate silos, but prefer to be all in a single spot where you can adjust them all at once to get the optimal configuration for your own usage. It's a zen thing. 🙂
The first thing I'd suggest, however, is that you look closely at the function keys on your laptop. On a modern Dell Windows 8 laptop, for example, there are brightness and volume buttons (as well as play/pause, next and previous track buttons) that are the alternative capabilities of the function keys. Some even have battery icons, though what they do to help you manage your battery life is unclear. Still, have a super close look (and don't forget that you can download any of a number of apps to allow you to remap keys on your keyboard or assign them specific functions or capabilities.
And we should start as you said by pointing out that on your Taskbar in Windows 8 there are indeed tiny little icons for most of the functions you want, icons that lead to small control windows. It'll look like this:

Not complete functionality by any means, but certainly for things like adjusting the volume, it's pretty good.
But let's do that Windows 8 thing instead. Start typing, or swipe the Charms bar into view or press Cmd-S to get to the Search function and type "mobili" to get to the Windows Mobility Center.
Here's what I see: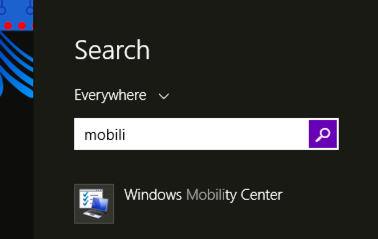 If you're not using the search system, you're really missing out so do get into the habit of letting Windows do the work!
Here it's found what I want, so I'll tap on (well, click on) "Windows Mobility Center.
And small window pops up with all the features most useful for mobile users: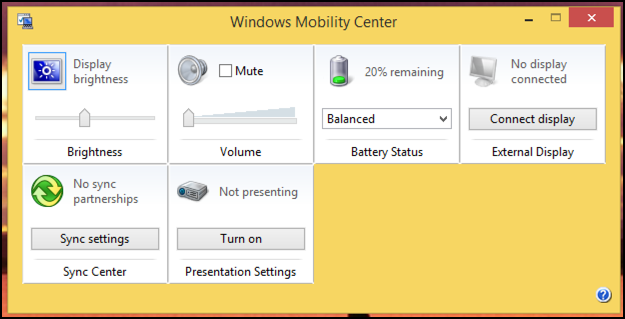 As you can see, it includes brightness, volume, battery management, second display, sync and presentation settings (mirroring, etc).
All in one place!
Ah, happiness!
Let's look a tiny bit more closely at the volume slider: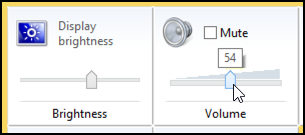 As you can see, the Mute function is a click away (helpful for sites with autoplay videos!) and volume adjusts from 0-100.
The battery status is perhaps the most interesting of them all, however. Check it out: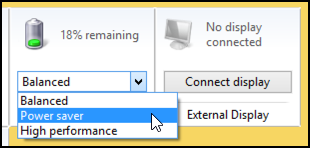 By default Windows is going to be "Balanced" but having it on "power saver" unless you're doing something that requires a lot of CPU power is smart too, especially since your initial question was about how to manage things to maximize battery life.
You can also reduce this window so that the icon's always handy on the Taskbar in the future. Helpful!