I'm new to running a Wordpress site and want to make sure that I delete spam and junk comments, not just have them accumulate. What's the fast way to accomplish this?
First things first: If you don't have Akismet installed, do so. It might require you pay a nominal fee for a commercial license, depending on your blog, but it's absolutely worth it and the one thing that'll help you retain your sanity as a WordPress owner! Here's a link if you need it: Akismet WordPress plugin.
Why is that so important? Because it analyzes every single comment left on your blog and automatically categorizes all the junk as spam rather than having them litter your site and have you end up disabling comments. It's that good, and I've been running it on my sites – including this one – for years.
To get started, log in to your WordPress site and go to the Dashboard. Now look down the left side for "Comments":
A click and you'll see something like this:
You can see that "james gibson" left a legit comment and it's categorized as such, but if I did want to delete it I could click "Trash" and if I wanted to categorize it as spam, I could click "Spam".
But look along the top. You'll see total comments – yes, I have over 55,000 comments on this site! – how many you've left, how many in the pending queue, approved, spam and trash. If Spam is at zero, you're good, there's nothing to do.
If it's not, however, then you'll want to click on the word "Spam" along that top list. This will move you into a similar page, but this time it'll show just those comments identified as spam:
You can see a Thai spammer's been at work; the comment shown "innocently" talks about Web site load speed, but that's just garbage, it's all about them getting a link to their officetelhanoi.com site. Because it's spam, ya know. Anyway, that's just one of the almost 600 spam comments I have piled up in my database, so it's time to delete them all.
That's easily done by clicking on the "Empty Spam" button. Click and take a deep breath; it often takes a minute or longer depending on your hosting company server's performance. Eventually, however, it'll show you something like this:
Spam (0)? Yay! A winner!
Handy tip: If you are running Akismet you'll see a tiny update from the plugin on the main WordPress dashboard page too: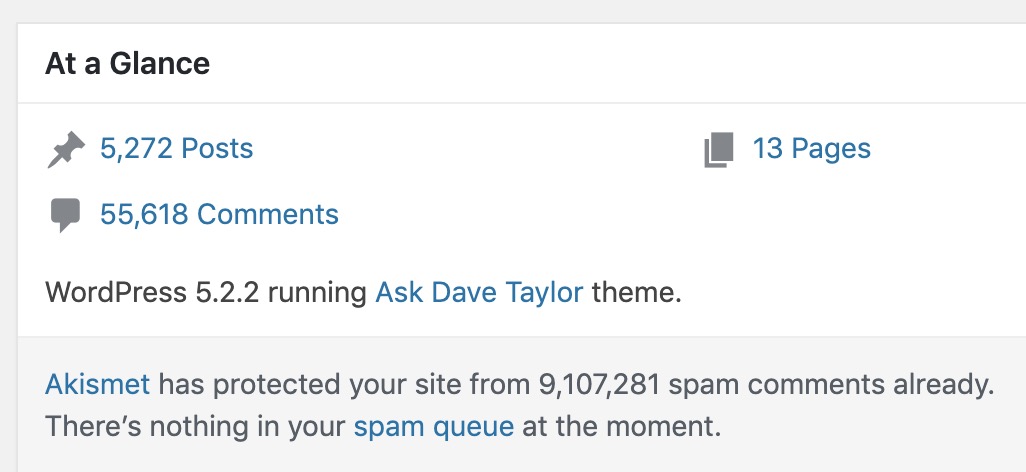 You're reading that correctly, Akismet has protected my site from 9.1 million spam comments. Yikes.
Oh, and while you're here, do check out all the WordPress help we have available. It'll be darn handy as you learn how to administer and work your WP site!