I buy a lot of various things on Amazon.com and would like to leave reviews of my favorites – and the ones that stink. What's the easiest way to do that?
People talk about Amazon innovating with its backend ecommerce architecture but I've always held that it's the reviews and user feedback that's really the gem of the Amazon empire. For many years, I've found myself closely reading comments and reviews on Amazon to get a sense of the strengths and weaknesses of a product before I make a purchase decision, even with a different merchant. Whether it's a book, item of clothing, or consumer electronics gadget, together we have created an amazing resource!
Having said that I will also hasten to add that you can't believe everything you read. Us book authors, for example, know that for many years Amazon's been plagued by nefarious authors giving really bad reviews to competitors titles, and there are plenty of merchants who still offer free products to reviewers in return for a positive review on Amazon. Fortunately with a bit of common sense and skepticism, you can filter all that out. For one thing, if everyone's rating something 2-3 stars and there's one 5-star review saying it's the best thing since sliced bread, well, I'd go with the majority opinion in that case!
In my experience, the easiest way to review something on Amazon is to simply start by finding the original product page on the site. For a recent smartplug purchase, I saw this at the top of the page:
See on the top the grey box? "You purchased this item" and a small View this order link. Click on that and you'll jump straight into your Account transaction history with this specific item highlighted:

That's the one and you can see the disappointing reality that I bought it for $30.99 but the current price is now $24.89. That's a separate problem (you can email Amazon and ask for a price match refund of the difference) but on the right notice instead the grey button "Write a product review". Easy enough. Click on it.
Here's where things get a tiny bit confusing, because as you start to enter data, more fields show up for you to fill out. To start, it's just a star rating:

To start, then, choose a star rating. Remember, 5-stars is "fantastic" and 1-star is "horrible". Once you do that, more info opens up below:

We're not done with the magic boxes showing up, though: Start typing in a review (at least a half-dozen words) and a subject line box shows up too:

I generally ignore the headlines on my own reviews but you can add a pithy few words if you prefer. When writing a review, I encourage you to be fair and honest, sharing both the positive and negative. Definitely bonus points for creativity and humor too, if you're so inclined.
Note also you can add photos, video about the product, product links and more. All useful for others, all good stuff if you're so inspired. If not, well, then a star rating and pithy review is plenty.
Ready to go? Click on "Submit".

Surprise, Amazon actually has people review the reviews to ensure they're on topic, relevant to the product and don't have obscenities, porn or hate messages. It typically only takes a few minutes for this to happen, but you're now done with your review. Congrats.
In a few minutes, or perhaps longer, you'll get this email once your review is approved: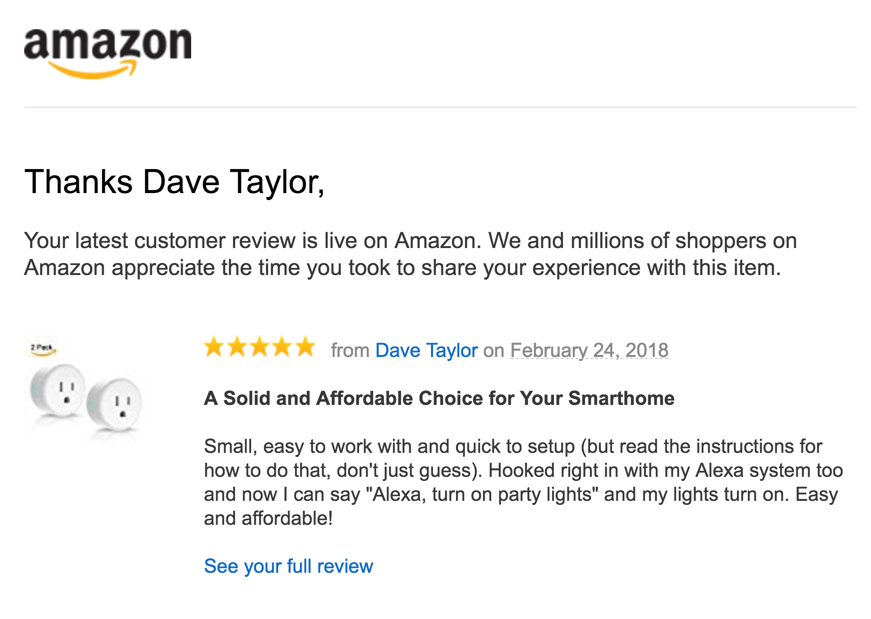 Now click on the "See your full review" and you'll see what you wrote in all its helpful and informative glory:

That's it. And one more note: You see the "Edit" and "Delete" buttons above? That's only because it's your own review. Every other review has helpful up/down votes, a great way to receive feedback from others about whether your reviews actually help them with purchase decisions.
Now, go and review your stuff!