I saw a demo of a video chat using FaceTime where one person was on their MacBook and the other was on their iPhone 4. Incredible! How do I set up my Mac so I can have face to face chats with my girlfriend, even when she's on the road with her iPhone 4?
You're right. Apple has released a beta of the FaceTime software for Macintosh systems, be they iMacs, MacBooks, or any other breed of cat. After some experimentation I will say that it's a bit of a pain to set up, but once you do, it is pretty slick and works surprisingly well. This also means that you can probably use the Mac FaceTime software to chat with another Mac user, suggesting that there'll eventually be some sort of merge between iChat and FaceTime.
Meanwhile, here's the downside: You can only run the beta version of FaceTime for the Mac if you're running Snow Leopard or newer. Older systems apparenlty don't have the video codec or something. Or maybe Apple just wants to help motivate us to stay current!
To start, you'll need to download the beta of FaceTime for the Mac. Once it downloads, it'll connect a virtual disk and you'll see this: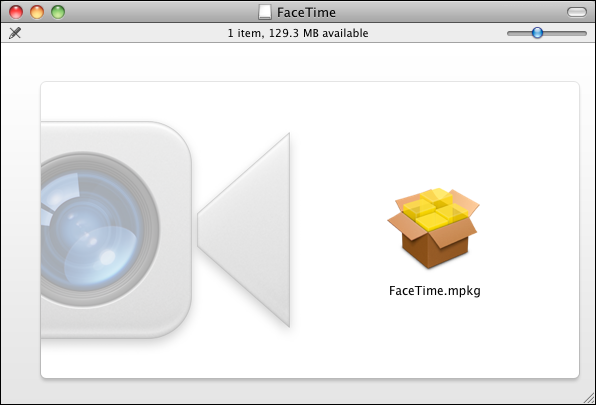 Double-click on the package (if it doesn't automatically start), verify your account password, and everything installs quick and easy. Now in your "Applications" folder, you'll have a new app called, ingeniously enough, "FaceTime". Click on it and…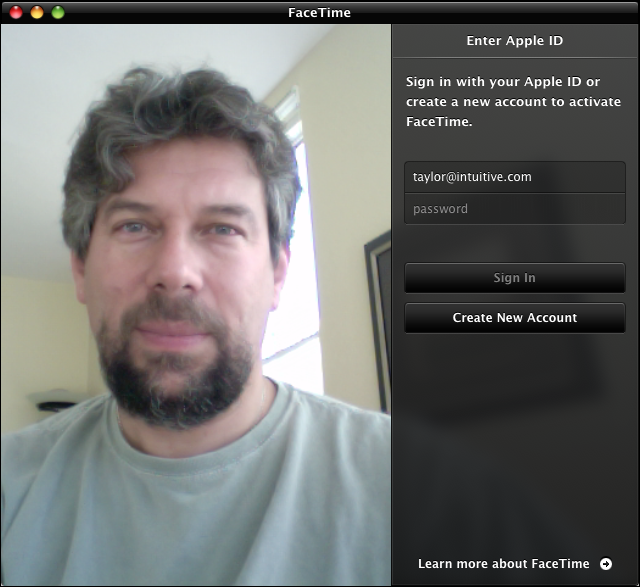 Yup, that's a tired version of me when I'm not being an icon on a Web page. 🙂
Since people are going to be using this email address to connect with me for FaceTime, I thought it'd be nice to use something new, so I'll click on "Create New Account":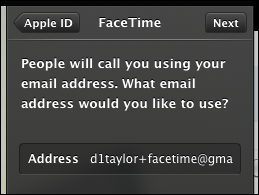 Click on "Next" on the top right and it'll send a verification message to the specified email address. Within the FaceTime app, it sits and waits, like this: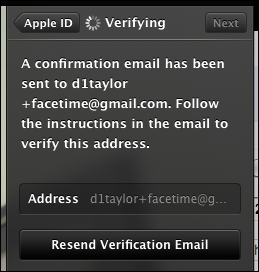 While in my mailbox, I receive the following: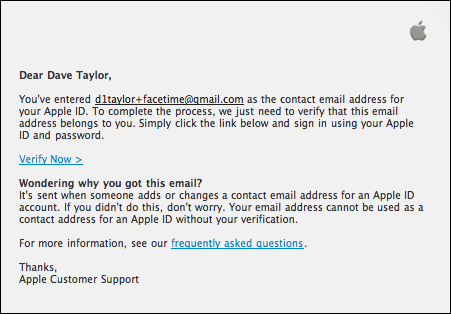 Clicking on the link gives me yet another chance to log in to my iTunes Store account, to prove that all of this is going on with the same person: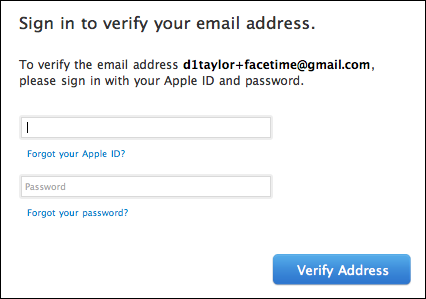 Login + Password + "Verify Address" button =



Meanwhile, the FaceTime app magically knows that I've been verified and now shows the entire list of my Address Book contacts: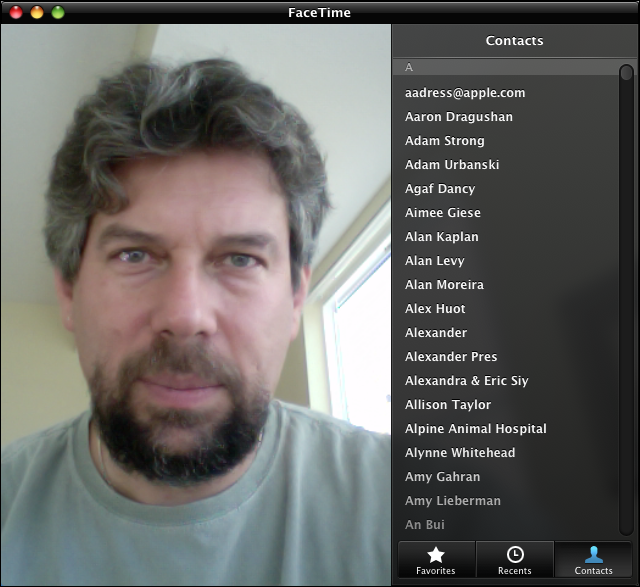 To test out FaceTime on my MacBook Pro, I'm going to try a video chat with my friend Michael Sitarzewski (with whom I co-host
Boulder Open Podcast
[iTunes] and
Three Insight
[iTunes]). I find him in my Address Book: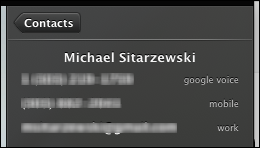 I clicked on the mobile number, knowing in advance that Michael has an iPhone 4 with FaceTime enabled, and here's what I saw on my MacBook Pro while it was dialing him: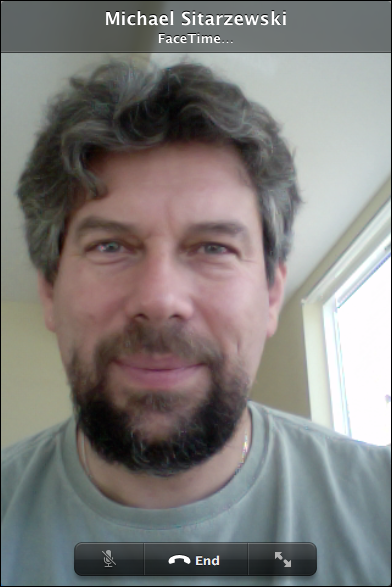 On his side, he saw my email address on the incoming call (for the eagle-eyed, you'll notice that this is, in fact, my t-shirt, not Michael's sweatshirt. Otherwise, it is indeed what he'd have seen on his iPhone. 🙂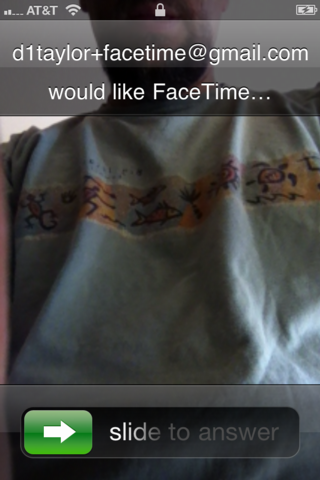 Once he accepts the FaceTime call, here's what I see on my end, within the FaceTime app on my MacBook Pro: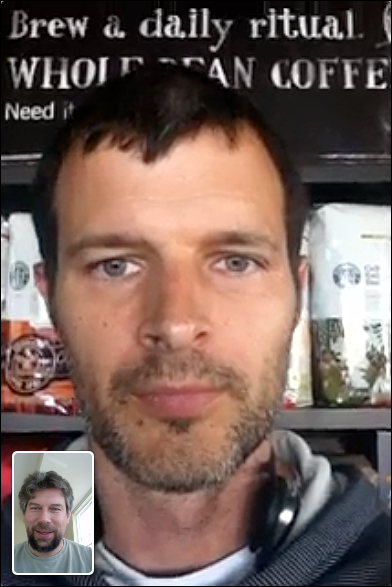 And for his part, here's what he sees on the retina display of his fancy iPhone 4: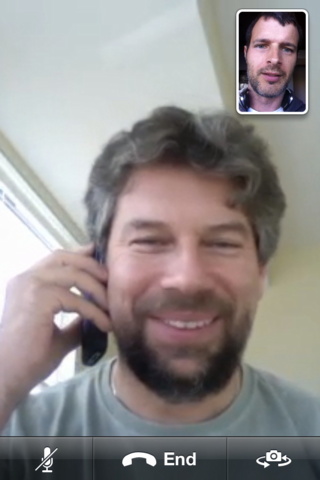 Very cool! For him to initiate a call with me, it turns out that my FaceTime contact info is now just another entry on the Recent Calls list: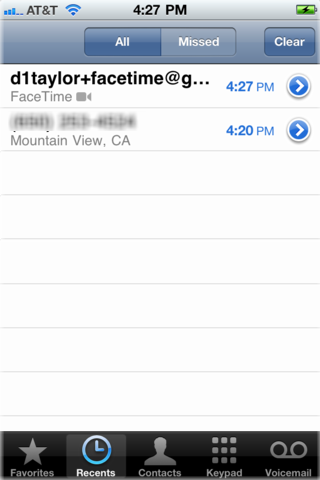 A quick tap on that and he can initiate a call from his iPhone 4 to my MacBook, letting us chat and even letting me see what's going on around him!