A friend of mine has been posting some weirdly formatted Facebook updates that are "Answer a Question". What is it and how do I try doing the same?
Ah yes, as if there isn't enough for people to talk about and debate on Facebook, the company has quietly added a feature that acts like a conversation starter if you want to post but are drawing a blank. Had a boring day — not every day has post-worthy events, right? — or just curious about your friends and their favorite books, movies, albums, or similar ? Answer a Question has you covered.
For example, let's say that I wanted to spark a conversation on Facebook about books and literature. No better way than to ask people what their favorite book is, and that's one of the questions already in the Answer a Question system.
Note: Human nature is such that if you answer a question, everyone else will want to answer it too, of course. As I have seen every time I use Answer a Question, actually!
Here's my post:
In this case, it would be cool if Facebook had the smarts to add a book cover or similar, but… we'll cut them some slack because this is the state of the feature at this point. Notice that the formatting is different from a regular post with the "My favorite book ever is…" on the top and the "Answer other questions to share them with your friends" and See Questions info on the bottom.
So how did I accomplish this? Let's dig in…
You've undoubtedly seen this hundreds of times as a Facebook user. A standard status update. But all those links on the bottom? Have you ever scrolled down to see all the options?
On the lower right you can see "Answer a Question". Click on it and suddenly you get a pop-up:
Most likely, you'll get a question that you're not interested in answering. No worries, keep clicking on the "New" button until something interesting does show up. Like this: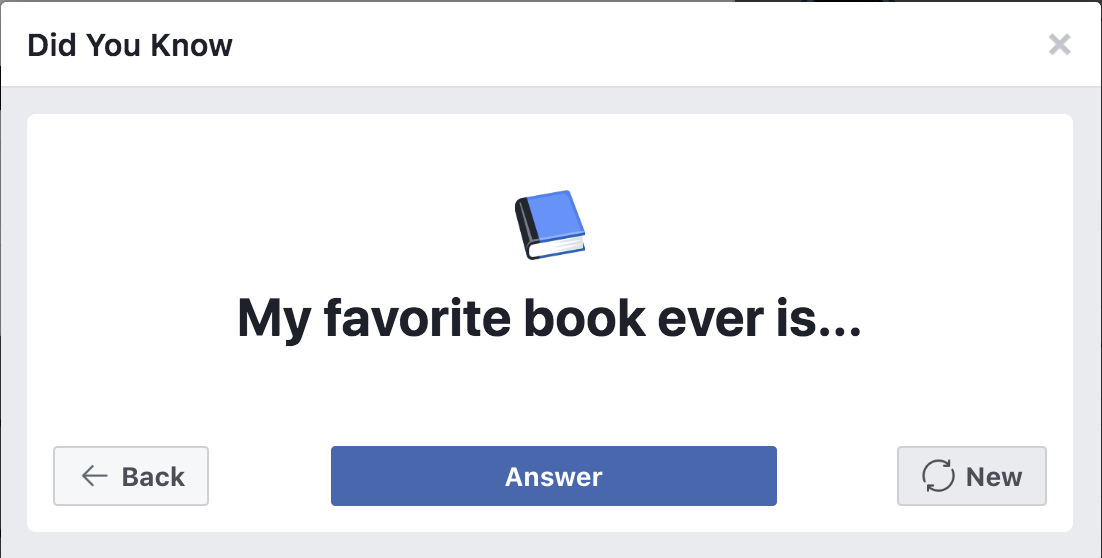 That's a good choice for me as a passionate reader! Heck, I'm in the middle of three books currently, but that's another story. Ready to answer? Click on "Answer" to proceed…
You can change the background and such, but stay simple; just answer the question. Remember that [shift] Return lets you put your own line breaks in the answer rather than just have it do the usual sloppy job of line wrapping too, as desired.
Ready to go? Here's what you'll see:
A click on "Post" and it's posted. Now wait to see what your friends answer and perhaps pick up some interesting tidbits about 'em as part of the process. Now, what IS your favorite book?
Pro Tip: Don't miss all our Facebook help and please also follow us on Facebook for exclusive content from the AskDaveTaylor team!