I'm baffled! I want to start using Facebook Places when I'm in public venues (having read your article yesterday about Facebook Places and Privacy, thanks for that!) but it can't ever find my location. Is there some secret to getting it to work on my iPhone 4?
Wait! You haven't sacrificed twin goats, one to Facebook and one to Apple? Well, there's your problem! 🙂
More seriously, while Facebook seems to default to minimal privacy, Apple tends more towards protecting your privacy than otherwise, and so it is likely the situation in this case too: your iPhone (well, iOS 4 on your iPhone, to be accurate) is refusing to let Facebook know your location because you haven't explicitly enabled that feature yet.
I had the same situation when I started experimenting with Facebook Places, so I know the most likely places where you need to tweak your settings to get things working properly.
First off, make sure you have the latest version of Facebook on your iPhone: you can tell because it has the Places icon right there smack-dab in the middle of the screen: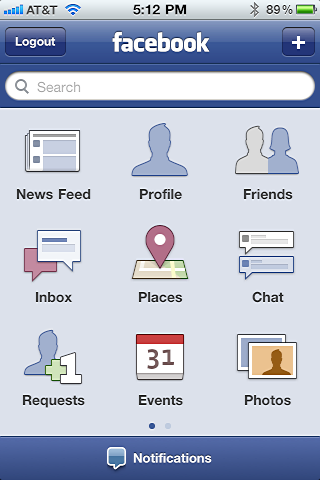 Tap on the icon and you'll see where your friends are, but not relative to your own location (which makes sense). On the top right is a "Check In" button. Tap on that and you'll see: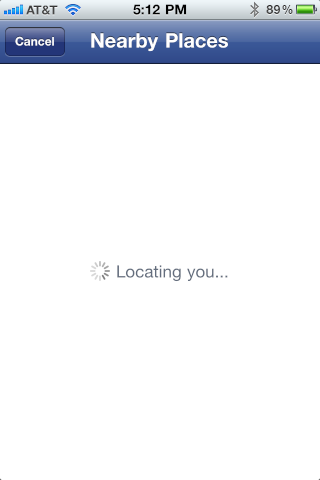 Yeah, that's probably where you're stuck, right?
Go back to your home screen on your Apple iPhone 4, and go to
Settings
, then look for
General
. Tap on it and you'll see…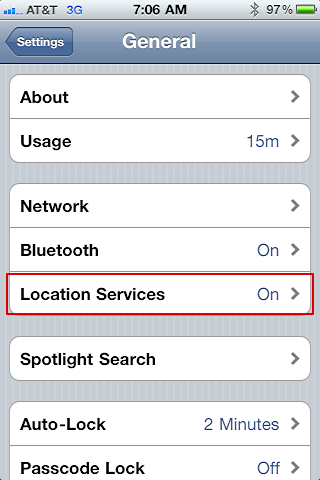 You want to tweak your Location Settings. Tap on that.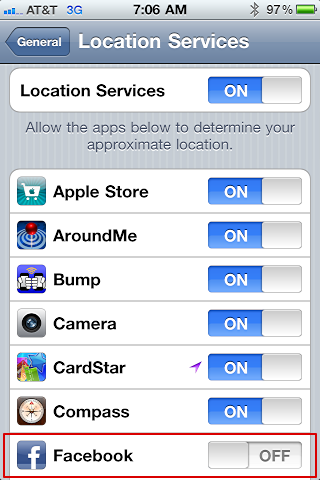 Ah ha! I had Facebook blocked from using Location Services, so the phone refused to let the app know my current lat/long location. Good, unless I want Facebook on the iPhone to know where I am. To fix it, just slide the control to "ON".
Now, go back to the Facebook app, tap on Places again, and you'll see that it now knows your location and gives you the location of people relative to your own location:


Even cooler, tap on "Check In" and after just a second or two (it's way faster than
Foursquare
, I have to say) it shows you a list of known venues near your location: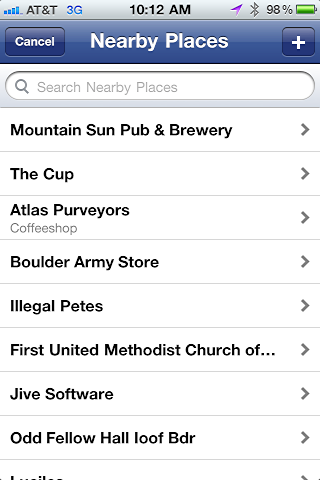 I'll complete the tutorial by checking in at a favorite coffee shop in town,
Atlas Purveyors
. I tap on the venue name and it shows me the location and who is currently here:


Once more a "Check In" button to tap and, once I do…


That's all there is to it. Oh, and on Facebook? Here's what my friends saw:


Cool. Once you address the privacy issues, it's definitely pretty slick stuff, this Facebook Places!