I was trying to log in to Facebook this morning and noticed that in addition to specifying an email address, you can also specify a cell phone number when you want to log in to Facebook. Cool, seems like a good way to have a second option if I otherwise lose my password and can't get into my email account for some reason. How do i set up a cell phone number on my Facebook account, David?
Okay, first off, it's "Dave" not "David". Note that this is not "Ask David Taylor". My Mom can call me David, but for the rest of you, I'd appreciate you paying attention and calling me by the name I prefer.
We good? 🙂
Great!
Now, what did you ask me about? Oh yeah, adding your cell phone number to your Facebook account. It's a good idea for password recovery, as you already indicated, but it's also a good idea because there are some neat things Facebook can do to help you stay up-to-date on your Facebook friends via text messaging.
First, log in to your account and choose "Account Settings"…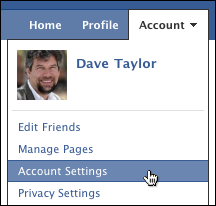 Now on the Account Settings page, click on "Mobile":


With me? Now, in the middle of this screen, you'll see "Add another phone". Click on it to add your cell phone number to your Facebook account.


Facebook needs to know your mobile provider / carrier to proceed, so start by specifying that:


Click on "Next" and it has instructions for you:


Now you'll need to switch to your mobile device. I have an iPhone 4, so I sent the letter 'f' to the mobile account specified thusly:


About thirty seconds later I had a response from Facebook: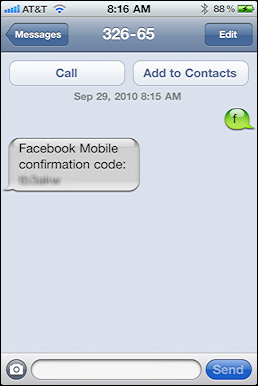 All friendly. Now back to the Web browser!


I entered the code that Facebook sent to my cell phone and clicked "Confirm"…


Looks good! (I've blurred my cell phone number because I'd rather we kept our friendship on an email level for now, if y'know what I mean? 🙂
Don't stop here, though. You're going to want to pay close attention to the options on this page because, as is typical with Facebook, the defaults are NOT what you want to leave as your configuration.
In particular, check out the first set of options:


I instantly turned this off. Since I already run the Facebook app on my iPhone, I already get the instant notifications anyway, but even without it, I don't want Facebook sending me incessant text messages as my 1300+ Facebook pals keep updating their status and chatting with me.
You can fine-tune what's allowed here, as you can see, but let's keep moving downward on this page to see what other options are available.


That's particularly useful, actually, being able to have a no-text-message period each day so that, for example, you aren't awoken in the middle of the night because a friend posted a status update "can't sleep. bored." or similar.
One more set of options here:



If you're using a non-smart phone (I want to avoid saying "dumb phone") this might be useful, but again, be aware that you might have metered text messaging with your cellular carrier and that 10 text messages/day from Facebook can suddenly produce a dramatically higher bill at the end of the month.
In any case, however you configure it, you now know how to hook your cell phone number into your existing Facebook account.