I have a photo album I've created on Facebook and want to add some additional photos to it for my friends to enjoy, but every time I go to upload photos, it wants to put them in a new album and doesn't give me the option of adding it to an existing album. What the deuce? Is there ANY way to add photos to an existing album on Facebook?
I know exactly what you mean. Seems like most of the photo sharing sites are designed with the expectation that every photo in an album is going to be uploaded at the same time, rather than albums that might accumulate over time or even represent a longer period of time than a single event or activity. Facebook is even more tricky because there's so darn much going on with the user interface. To say "it's complicated" is an understatement!
Still, once you know the trick, you'll find that it's a bit more hassle to upload photos to an existing Facebook photo gallery, but not terribly so…
Here's what is critical: don't just click on "Add Photo". If you do, you see this:



Skip that entirely. It's not where you need to go. Instead, you need to get to your existing photo album. I've found the fastest way to do that is to click on your name on the top left…



Then on the left side click on "Photos"…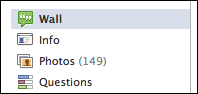 Now you'll see all the albums / galleries you've created: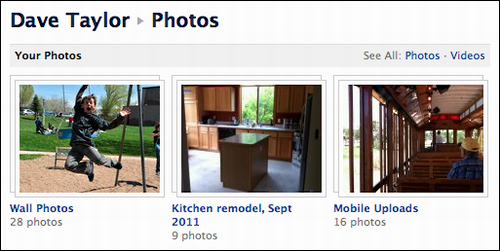 To add a photo to an existing Facebook photo album, click on the album.



Notice on the top right "Add Photos".
A ha!
That's what you want to click on. Do so and…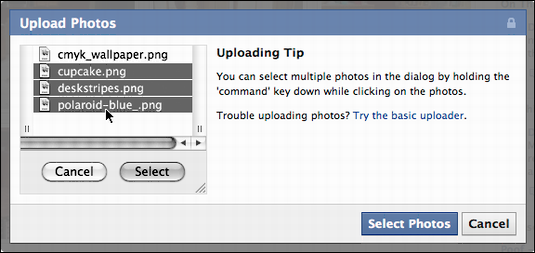 This is looking more familiar, eh? Click "Select Photos" to pick out which photographs you want to add to the existing photo album.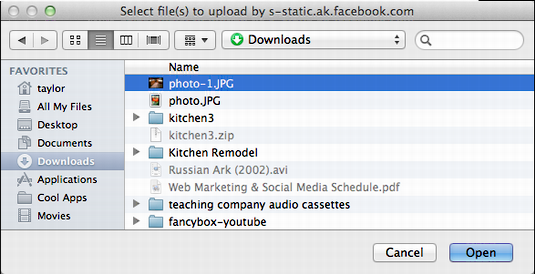 I'm going to pick "photo-1.JPG" by selecting it and clicking on 'Open'…
The image immediately begins uploading and as it proceeds, you have the option of "standard" or "high resolution" quality. I always choose the latter.



Once it's finished uploading you'll be given a chance to add a caption and even specify whether you want the new pic to be the "album cover" for this particular album:


Save that and you'll be reminded that while the album's updated, you haven't explicitly shared / notified your friends about the new images:



I click on "Publish" so people can see the latest updates and here's what everyone sees in their newsfeed: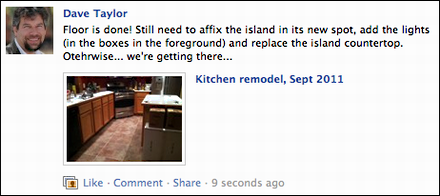 Nice. And, of course, it's only after this step I realized I never fixed the misspelling of "Otherwise". So it goes… 🙂