I take a lot of photos with my smartphone but hate typing on the tiny keyboard. Is there any way to post on Facebook from my PC but actually upload the pictures directly from my phone?
Without any fanfare, at some point in the last few months Facebook added just the feature you're asking about, so you're in luck! There are a lot of solutions for your dilemma, of course, from dictating your post on your smartphone to automatically sync'ing photos across your devices. If you prefer a full-size keyboard for typing, however, then Facebook now has you covered. In fact, this cross-platform posting feature reminds you that once you add a social media service to one of your devices, it joins your existing "mesh" network. Nothing is ever disconnected nowadays, for sure.
For this to work, however, you will need both devices logged in to the same Facebook account, though I don't believe they need to be on the same wifi network or even in Bluetooth range. Log in on both your smartphone and computer, then here's how it works…
COMPOSE A FACEBOOK POST ON YOUR DESKTOP
I spend most of my time with Facebook's Web interface so when I'm poised to write a new post, I just click on the "What's on your mind, Dave?" prompt and a window pops up:
At this point, there's no indication that you can auto-share an image from my smartphone, but bear with me. Type in the message you want (you can edit it later) and you'll see something like this:
Still no indication, right? But click on the green "add photo or image" icon in the "Add to Your Post" box and check out what appears:
See that second prompt near the bottom? It says "Add photos directly from your mobile device" and offers an "Add" button. That's the secret path to uploading the image for your post directly from your smartphone.
Click on "Add" and that prompt will change to…
Now it's time to pick up your smartphone…
ADD SMARTPHONE PHOTO TO PC FACEBOOK STATUS UPDATE
I'm using an iPhone, but the process looks identical on an Android phone too. Open up Facebook and go to Notifications. Either on the very top or near the top you'll see:
It's slightly confusing because it doesn't indicate that you're adding photos to the post you're composing on your computer, but that's what it means.
Tap on the "You can continue adding photos to your post" notification and it goes straight to a gallery of your latest photos:
I only want to share the most recent photo, so that's a single tap and the image is highlighted. A tap on "Done" on the top right once I've selected the image – or images – I want to include in my Desktop post and it'll show me that the upload is happening:
Once it's uploaded this display changes to: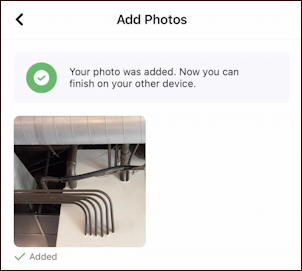 The small print says "Your photo was added. Now you can finish on your other device.".
Indeed, if you were watching your computer while the upload happened, it should automatically change to show the photo that you just submitted from your smartphone:
That's it. Ready to add more images from the computer, tag a location, add an emoji, whatever you want. Ready to post? Click on "Post" and it'll be published, with no indication that the update was written on a computer while the image came from a mobile device:
(Notice also that the image enlarged relative to the text when it was finally posted).
Pretty cool, eh? Now try it yourself. It's a game-changer for people who don't like typing on their mobile devices.
Pro Tip: I've been writing about Facebook since it first came online. Please check out my extensive Facebook help library for tons more useful tutorials while you're visiting. And why not follow AskDaveTaylor on Facebook too, while you're clicking? Thanks!