This is so weird: I just bought a new 500GB external hard drive but when I hook it up to my iMac, I get a little "not allowed" symbol every time I try to copy anything onto the device! Digging around, it appears to be connected "read only". HELP!
While the majority of the time you should be able to just plug in any sort of external hard disk or drive, sometimes Mac OS X does get a bit picky about write permissions based on how the drive is initially formatted. In particular, it doesn't natively support computer drives that are formatted as NTFS, the Windows NT File System, a very efficient file system designed for Windows computers that supports extremely large file sizes.
I had a similar experience myself when I hooked up my new 2TB external drive to my Mac Mini server, so I can show you how I fixed the problem. I will say that initially I too was befuddled and closely examined the hard drive itself to see if it had a "read only" switch. It didn't. 🙂
So here's what I saw when I looked at the drive on the Mac, within the Finder: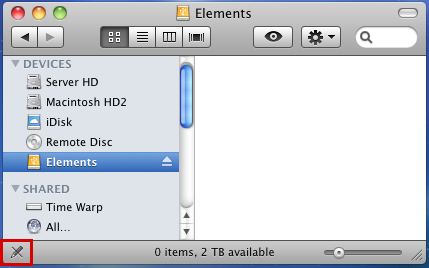 Notice the lower left corner? I've highlighted it: the pencil icon with the line through it. That's the Mac's subtle way of saying that you can't write to it.
Chose
File
–>
Get Info…
to get more details:
Again, you can see on the bottom that it says I can only read the drive contents, not write to it. Dead useless as a backup device, for sure!
To fix it, the path I took was to let the Mac erase and reformat the drive, figuring that since it was empty, there'd be nothing lost and I would be confident that it was then completely compatible with my Mac systems.
The program you want to accomplish this is in the
Applications
folder, within
Utilities
:
Disk Utility
. Start it up and you'll see all the drives listed on the left side. Click on your new drive on the list to proceed: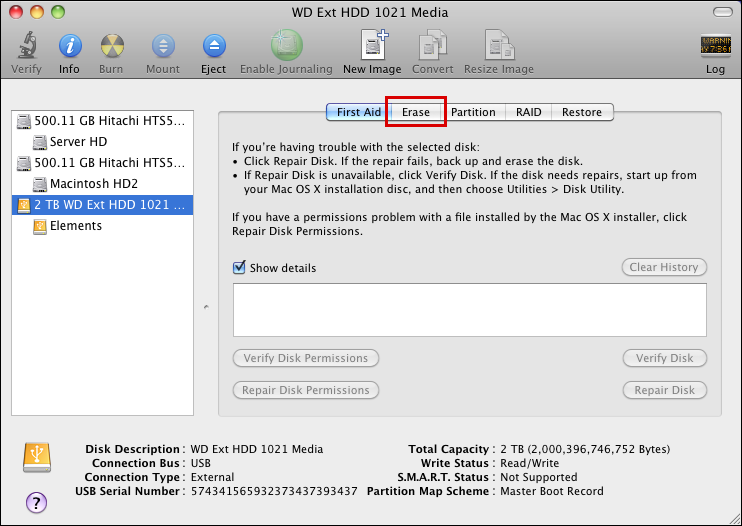 You'll want to click on the "Erase" option along the top after you've picked the drive. In my case, it's "2 TB WD Ext HDD 1021…"
Now you can pick which format should be used when the disk is rebuilt from the list:
Since I know that I'll never plug this drive into a PC, I'll choose a Mac disk format, and of those, extended journaled is your best bet. If you wanted to have it be PC compatible, use MS-DOS format, but be warned that my experience is that read/write speed suffers on the Mac because of it having to reorganize data as it hits the drive.
Give the drive a name — I chose "Insurance" for mine — and click on "Erase…"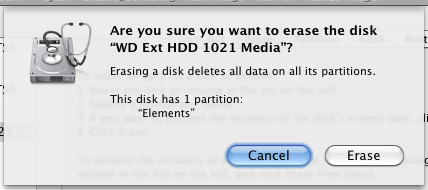 Ayup, there's nothing on the disk, so let's proceed. Click "Erase". The resultant action will take a few seconds up to a few minutes or longer, depending on your drive size and speed…

Once it's done you're also done and good to go. What you might see, however, is a prompt asking if you want to use the drive with Time Machine if you're running the slick Apple backup software:

I don't want to use it – I already have a disk drive specifically for Time Machine – so I click on "Don't Use".
Now, finally, one more peek at the newly renamed drive with "Get Info…":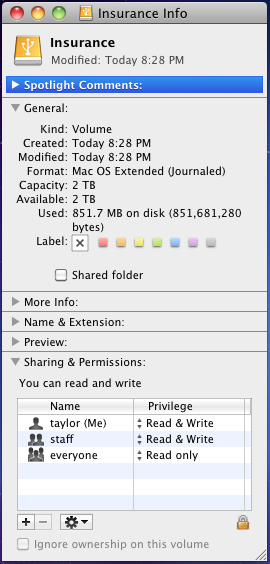 That's solved the problem, and I am off on my merry backup journey. Hope that helps you out too!
If you're dying to have NTFS support, btw, it appears that the only solution i to install some third-party software, specifically either
MacFUSE
or
NTFS-3g
.