Battery life on my Android phone sucks. If I get 4 hours between charges, I'm doing well. And it drives me crazy, constantly having to hunt for charging devices or power outlets. How can I tell what apps are eating up my battery and power?
You're by no means the first person we've heard from who complains about the battery life of their smartphone. It's across the board: manufacturers want to compete on how slim, how light their devices are, but that means each time they improve a screen or form factor, they also make the battery just a bit slimmer and lighter too. Which translates into less capacity and crummy battery life. For me, I'd be happy with a smartphone, Android or iOS, that was 1mm thicker, 6oz heavier and had 50% greater battery life than my current devices.
Turns out that I might be alone in that, based on the decisions that every major mobile phone manufacturer is making. Instead, the evolution of our smart devices seems to be more about screen resolution, CPU performance, memory and connectivity. Never about something as dull as battery life. Ugh.
In addition to the standard advice of ABC – Always Be Charging – there are a few things you can do to improve the battery life of your Android phone, and any other always-on device you may own.
First off, the easy ones:
* Turn down the screen brightness just a little bit.
* Disable all the "vibrate" features.
* Turn off Bluetooth if you aren't using it.
* Turn off Wi-Fi if you don't often connect on a wifi network.
More than that, Android itself shows you what apps are eating up the most battery life, a great place to see if there's a favorite game or social media utility that's actually beating up your device. Go into "Settings" and look for the "Power" entry: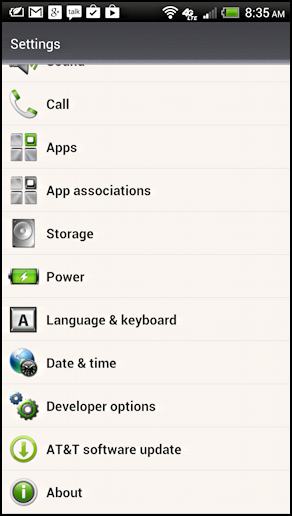 Tap on "Power" and you'll see some interesting information:
Notice that Android itself has a "Power saver" feature that can help maximize your battery life. Definitely turn that on, along with the "Application monitor" feature. Check out the "Usage" entry, though. That's what we want.
Tap on "Usage" and…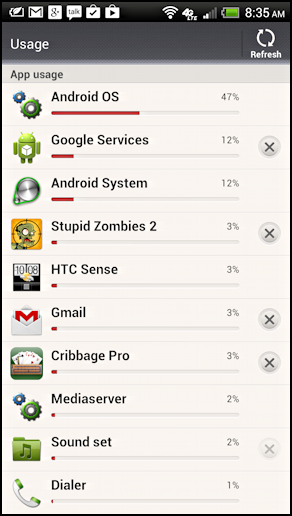 That's where you can identify how the different apps you have running are affecting your battery life.
As is typical, you can see that Android itself is just over 60% of the power demand on the HTC One (in this case), and that Google's subsystem eats up another 12%. That's about 75% if you do the math. Of the remainder, nothing stands out as eating much in the way of resources. They're just adding up.
In this particular instance, there's nothing that's taking an unexpected or atypical amount of battery or CPU resources, so there's no easy target. In your case, it's quite possible you'll see an app that you thought was quite benign but is actually a real resource hog. Those will unquestionably adversely affect your battery life.
Oh, and if you're reading this and have an iPhone, you can get similar data by looking in Settings > General > Usage, though it takes a minute or two for iOS to calculate and render all the needed information.
Between that and the tips I presented at the beginning, I hope it'll help you figure out what's going on with your phone and extend your battery life so it's not quite so maddening. Worst case, go onto a site like Amazon and see if there are companies making "battery cases" for your model of phone so you can essentially add a second battery. A real win if it's available!