I've spent the last year or two updating and adding to my LinkedIn profile and it has a ton of information about me. But now the job I'm applying for wants a resume from me and I really don't want to create one from scratch. Is there a way to export my profile information from LinkedIn so I can sidestep the problem?
There is a way to do that and while it's different from even a year ago [see my now obsolete article Can LinkedIn Produce a Resume For Me? to compare with the current approach] it's not too hard to figure out.
As a first step, it's obviously a good idea to give your LinkedIn Profile a once over, a quick pass to ensure that it doesn't show as current jobs you had in the past, shows everything you're currently involved with, etc. Looks good? Good!
Now on LinkedIn, look along the top menu for "Profile":


You can pop up the choices and see what options it gives you…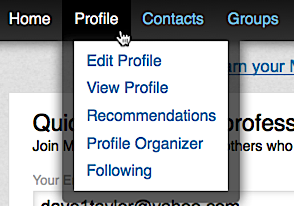 Or you can just click on the word "Profile" itself. Either way, you'll want to end up looking at your own profile, which will look just like mine (though hopefully with a different photo!)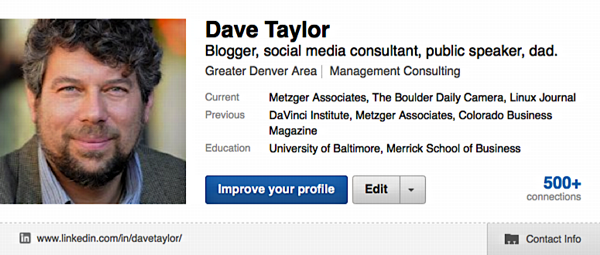 Click on the "Edit" button and a number of options appear: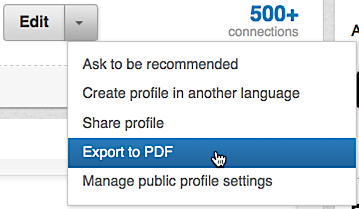 Choose
Export to PDF
and you'll be ready to go, though in some browsers it'll default to showing you the PDF document rather than saving it on your computer. This is Safari on a Mac: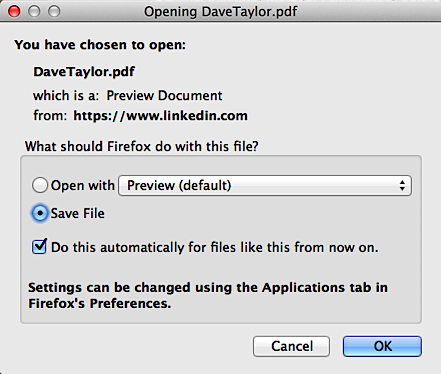 I choose "Save File", click "OK" and seconds later I have a file "DaveTaylor.pdf" that I can forward along to hiring managers, etc. Hope that helps out and good luck with the new job!