I want to invite all of my LinkedIn contacts to sign up for our company's new resume writing service. Is there an easy way to export everyone's email address when they've already connected with me on LinkedIn?
While it might often seem to be a free market for any and all personal information, modern laws are really tightening up what information sites can share with others. Just because I used my email address to sign up with LinkedIn, for example, that doesn't automatically imply that the site can share it with any and everyone who asks for it. People with whom I'm connected? Well, we're connected on LinkedIn, that doesn't mean I approve all of my data being shared with them, just a connection on LI itself.
In other words, what you want to do sounds well intentioned but just a bit spammy. I imagine it's quite likely you will get a negative response from at least a subset of your recipients, many of whom might be startled to have your LinkedIn "relationship" suddenly appear in their regular inbox. Still, it is possible to export public information about each and every one of your LinkedIn connections, so if you do want to proceed, I can show you the steps involved. I will, however, also show how to enable – or disable! – having your email address included when someone with whom you're connected does a similar data export.
EXPORT CONNECTION INFORMATION FROM LINKEDIN
To start, jump onto LinkedIn in a Web browser and click on your tiny profile photo on the top right. A little menu pops up:
Choose "Settings & Privacy" from the menu and you'll be facing a rather daunting set of options and preferences. Scroll down just a bit until you find this:
You're looking for "Get a copy of your data". Click on "Change" and that section expands to show the following export options:
You can get a full and complete data archive of everything you've done on LinkedIn for your own archival purposes with the first option, but we specifically want just connection information. Doable. Click on "Connections"…
Notice that it takes some time for the system to extract this information from the LinkedIn database and format it in a way you can download and read. It's going to be in a CSV — comma separated values — format that works fine with a spreadsheet, btw. You'll see what I mean in just a moment. For now click on "Request archive".
You'll need to confirm your password as this is pretty important info:
Easy enough, and once you've re-entered your password it's time to go find something else to do for a few minutes!
Eventually, you'll get an email from LinkedIn like this:
Once you click on the link, you'll find that you're at exactly the same spot in the LinkedIn settings, but the "Archive Now" button has updated:
Download it, then double click and the .csv file should open in your spreadsheet program of choice, Excel, Numbers, or even Google Sheets. Then you might be surprised at the resultant data:
As you can see, only about 20% of my connections allow exporting of their email addresses. In fact, out of over 2000 connections I would estimate that I could glean about 30 email addresses total, so it's much less than 20%. Your connection pool may vary, but by default your email address is private and not included, so this represents the small group of people who have manually opted IN to share that information.
DISABLE LINKEDIN SHARING YOUR EMAIL ADDRESS ON EXPORT
Which leads to the obvious question of how do you check your own email export setting? Turns out that's pretty easy and you're already in the right location by being in Settings & Privacy. Simply scroll until you find "Who can see your email address":
A click on "Change" and you can immediately see the setting you should check: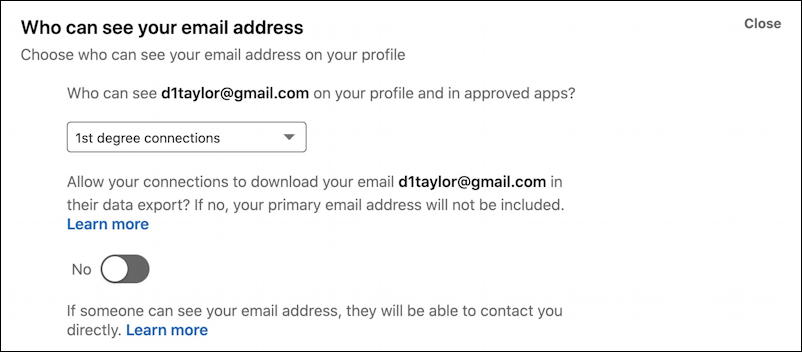 Happy to share your email address with the world? Just choose "Yes" instead of "No" and you're done.
So that's it, the detail on how you can export information about all of your connections in LinkedIn and the reality that most people do not opt to share their email addresses in exported data from the site. Good luck!
Pro Tip: I've been writing about LinkedIn since the very beginning of the site and been a member since the early days. Please check out my extensive LinkedIn help area for lots more useful tutorials on how to best use the site effectively! Thanks.