I'm cleaning out an old cupboard and finding all sorts of old thumbdrives [usb flash drives]. I don't want them but I don't want important data on them either. What's the easiest way to wipe them clean or erase them? I have an iMac.
You're smart to make sure that the USB Flashdrives you're finding (or are they "Flash Drives" two words? I never remember!) are empty of data because you just never know what might be on it and identity theft isn't just in the movies, unfortunately. I mean, perhaps your Mom used it to bring a copy of her taxes to the accountant, or you have spreadsheets of invoices payable from your clients back when you weren't using the Cloud?
There are a couple of ways you can proceed in this situation, one of which is to physically destroy the thumbdrives ["thumb drives"?] with a pair of pliers. Physical destruction is generally a one way street with electronics, but the old gadgets might well be useful to someone else and while they're inexpensive commodities, an 8GB or 16GB drive can still be darn valuable to a school kid! So let's not destroy them if it's not necessary.
On a Mac the program of choice is Disk Utility, something supplied by Apple. Plug in the drive you want to clean up and, if you're in Yosemite, press Command-Space to launch Searchlight and type in "disk u"…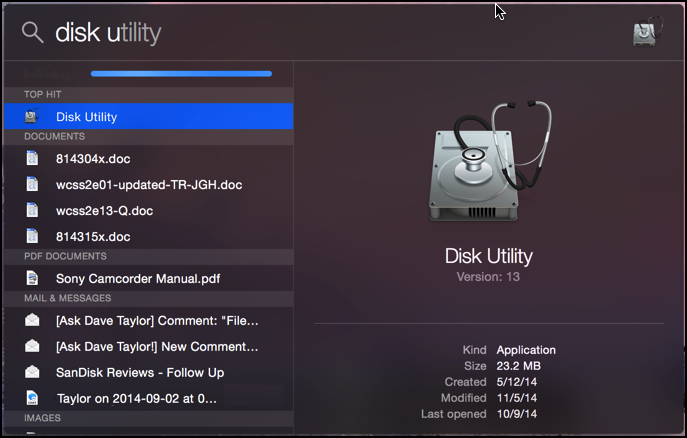 As you can see, the top hit is the program you want, "Disk Utility". If you're not yet on Yosemite, you can still use Spotlight, just click on the magnifying glass icon on the top right of your menu bar…
Once it launches, you'll see the drives and storage devices that are visible: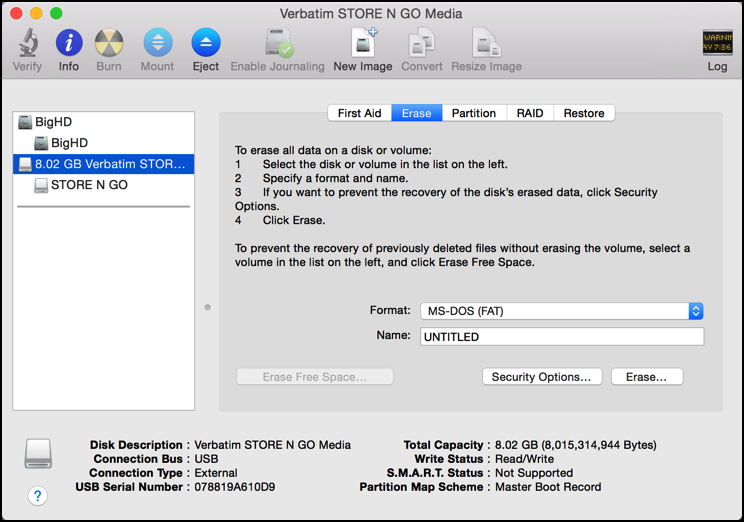 BE REALLY CAREFUL that you don't choose your main hard drive for your computer. If you're not 100% sure you've chosen the right device, pull the USB Flash Drive out of your computer, wait to see what disappears from Disk Utility, then plug it back in and select it.
I kid you not, if you choose your main hard drive, you will lobotomize your iMac and be really upset with me. So please don't.
Pick the right drive — and notice that these flash drives generally have very little capacity (this one is an 8.02GB unit) — then click on "Erase" along the top set of tabs so that you can see the options shown above.
I generally recommend you format USB drives in "MS-DOS (FAT)" format so that they'll work with both Mac and PC systems. If you want a Mac only drive, however, just change to that a Mac format like "Journaled" but not encrypted.
Now a big decision: If the information does have potential security ramifications, I'd click on "Security Options…." so you can select a secure erase. The caveat is that even on a small device these sort of "write garbage, delete it, write garbage, delete it" loops can take a while, and on a big drive? It can be hours.
If the data's just things like photos or files from your college stats class, then a regular erase will work fine. Click on "Erase…"
What this does is basically redo the "table of contents" of the drive to indicate that there are no files. So pop it into a Mac or PC and it'll just show up as a free space with nothing actually on the device. It doesn't erase the contents, however — that's what the Secure Erase does — but in my experience, 99% of people have no idea of the difference, so unless you luck out and have a curious hacker get ahold of it, this is fine.
Proceed? Choose "Erase". And remember, you can always go back and do the Secure Erase too, if you want.
After a few seconds, the new file access table is written to the device and it shows back up in Disk Utility as empty:
That's all there is to it. Elapsed time is about 60 seconds, if that, so you can do this for a box full of USB drives easily enough if you need to.