I downloaded the demo version of Office 365 on my new MacBook and it's telling me that my subscription has expired and I need to activate it. I have a product key, but can't figure out where to type it in. Help!
It used to be simple in software land: You bought a program, installed it and you were done. Then we added product keys because people would buy one copy of a program and install it on dozens of systems, friend's computers, school, etc. That was still built around the basic concept of you buying ownership of the software: one you'd entered the registration code you were able to use that program forever if you so desired.
In the last few years, however, the ownership model has changed significantly with computer software and now we are paying for a subscription service, a lower fee that gains us access to the program so long as we keep paying it. This started with anti-virus programs on the Windows PC side where they're only useful if the company keeps updating the virus definitions even long after you've paid and installed their program.
Big vendors have jumped on that bandwagon with zeal: better to earn $50/yr forever than $100 one time and lose you as a customer for a decade! As Microsoft has evolved its Microsoft Office product and migrated features into the so-called "cloud" with a Web-browser based document storage and editing capability — renaming it Office 365 along the way — the company has also moved from a "buy" to a "subscribe" model, and that's what you're seeing. Usually problems arise because you need to renew your subscription, but sometimes you might have picked up a new computer or otherwise received a new product key, at which point, yeah, it's a bit baffling to figure out how to apply it.
I encountered the same thing recently when I started up Microsoft Word on my macOS system. Instead of being able to start writing a letter, I saw this:
Problem was, I did indeed have a 25-character product key for a year of Office 365. You'd think that clicking on "Activate" would be the best way to proceed, but it's actually 10x faster and easier to simply log in to your Office 365 (typically Microsoft Live) account on www.office.com/setup to proceed. Log in to your account and here's what you'll see: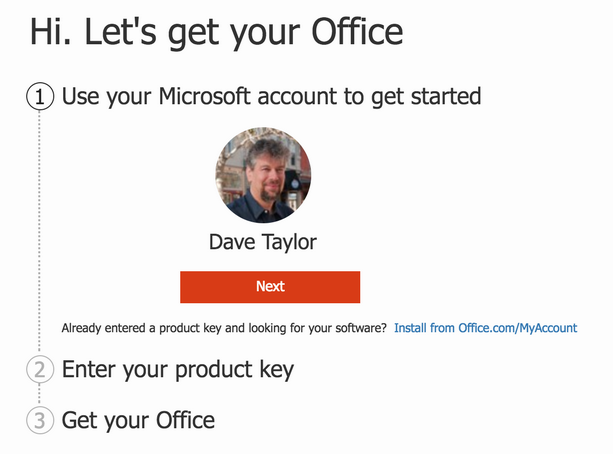 This page is really for people who don't have Office 365 yet, but it turns out to be the fastest and easiest way to enter an Office Product Key too. Fortunately, because I tried a bunch of other paths and was frustrated time and again. So I'm saving you that frustration. You can thank me later 🙂
Once you're logged in to the correct account, click the orange "Next" button and you'll get to the tricky part: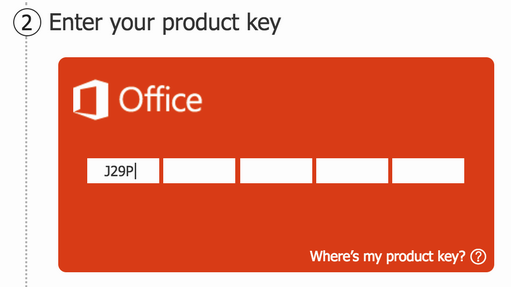 You can see I've started typing in my own 25-character product key. It's a tricky task because it's completely random, so I recommend you double and even triple-check what you entered before proceeding.
Also double check that you have the correct country, region and language set for the Office 365 install. Much easier to get it right now than to try and figure out how to change it later!

Ready? Click the orange "Next" button again to have the key validated by Microsoft and proceed.
If you typed in the product key correctly and it's legit, you should see this cheery message: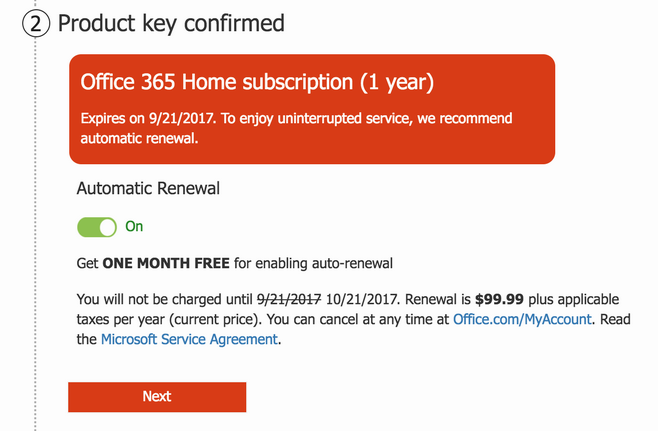 Obviously, Microsoft wants you to go ahead and turn on automatic renewal for your Office 365 license. You might well consider doing that as a free month isn't a bad deal. Rather go through the renewal manually next year? No worries, that's okay too. Just click on the "ON" slider just below "Automatic Renewal" and you can ignore any further payments or payment authorization.
Again, click on "Next" to proceed. And you're looking good:
That's it for the Web site. You can log out, close your Web browser, whatever.
Back on your Mac system, it's now time to click on that "Activate" button that you can see at the top of Microsoft Word (or Excel or PowerPoint, depending on what app you tried). It will pop up a window similar to this: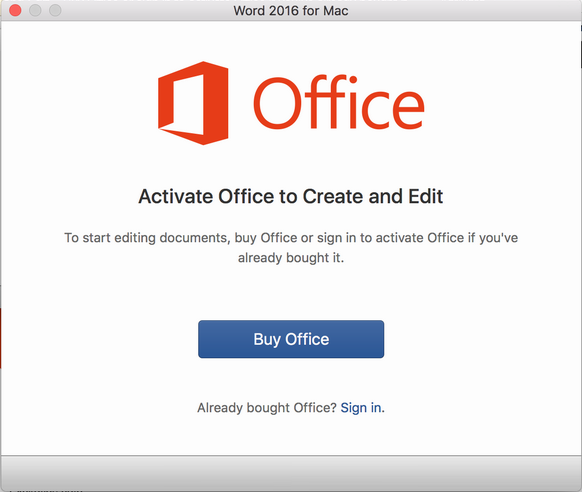 Choose "Sign In" from the very bottom and once you've logged in it'll automatically check with the Microsoft subscription server. Since you just renewed, it'll immediately show you:
And after just a moment (or three or four, depending on how busy the server is!) you'll see:
And that's it. Done. PHEW!
In fact, once you click on "Start Using Word", you'll see that the nasty expiration message is gone and it's ready for your great American novel, a heartfelt letter to your local newspaper, whatever:

And now you know. Just don't forget to subscribe at some point so you don't have to go through this every year!