How do I enlarge the icons on my desktop and the items on the Task Bar, so that I can read them more easily? I am running Windows 10 on an HP Laptop.
There are a number of ways to make whatever's on your screen bigger, though confusingly enough buying a bigger screen isn't one of them. Why? Because fancy modern computer screens are actually running at higher resolution than older screens as the tech improves, so an old 17″ screen might be at 1024×768 pixels resolution, while a modern 15″ screen could be at 1920×1080 (also known as "1080p HDTV resolution"). Smaller screen, but more dots of information? Yes, making the size of each dot (properly, "pixel") far tinier. Net result: you get a new screen, the computer automatically detects its optimal resolution, and your icons end up smaller than before!
So one way to change the size of everything on your computer is to simply go into the Displays setting and set a lower resolution. Problem with that is it's not really a great solution because screens are now designed to run at specific resolution and can get fuzzy or slow when forced to be at a lower res. Plus, isn't it a bit silly to buy a swanky new HD screen just to run it at standard def resolution?
There are also various settings in the Ease of Access area in Windows 10, but they are likely quite a bit more than you seek. You can learn more about them on the Microsoft Web site: Guide for individuals with visual impairments.
Let's look at two other settings you can easily tweak, however, to improve your Windows 10 experience, both with Desktop icons and the Taskbar. First, here are my default Taskbar icons and Desktop icons at 100%:
Click on the great Windows 10 "Cortana" search (on my abbreviated Taskbar it's the circle one from the left) and search for "xx":
A tiny bit of patience is beneficial with these searches: I often see the results improving after a few seconds of processing time. In this case, "Display settings" won't show up immediately, but that's what you want. Click on "Display settings".
See that slider in the middle of the screen? That's what you want to adjust. It says "Change the size of text, apps and other items: 100% (Recommended)"
Slide that over to 125% or 150% (you can always change it again) and click "Apply" on the bottom of the window.
All your icons, text, etc, should bump up the preferred amount. When I change it to 125%, for example, notice how the Taskbar icons become larger than they were in the previous screenshot:

If you want to change things and keep the change, odds are Windows will ask you to log out and log in again so it can ensure that adjustment bubbles through the entire system:
Before you do that, however, let's check one more thing. On the Taskbar itself, right click to pull up the context menu: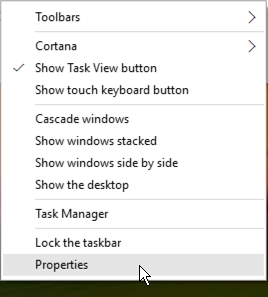 Select "Properties", as shown.
Just double check that the option "Use small taskbar buttons" isn't checked. If it is, uncheck it and click "Apply".
Now sign out, sign back in and you should have a more user friendly Microsoft Windows 10 Desktop and Taskbar to work with!