My friend was showing me how she can just click a button in Properties and add a password to an archive on her PC. But when I try to do the same, I don't even have that button! How can I encrypt and password protect a zip file archive on my Windows 11 PC?
Given the overall industry awareness of privacy and security, it's quite surprising that Microsoft has constrained the ability to encrypt to just a subset of Windows users. Not only does your hard drive need to be formatted in a compatible manner to encrypt an archive folder, but you also need the right version of Windows to have it work too. Fortunatley, there are a lot of third-party solutions that bring back this feature, albeit not quite as elegantly as how it's integrated into Windows itself.
As is typical for operating systems nowadays, Windows also doesn't offer any clue why a feature is missing or greyed out, so you can't even figure out what's preventing you from creating that encrypted, password protected archive on your PC. Let's have a closer look, and I'll show you how to password protect any archive folder on any PC too.
CAN'T ENCRYPT YOUR ZIP ARCHIVE?
There are two main reasons you won't be able to access that "add password" feature when viewing the advanced properties of your ZIP archive: Either your drive is in the wrong format or you have Windows 11 Home Edition, not the Pro edition. Have a drive formatted in FAT or exFAT format? You're out of luck. Format it in NTFS, however, and you'll at least have the "Advanced" button show up. Here's how the Properties window of an archive folder looks on a FAT file system: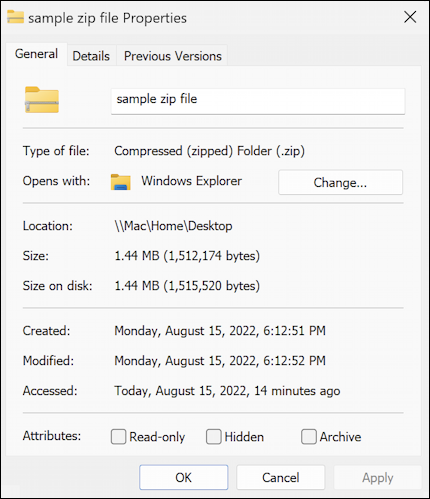 See that "Archive" checkbox? Same version of Windows, different file system and I see an "Advanced" button (on the lower layer, below), which, if I click on it, shows me this "Advanced Attributes" window:
See how the "Encrypt contents to secure data" is greyed out? There really should be a tiny "?" that would say "You need Windows 11 Professional Edition for this feature". As is, you probably just click a few times and then give up. Understandable: Who wants to pay $$ to upgrade to Windows 11 Pro so you can add a password to an archive file?
CREATE AN ENCRYPTED ARCHIVE WITH UNARCHIVER ONE
Launch the Microsoft Store and search for "zip" and you'll find dozens of programs that range from free to fairly expensive. If you're a software developer, you'll need the ability to create install archives and similar, but for this task, the free app Unarchiver One will do the job just fine.
Download and install it on your PC, then launch the program and choose "Compress" from the options on the left side of the main window:
The basic process is going to be to drag everything you want in the archive into this window, then click "Compress All", at which time you'll be prompted to enter a password if you want. Going step by step, I've dragged a bunch of image files into the archive:
Looks good. Six image files, all in PNG format. Now click on "Compress All" to actually create the compressed archive file, suitable for email, cloud storage, sharing with friends, etc. A window pops up:
Choose a name for the archive, specify its destination location, and you're ready to proceed. You can leave "zip" as the archive format, it's universally accepted by Mac, PC, and Linux systems. Now click on "Advanced >" just above the OK button to get to the advanced features. The window expands to add a few more options:
You can specify a more computationally demanding compression level to shrink your archive further, but what we're interested in at this point is the "Encrypt with password", which isn't greyed out! Check that box and the window will immediately prompt you for the encryption password:
I'm using a pretty short password, as you can see, but longer is generally better from a security perspective.
Warning: If you forget this password, there's no reliable way to ever circumvent this protection so you'll be out of luck ever being able to access this data again. Be careful!
Click "OK" and you've just created a password protected, encrypted ZIP archive on your PC. Well done.
WORKING WITH AN ENCRYPTED ZIP ARCHIVE
Now that you've created an encrypted file archive, I'll warn you that the experience can be a bit disconcerting: You can still open up the archive and see all the files listed within:
From a privacy perspective, it's worth pointing out that the file names are not protected, though their contents is. Some people find it smart to rename files before adding them to the archive, or to have a generically named folder that all the files are stored within.
Notice above the column "Password protected" and the "Yes" for each and every image. Try to open one up to view the contents and Windows complains:
It also works on a Mac system if you copy over the archive file:
That's it. You should be able to encrypt and password protect files and folders to your heart's desire now. Good luck!
Pro Tip: I've been writing about Windows since the beginning. While you're here, please check out my extensive Windows help area for hundreds of other useful tutorials and how-to articles. Thanks!