My new iPhone is the belle of the ball. In fact, it's a problem: everyone who sees it picks it up and starts playing with it. Is there some way I can enable a security code or password so that only I can use it when it wakes from sleep?
When I first got the iPhone, I wondered the same thing and then thought that perhaps they could use some sort of bioidentity method of reading my finger stroke or even automatically scanning my fingerprint. Then it really would be a one-person phone unless you authorized someone else (my kids would force me to authorize them, I'm sure!) Sadly, at this point we are left with a more pedestrian solution to ensuring some privacy on your cellphone, albeit one that's pretty easy to setup.
You need to go to Settings –> General on your iPhone, which looks like this:


You want to choose "Passcode Lock", which, since you don't have one set, immediately asks you to create a password / passcode four-digit sequence:


and confirm it…


Once it's set (I presume you can enter the same four digit sequence twice! 🙂 you'll get to the general passcode lock settings:


Here you can disable your new passcode if you want, change it, or specify how anxious you are about the security of your shiny new Apple iPhone. If you get racy SMS messages from your significant other (or your pals) you might well want to turn OFF Show SMS Preview here too. Once you're done, just click on "General" on the top left and it's all set.
Now, back here, you'll want to click on
Auto-Lock
and set it to a time you prefer. I have mine set to relock after three minutes of idle time, but you can choose anything from 1 minute to "never", though the latter is better accomplished by simply disabling the passcode in the first place.
Now, when your phone goes to sleep and you wake it up, you'll see the usual idle lock screen but now, when you slide the widget on the bottom to wake it, you'll then immediately be prompted to enter your security code to proceed to the full iPhone interface: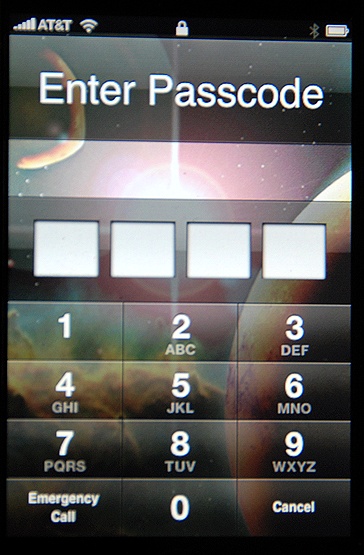 That should help you stop intruders from monkeying with your Apple iPhone! And, yes, that's a custom wallpaper. I'll have a tutorial on how to do that in a few days if you're interested, so make sure you check out all the
iPhone help
here before you leave.